Shada Brazile Talks Horses, Rodeo and Family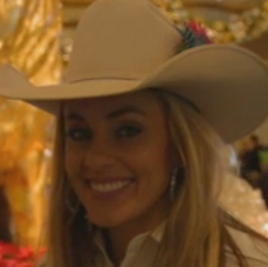 First-time Wrangler NFR Qualifier Shada Brazile, who's also the wife of 19-time World Champion Cowboy Trevor Brazile, talks about her first Wrangler National Finals Rodeo as a barrel racer and what comes next.
Q:  This is your first year competing at the Wrangler National Finals Rodeo. How did it go?
Yes, this was my first year to compete as a barrel racer at the Wrangler National Finals Rodeo. It's exciting! I think you never know what to expect, especially coming to the National Finals Rodeo on a young horse. I was on a seven-year-old horse named Dial It Fast and it is a lot of pressure on a younger horse. Last week was definitely a learning process for me. I changed headgear on my horse a few times and I feel like he improved in some ways and then I had to adjust other things. Early on I was fourth in the average and I was able to finish second in the average, so I'm pleased with that.
Q:  Tell me what it was like to be at the NFR as both a contestant and the wife of Trevor Brazile.
It was a whirlwind. Trevor and I got to present an award at the American Country Awards on FOX to the male artist of the year, Luke Bryan. That was really fun! That night I went from Cavalli heels at the ACAs to Wrangler jeans at the rodeo in about five minutes! We feel blessed and fortunate for the opportunities and to have competed together at the Wrangler National Finals Rodeo.
Q:  What's next after the rodeo?
I'm going to talk Trevor into taking some time off and going skiing with the family.
Q:  What are your goals for next year?
My goals for next year hadn't hit me yet. I'm not much of a planner, but my goal every year is to be the best wife and mom I can be and whatever falls after that we'll go from there.