By Wrangler Network contributor Miss Rodeo America
This blog was written by guest blogger, Audrey Hall – Miss Rodeo Arizona 2011!
You've won your title, you've planned your year, and you have chased the white lines and made it to the rodeo grounds. Now it is T-Minus 2 hours until rodeo time! You are decked out, checked in, saddled up, and ready to rodeo. At this point making sure your horse is warmed up is your first order of business.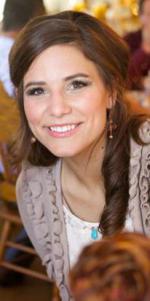 Warm Up Pen Etiquette
In the warm up pen you don't need to practice your spins and your sliding stops. You DO need to follow the flow of the warm up pen and stay out of everyone's way (you will notice that is my mantra for queening at a rodeo). One thing to remember is that these contestants are here for a paycheck. This is their job and a source of income and at no time should you interfere with that. There will be ropes swinging and several horses being loped in circles, leads being changed, and so on. Stay out of the way as much as possible. Lope some circles on either side to make sure your horse is good and warm and that should be the end of your warm up.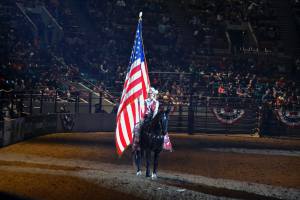 Flag Etiquette
Most rodeos begin with a flag presentation. Please make sure your mount has carried a flag before, especially if you are carrying the American flag. Present the colors tall and proud. During the National Anthem be as still as possible. If you are carrying a flag other than the American flag be sure to salute (tip your flag to) the American flag while you are not in motion. And of course, don't forget to SMILE. What a great honor and privilege to be part of a presentation like this.
When you are packing sponsor flags into the arena, know your cue to enter. Also pay attention to what else is going on in and around the arena. There might be another girl flying out of the arena at the same time you are supposed to be going in; wrecks are avoided by paying attention. Make sure you have a good grip on your flag so it doesn't fly backward; watch your knee on the gate as you fly in; hug the fence the entire way around the arena, and check your horse up in time to slow down before you come out of the arena.
Some rodeos will introduce visiting royalty – a privilege, not a right. The hot lap or queen's run rules are similar to the flag run – be aware of what is going on in and around the arena. You may be doing a line-up or in and outs; know which one they are using beforehand. Regardless, make sure you have control of your horse as you come to the line-up as well as when you are coming out of the arena. If you are the first rider out of the arena keep going until you are out of the way; don't cause a traffic jam. As for the run itself; I like to see a fast hot lap (in control of course), a big smile, and eye contact with the fans (but also pay attention to where you are going). Make sure your hand isn't too high, too low, or in front of your face. Have fun! There are not many times in your life you get to go 9-0 around an arena as people cheer for you!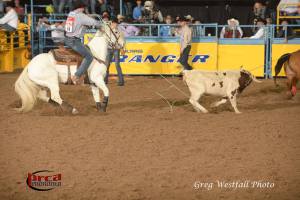 Shagging Cattle Etiquette
If you are asked to help shag cattle out of the arena, here are some general tips:
• I always say you are doing a good job if you aren't seen (i.e. you make it seem seamless). "Beautiful things don't ask for attention"
• There will normally be two queens helping during each event. Find a "holding spot" that is out of the way, at the top of the arena (by the roping chutes), where you sit and wait for your turn. Typically both queens will not run cattle down at the same time.
• Make sure you understand how cattle move away from pressure so you can push them toward the bottom of the arena and through the out gate.
• Know where the out gate is. In most cases the cattle have been ran through the arena and through the out gate before the rodeo started so you will just need track them out.
• In instances where they have not previously ran through you may have to haze them in the right direction a little more. However, there is no need to hunker down, two-hand it, and cut back and forth while you whoop and spur to get the cattle to move. Please do not cause a huge ruckus in the arena (this goes back to making this process seem seamless).
• During the Steer Wrestling, wait until the judge flags for a time before you head toward the cowboy and steer. Appropriately position yourself to push the steer to the bottom of the arena. Once you are finished pay attention to where the 'Doggin' horse is. If he is still loose don't lope back to the top of the arena because he will follow you, making it difficult for the Hazer to catch him. If they call for the next run before you make it back up, wait at the bottom of the arena, out of the way, and let them finish the run before you head back.
• During the Calf Roping, wait for the judge to drop his flag before you creep up on the calf. That calf has to stay tied for 6 seconds, if you start walking toward him and startle him and he kicks loose, you are now that calf roper's least favorite rodeo queen because you put him out of the money.
• I suggest committees don't have queens in the arena during the Team Roping. There are too many ropes being thrown and coming tight and not enough room for extra people to be standing in the arena.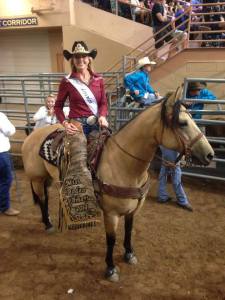 Have fun at the rodeos! You love rodeo or else you wouldn't be doing what you are doing – and let's be honest, rodeos are one of the most fun parts of being a rodeo queen.
Stay safe, stay out of the way, be gracious, and always lend a helping hand to these committees who have invited you. Leave a positive lasting impression.