Season's Greetings from Wrangler Cowboys
The Wrangler Network caught up with several 2013 Wrangler NFR contestants to see how they are spending their holidays after the big event. See below for updates from the cowboys.
Bareback rider Ryan Gray and his wife Lacy had a relaxing holiday. They attended a church service and enjoyed a prime rib dinner on Christmas Eve. Next month they'll be welcoming their first child!
After the Wrangler NFR, bareback rider Bobby Mote and his family returned to a rainy Oregon. His kids were out of school until after the New Year so the family decided to load up the horses and drive all night to Arizona. During the holidays, they will spend time at Jackpot team roping and soaking up the Arizona sunshine. Pictured are Bobby's horses and his son Trey and daughter Laura sleeping with Ranch Dog during their road trip.
Steer wrestler Trevor Knowles spent his holidays just like any other day on the ranch by spending time with his brother Drew, chasing renegade cows through the mountains with his horse Frenchy and gathering and shipping cattle.
Tie-down roper Stetson Vest spent the holidays with his brothers Vandon and Sawyer riding horses, playing ping pong and eating lots of great food with their extended family.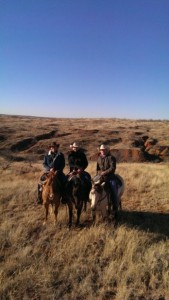 Trevor and Shada Brazile took a ride on the Polar Express to see Santa Claus with their kids Treston and Style.