Sherwood & Summers Take 32nd George Strait Title
By Dally Times contributor, Kent Lynch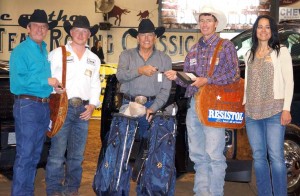 At 22 years old, Clint Summers is no stranger to winning. The Lake City, Fla., cowboy started roping when he was just 5 years old and progressed through the jackpots. He has been the champion at the International Finals Youth Rodeo and the Ram Southeastern Circuit Finals. But Summers will never forget March 15, 2014, a warm day in San Antonio where in less than four hours he earned more than three times what he's won in his entire PRCA career.
Summers, a heeler, teamed up with two-time World Champion header Matt Sherwood, of Pima, Ariz., to claim the richest first place payout in George Strait Team Roping Classic history, a whopping $265,800 in cash alone. The pair began their winning streak by turning in the fastest time of the qualifying rounds Friday, a 4.54 second run in rotation five and going into Saturday's finals with the fourth fastest time on two head. Turns out, fourth place seemed pretty comfortable for Sherwood and Summers. As the final round ticked down Saturday, the duo found themselves in the fourth high call position, but with just three tenths of a second separating the top five teams, it was anyone's roping to win…or lose.
If you're not familiar with the GSTRC, ropers qualify Friday in a two-header with the top 50 teams returning Saturday with a clean slate to rope three more rounds. For the first 28 years, ropers just bowed up and roped against the entire field for two rounds to determine the fastest 50 teams. In 2011, George Strait and his staff made a significant, roper-friendly change to the format, running Friday's qualifier in 10 rotations, with the top five teams from each advancing. It's a more efficient way to run the roping and contestants love it, pitting them against only 49 other teams and a more level field with the cattle.
Needing a 5.80 to steal the lead from Arky Rogers and Wade Clayton, the Sherwood/Summers team blasted their final steer in 5.41 seconds, giving them the lead with a 16.79 on three head and three teams left to rope. Up next were the 2010 GSTRC champions, Coleman Proctor and Jake Long, who suffered a no-time. A pair of world champions in Nick Sartain and Rich Skelton roped in the second high-call position, turning in a 5.64, just .14 seconds from taking the lead. Then, it was down to one team, the scary-fast tandem of Ty "Blaster" Blasingame and Dakota Kirchenschlager. These two were the high team back with an 11.10 on two head and both are known for their speed. Blasingame hung his rope on his stirrup as he left the box, tried to make a recovery but missed the head loop, making Sherwood and Summers the 2014 GSTRC champions.
In addition to their $132,900 apiece for the average, the champions also each received a 2014 Chevy crew-cab dually from Cavender's Chevrolet, a Bruton Strait Xtreme three-horse trailer, custom tooled leather rope bag, a Montana Silversmiths buckle, spurs from Tommy D's, a golf bag and membership to The Resort at Tapatio Springs, plus another buckle and $1,500 each for the fastest time on Friday.
Second place was nothing to sneeze at with Sartain and Skelton, both past champions of the GSTRC, taking home over $53,000 each and a pair of Twister saddles for their performance. Rogers and Clayton finished third for $36,550 apiece.
Derrick Begay, who holds the GSTRC fast time record with Cesar de la Cruz (a 3.31 from 2007), and Kory Koontz won round one Saturday with a 5.04. Luke Brown and Patrick Smith's 3.71 was the fastest time of the roping and won round two, while Riley and Brady Minor turned in a 3.89 to take the top spot in round three. Each round winning team received $3,000.
With 697 teams, the 32nd George Strait Team Roping Classic once again, set records for size and payout. Over $1 million in cash and prizes was handed out over the two-day event, with $723,500 in cash alone…$50,000 of that was awarded in Friday's preliminary rotations. Arky Rogers and Chase Tryan led the pack after Friday's qualifying rounds with a 9.96 on two head from rotation five, receiving a pair of buckles.
Each year in March, the San Antonio Rose Palace is the destination of hundreds of team ropers chasing the elusive yet lucrative GSTRC title. It's also the destination of thousands of team roping fans and George Strait fans, either to watch their favorite ropers or trying to catch a glimpse of "King George." Whatever their reasons, they've been doing it for 32 years now and they've followed the event from Kingsville, where it all started, to the current location in San Antonio, where it was once again a sellout.
In addition to providing one of the most lucrative events for ropers, Strait also uses the weekend to give back. Following the first round on Saturday, Strait entered the arena with retired Lt. General Leroy Sisco of the Military Warriors Support Foundation to make the presentation of a new home to an American hero, Sergeant First Class, Christopher Livesay, retired US Army, who was wounded in battle defending our country. Plus, through the efforts of the GSTRC and Priefert Ranch Equipment, the custom-painted chute used at this year's event was auctioned after round two, with all proceeds benefiting the Justin Cowboy Crisis Fund and Western Wishes.
Thirty-two years is a long time to do anything, much less improve every year, but Strait and his crew have once again shown the team roping world that their event is at the top. It seems like we always go back to this quote from Strait himself…I hate to use it every year but it seems relevant, "My goal is, and has always been to make the GSTRC the best roping out there, I won't be satisfied until I know it is." You think he's satisfied yet?
To view exclusive video highlights from the 32nd Annual George Strait Team Roping Classic brought to you by the Wrangler Network, click here. To hear more from Clint Summers on his win, click here. For results, please read below.
Friday Results:
1st rotation. 1st: Derrick Begay/Kory Koontz, 4.92, $3,000. 2nd: Tyler Waters/Richard Durham, 4.95, $2,000. 2nd rotation. 1st: Derrick Begay/Cory Petska, 4.76, $3,000. 2nd: Billy Bob Brown/Wesley Moss, 4.78, $2,000. 3rd rotation. 1st: Joe Norell/Seth Jones, .82, $3,000. 2nd: Kaleb Driggers/Patrick Smith, 4.91, $2,000. 4th rotation. 1st: Coleman Proctor/Jake Long, 4.71, $3,000. 2nd: Cory Kidd/Brad Culpepper, 4.81, $2,000. 5th rotation. 1st: Matt Sherwood/Clint Summers, 4.54, $3,000. 2nd: Cody Kohleffel/Logan Medlin, 4.61, $2,000. 6th rotation. 1st: Bo Litton/Dwain Rollins, 5.34, $3,000. 2nd: Scooter Nolen/Wesley Johnson, 5.35, $2,000. 7th rotation. 1st: Scooter Nolen/Tim Ross, 5.01, $3,000. 2nd: Calvin Brevik/Cole Jackson, 5.15, $2,000. 8th rotation. 1st: Dustin Bird/Paul Eaves, 4.61, $3,000. 2nd: Erich Rogers/Brady Minor, 4.87, $2,000. 9th rotation. 1st: Justin Yost/Jory Levy, 4.76, $3,000. 2nd: Dylan Gordan/Douglas Rich, 5.17, $2,000. 10th rotation. 1st: Riley Minor/Brady Minor, 5.09, $3,000. 2nd: Brandon Beers/Jim Ross Cooper, 5.33, $2,000.
Saturday Results:
1st go. Derrick Begay/Kory Koontz, 5.04, $3,000. 2nd go. Luke Brown/Patrick Smith, 3.71, $3,000. 3rd go. Riley Minor/Brady Minor, 3.89, $3,000. Average. 1st: Matt Sherwood/Clint Summers, 16.79, $265,800. 2nd: Nick Sartain/Rich Skelton, 16.92, $106,320. 3rd: Arky Rogers/Wade Clayton, 17.15, $73,100. 4th: Manny Eguisquiza/Shawn Harris, 17.23, $66,450. 5th: Anthony Lucia/Wesley Johnson, 18.17, $53,160. 6th: Cory Clark/Ben Gambrell, 18.23, $39,870. 7th: Rance Gantt/Kyle Lawrence, 18.54, $33,220. 8th: Bull Austin/Corey Hendrick, 18.90, $26,580.