U.S. Catfish Recipe of the Month: Catfish Niçoise Salad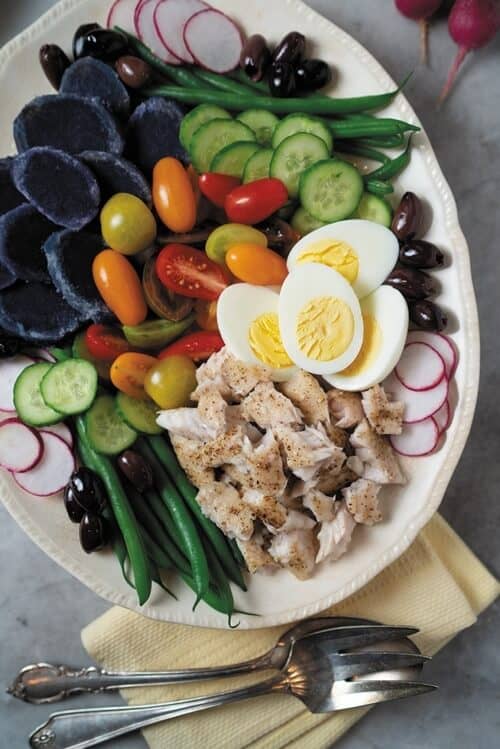 • 2 U.S. Farm-Raised Catfish Fillets
• 1 clove garlic, minced
• Kosher salt to taste
• 1⁄3 cup olive oil
• 2 tablespoons fresh lemon juice
• 1 tablespoon Dijon mustard
• 1 shallot, minced
• Fresh ground black pepper to taste
• 2 small purple potatoes
• 2 eggs
• 8 ounces haricot verts
• ½ cup cherry tomatoes, halved
• 1⁄4 cup black Niçoise olives
• 2 radishes, trimmed and thinly sliced
• 1 small cucumber, thinly sliced
• 1⁄4 cup thinly sliced scallions
Instructions
1. For the dressing, whisk together garlic, salt, olive oil, lemon juice, Dijon, shallots and pepper in a small bowl and set aside.
2. Heat oven to 350°F. Season catfish fillets with salt and pepper and place on a sheet tray. Bake for 15 minutes, or until cooked through, then flake.
3. In a medium-size pot, place potatoes and eggs and cover with cold water. Bring to a boil for 7 minutes, then remove eggs from the water and set aside to cool. Continue to cook potatoes until tender, remove and set aside to cool. Add beans to the water and boil for 3 minutes, or until al dente. Remove and rinse in cold water.
4. When eggs and potatoes have cooled, peel and slice. Arrange remaining ingredients on a large serving platter; drizzle with dressing and season with salt and pepper. Garnish with scallions.

We would love to hear your thoughts after trying this one! I always check the label to make sure it's U.S. Farm-Raised Catfish and so should you. Enjoy 100% All-American!