U.S. Farm-Raised Catfish Tacos with Jalapeño-Cilantro Sauce
I must have passed the genius marketing restaurant in Vegas during the WNFR a dozen times that simply states on the marquis "TACOS and BEER". This reconfirmed to me the wildly spreading infatuation with tacos and sent my taste buds on a quest for tacos with U.S. Farm-Raised Catfish. "Voila"! Without much searching I quickly found this recipe on uscatfish.com. Here is the perfect solution to my 3 year ban on fish tacos with a safe, delicious and healthy option. Anytime I can find another way to invite neighbors over and fire up the grill gets me excited, especially with the ease and perfection of cooking catfish. This recipe gives you a great way to create an incredible slaw to garish, slather or accompany the catfish inside the tortilla. Another way to add a lil zing is with Austin, TX born, bluetopbrand.com. The great line up of Blue-Top creamy hot sauce items will add just what you need to any dish, especially this one!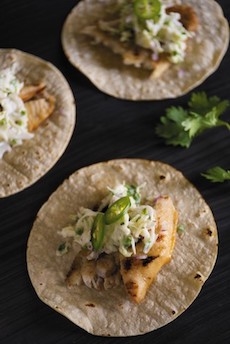 And remember to be aware of what you buy. I always check the label to make sure it's U.S. Farm-Raised Catfish and so should you. Enjoy 100% All-American!
Courtesy of Wrangler Network contributor David Sharp.
@sharpdlance