WEATHER GUARD World Standings Watch: March Gladness
If the standings in December are like March, Canada better start looking for tickets, they have 11 contestants that would expect Canada Night in the Thomas and Mack to be loud and full of waving flags!
Texas' Jacobs Crawley, the reigning Saddle Bronc World Champion sits atop the standings and looks to be the man to "Watch" this year.
Orin Larsen after two big wins in San Antonio and Tucson has himself steady in the top spot in the Bareback, but challenged by Tim O'Connell, and Jake Brown who have both held closely in the top 3.
In Team Roping in 2016, most of the talk has been about Clay Smith and Paul Eaves which has them number one in heading and number two in heeling. They even tied the arena record in Ft. Worth at 3.9 seconds now shared with Clay Tryan and Patrick Smith. Watch closely the young Quinn Kesler on the heeling side this year. Just out of the top 15 last year and earning the Resistol Rookie, Kesler is not looking to leave any doubt where he will be in December this year behind the veteran Matt Sherwood and enjoying the rhyme "Quinn Wins".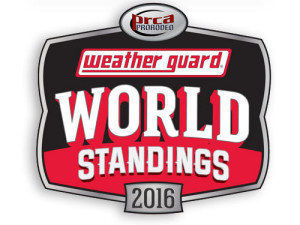 Oakdale, CA motto is "Cowboy Capital of the World", and home to Ryle Smith who finds himself sandwiched between two from Oklahoma. Hunter Herrin from Apache and Ryan Jarrett from Comanche hold down the number one and three spots and less than $7,000 separating them.
In Bull Riding, it's hard to bet against the 2x and reining World Champion Sage Kimzey of Strong City, but with only $1,529 separating number one and number two there is another family in Lane, Oklahoma with "Frost Fever" that would remind you it's a long season and it's gonna be a great race with their Joe Frost in the number 2 spot.
This weekend Austin ends on Saturday and it's Easter on Sunday, then 8 months til December, although there are plenty of eggs to hunt, we're not counting any yet.
WEATHER GUARD World Standings Watch is written by David Sharp.
@wndavidsharp