WEATHER GUARD World Standings Watch: Leno or Letterman? Clay, Jake or Britt? For 2016 it's Definitely CLAY-time
By David Sharp
Weather Guard World Standings Watch:
Clay Smith – Broken Bow, Okla. – $36,146
Hey Smith boys, move up to the front of the line! For lil cowboys from Oklahoma it's not the norm that you move to the front of the line at Disneyland and Universal Studios unless of course you are Clay Smith and have a pass from Jay Leno. He and his brother Jake were featured on the show when they were just 7 and 5 to display their roping skills.
Since that time the #1 spot for the Smiths has certainly not been a stretch for Clay, Jake or youngest Britt all of which named after famous ropers. The WEATHER GUARD PRCA World Standings Watch focuses on the eldest Smith and current #1 in the Team Roping Heading who is named after the legend Clay O'Brien Cooper. Lil' Clay won his first saddle at 5, then at 17, $140,000 with Jake at the USTRC Finals, and then won over $100,000 at the Wildfire roping. He's won the all-around title at the International Finals Youth Rodeo in Shawnee, OK and last December made his first trip to the WNFR.
Even as you start to see the pattern with this guy, what I'm about to tell you may still shock you. Clay, surrounded by some of the best in the world in Ft. Worth this January won the PRCA rodeo, but at the AQHA roping event and the 2016 Timed Event Challenge Team Roping I learned even more about Clay. When I was at The Strait (GSTRC) taking with Krece Harris about how good this guy is, he began to tell me about how he blanked the competition in Ft. Worth in every way possible. I then learned that in addition to winning the FWSSR and tying the arena record, during the Cowboy Publishing TR he won 1st heeling for Kaleb Driggers with 3.9, 2nd heading for Joseph Harrison with 4.2 and won 3rd/4th/5th/6th with at 4.3 heading for Klancy Breaux, Paul Eaves, Zane Bruce and Joseph Harrison. Wow, just wow!
Clay shares his birthday month with one of his favorite singers that just passed April 6th, Merle Haggard. So as the April showers bring May flowers, in this case "Mama Tried" and it's really obvious she succeeded with Mark (dad) and her three boys. So here's to Mother's Day this week and celebrating, Tammy Smith, who has given us the #1 team roper in the world right now: Mr. Clay Smith from Broken Bow, OK with $36,146 and with a big shoutout to Paul Eaves cuz it is Team Roping and well that's just how it works.
What really made me laugh is that his favorite movie is "Quigley Down Under." Why? Well, go find the scene on YouTube where Quigley's proving himself as a marksman, this will tell you even more about Clay, his preparation and precision. #theironyofitall
More about Clay here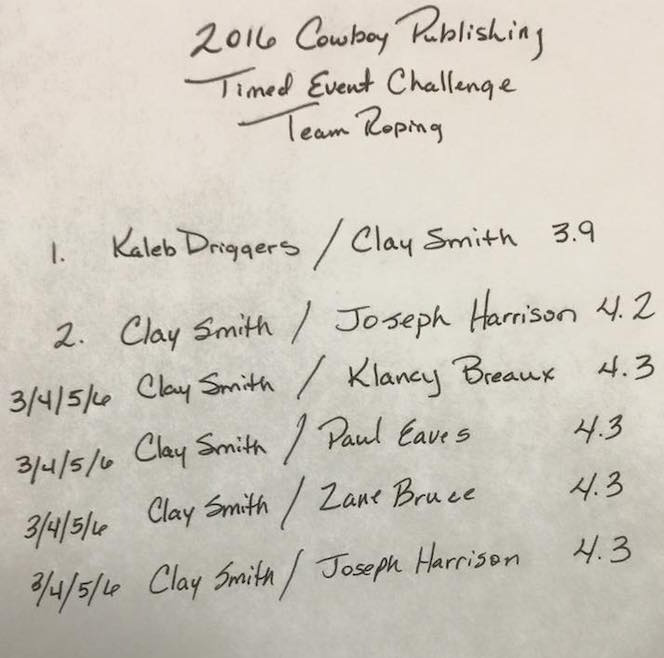 WEATHER GUARD World Standings Watch is written by David Sharp.
@wndavidsharp