WEATHER GUARD World Standings Watch: The Expecting and the Expected in Tie-Down 2016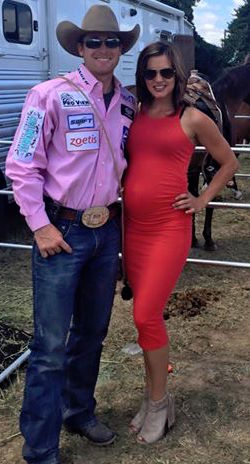 In these last days of the 2016 regular season it's a tale of 1st for many of our stars, but two stand out in tie-down. One is (the Expecting) the great Tyson Durfey who is now in 14th, and the other is (the Expected) the 24 yr old Riley Pruitt and current #6 from Nebraska. In Caldwell, Tyson after a quick victory lap and hauling the goods briskly back to the rig to get rolling on to the next event, told me that Labor Day in Ellensburg will also align with the coming of his and Shea's 1st child.
So, here's to all going well and as planned with delivery and flights and all the prayers that will carry them through. As for carrying, Nikko is still the amazing horse of choice for this Savannah, Mo native and can easily be followed on social medial with Tyson always celebrating the equine part of his success. And for those of you that love a night at the South Point Buckle Ceremony and the humor that happens, here's Flint and Tyson having a little demonstration of his Jim Carrey walk…
In 2016 Tyson won Canby, Eugene, Molalla which are all in Oregon… hummm can he own the Beaver State by winning the huge payout in Pendleton as well? Just a little FYI, Tyson claims the Round-Up as his favorite rodeo because it's on grass. A win there would do it for him, and easily give him a 9th trip to the WNFR.
While you're learning about Tyson, don't miss the chance to follow his Aussie wife Shea Fisher and her music career: sheafisher.com
The other one to "watch" has long been expected to follow in the footsteps of his world champion father, Troy, who made 8 WNFR appearances. It would all but appear that the wait is over and that Riley has solidified his position to Vegas and will by then have completed his nuptials in October to Jenna as well. So it's been a big year for Riley thus far, but most will tell you that if you hit it big in January then you are off to a great start. Well, he did just that with the win at the National Western in Denver and Odessa, TX. From there he's chalked up wins at Kennewick WA., Casper, WY., Brookings, S.D., Sterling, CO., and was co-champion at the Sand & Sage Roundup in Lamar, Colorado.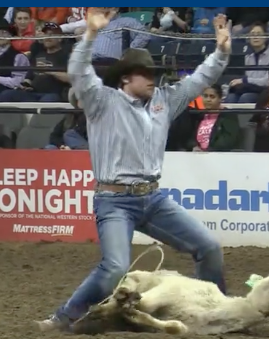 Riley has listed today $65,926 which holds him firmly in the WEATHER GUARD PRCA World Standings at number 6 and $14,000 ahead of the #15 spot.
I would also remind you that in 2014 Riley won the all important Pendleton Round-Up, so he's no stranger to the grass. Watch for Riley to try and tie 3 in under 29 seconds to see if he can jump the rail and make the wildest victory lap in rodeo and possibly move him into the top 5.
Here's a great look at Riley's work in Denver that gave him the win and a chance to get to know him better through the eyes of Charlie Coon.
The 2016 season is winding down in a hurry as Labor Day approaches, so make sure you check in daily to "watch" your favorite on the WEATHER GUARD PRCA World Standings.
WEATHER GUARD World Standings Watch is written by David Sharp.
@wndavidsharp