2019 St. Paul Rodeo Court Announced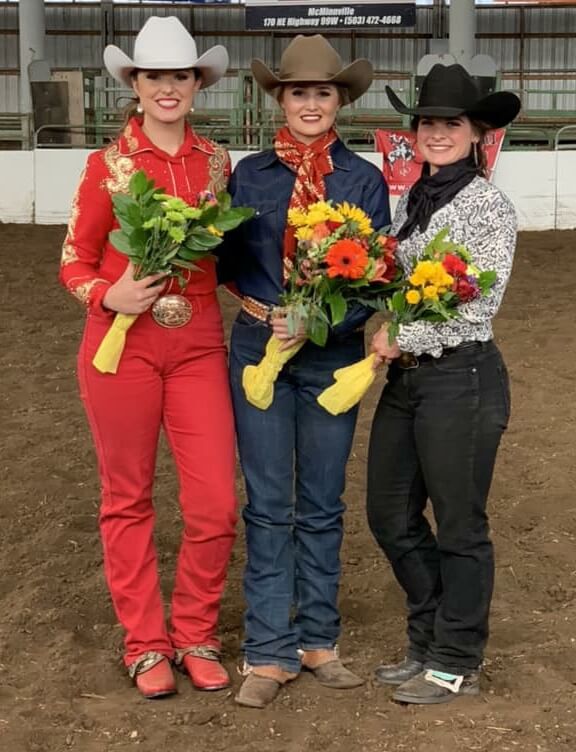 After a full day of competition with 10 talented cowgirls, three young ladies were chosen to reign over the 84th Annual St. Paul Rodeo which will take place on July 2 – 6, 2019. The 2019 St. Paul Rodeo Court is Queen Dessa Coleman, 18 of St. Paul, Oregon, Princes Hannah Austin, 17 of St. Paul, Oregon and Princess Caitlin Holmlund, 19 of Gresham, Oregon. The competition consisted of personal interviews, speech and horsemanship. The Court will continue the grand tradition of representing the Nation's Greatest 4th of July Rodeo in parades, rodeos and other events throughout the Northwest.
Queen Dessa Coleman is the daughter of Fred Coleman and the step daughter of Birch Porter. Having been raised in St. Paul, Dessa attended St. Paul Parochial School and graduated from St. Paul High School where she was a member of the basketball team, Future Business Leaders of America, FFA, 4-H and Virtue First. She began riding horses in 4-H and was a member of the Newberg High School Equestrian Team. Since graduating from St. Paul High School in 2018, Dessa is continuing her education at Chemeketa Community College with plans to major in Marketing at Oregon State University.
Princess Hannah Austin was born and raised in St. Paul and is the daughter of Troy Austin and Amy Austin. She participates in track and field and is a member of FFA and DECA. Hannah competes in 4-H, Northwest Youth Rodeo Association and Oregon High School Equestrian Team (OHSET) events. She proudly posts the colors horseback for the St. Paul Bucks during their football games at St. Paul Rodeo Stadium and carried flags in the Grand Entry at the St. Paul Rodeo. After graduating from High School she plants to attend Chemeketa Community College and later transfer to Oregon State University to pursue a degree in Animal Science.
Princes Caitlin Holmlund is the daughter of Heidi Maxwell and Nate Holmlund and calls Gresham, Oregon home. She graduated from Sam Barlow High School as the Valedictorian where she participated in OHSET, received awards for Math and Foreign Languages and was on the honor roll. She attended Mt. Hood Community College and is currently attending Idaho State University majoring in Nursing and Spanish for Health Professionals. She is also competing in National Intercollegiate Rodeo Association events in the breakaway roping.
About the St. Paul Rodeo
The Nation's Greatest Fourth of July Rodeo will return for 84th year with the promise of top rodeo action, family fun and patriotism, July 2 – 6, 2019. Six action packed PRCA Rodeos, Wild West Art Show, Tack Room Saloon, 4th of July Parade, Carnival, Vendors and Fireworks after every evening show! More information at www.StPaulRodeo.com