Above Average – #7 Sanderson and Sellers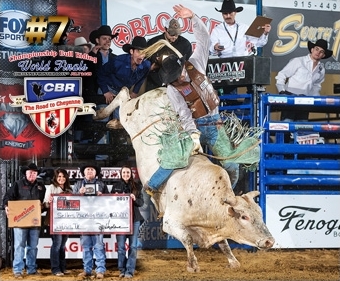 Caleb Sanderson
Twenty-eight year old Caleb Sanderson of Hallettsville, Texas may be a new face on the CBR World Finals day sheet, but he is no newcomer to the sport. Known for his career high riding percentages, Sanderson entered the CBR tour already in progress and rode his way into the top ten during his first month of competition.
At six foot three inches tall, the bull rider originally from Kissimmee, Florida has been competing since his high school days where he qualified for the National High School Rodeo Finals four times finishing second his junior year.
Sanderson, a four time PBR Finals qualifier (2009-2012) qualified and rode in his first National Finals Rodeo in 2015 and makes his first appearance at a CBR World Finals next week riding into Cheyenne as the number seventh ranked rider in CBR for the 2017 season.
Caleb accepted an invitation to compete on the Road to Cheyenne and his first event was in Bossier City, Louisiana on February 4. He debuted strong riding three of three and making the final four Shoot Out round at his first CBR competition. He was 263 points on three losing the final four man round and the event by just 1 point to Tyler Taylor.
He would continue the tour competing in five events and riding nine of the thirteen bulls he attempted. He made the final four Shoot Out round three times (Bossier, Fort Worth, and Lufkin) and earned $21,200 to keep him firmly in the top ten qualifiers for this year's World Finals.
His consistency quickly moved him into the CBR top ten rankings when he rode two of three in Lufkin to win the average with 178.5 points. He was hot at Tuff Hedeman's event in Fort Worth and although he did not make the highest score in the final four man he rode all three and finished third with 263.5 on three. He is currently enjoying a 58% ride average for 2017.
Sanderson has 22 career Go Round wins and a 43.09 career ride average. He has earned over $370,000 in PBR competititon, $142,829 in the PRCA system.
CBR Bull Team Challenge Qualifier #7 – Sellers Bucking Bulls Bull Team Challenge
Long time CBR stock contractor and bull team franchise owner Mike Sellers of Duncan, Oklahoma, earned his way to the number 7 qualifying position with a fourth place check in Huron, a sixth place finish in Enid, and a first place in Lufkin.
Winning with the second closest margin on the 2017 Road to Cheyenne and on a night of twenty nine buck offs, Sellers won the Lufkin Bull Bash Bull Team championship from a combination of rank bull scores. Veteran bull team owner Mike Sellers bucked two veteran bulls and one unknown in Lufkin to win his first event championship of the year with 283.44 points, .23 points ahead of Jeff Harris's Long Creek Outfitters second place team.
"We picked our bulls by ride-ability with a lot of kick and the ability to earn a score," said Sellers from behind the chutes.
The voice of the 2017 Sellers Bucking Bull team was clearly 193 The Communicator, bred by Dennis Hickerson of Cache, Oklahoma. Anchoring Seller's rank team concept this year, 193 bucked in four CBR events on this year's Road to Cheyenne tour and was twice Bull of the Event. The bull, named by Seller's wife Kelly, was definitely heard. Boasting a 100 percent buck off statistic, he was attempted four times on the Road to Cheyenne and all four times the big white bull was understood.
"I bought 193 as a weanling and we competed with him on the competitive circuits as a young bull. He keeps getting stronger and likes to buck. As far as the rider goes he is the perfect bull to get on – stands perfectly still in the chutes and does his job," added Sellers.
Winning four of his six round career outs, and two CBR Bull of the Event titles, the Communicator finished his first CBR season never being marked lower than 45 points and be nominated by Tuff Hedeman for 2017 Bull of the Year, an award to be announced next week in Cheyenne.
193 began his professional and CBR career last August in Huron on night one of the CBR's two night performance. He was the rankest marked bull (45) on night one bucking off Albert LeBaron in 3.18 seconds.
He would make his second appearance in January in Enid, Oklahoma where he earned the Bull of the Event buckle, the rank bull honors for CBR, while bucking off Bayle Worden in 3.23 seconds. Ironically that Enid ride time stat would hold as the longest ride time posted on 193 in CBR competition this season.
He would buck again in late February in Lufkin, Texas winning the match in 3.08 seconds against one of CBR's hottest young riders, Cody Jesus, and picking up a second Bull of the event buckle, this time anchoring the Sellers team to its first season bull team win.
With Sellers carefully selecting his young super star's outs he made the short trip to Salina, Kansas in March from his home in Duncan, Oklahoma, and was the anchor on Seller's bull team. He was marked the third rankest bull (89.5) as he bucked off Juan Alonzo in 2.32 seconds and provided a solid score to assist Seller's bull team to a fourth place finish in the Bull Team Challenge competition.
His highest mark of the season was his out in Enid where he was 46.5 points.
After anchoring Seller's CBR team, 193 was entered in the ABBI Spring Spectacular on April 17 in Stephenville, Texas, a competition for three and four year olds, and was the rankest bull marked of 82 entries.
"He loves his job and he just keeps getting stronger," said Sellers upon learning his bull was on Hedeman's coveted list.
Courtesy of CBR