Allen Celebrates Birthday Early at RGLCFR
by Justin Shaw | Nov 13, 2016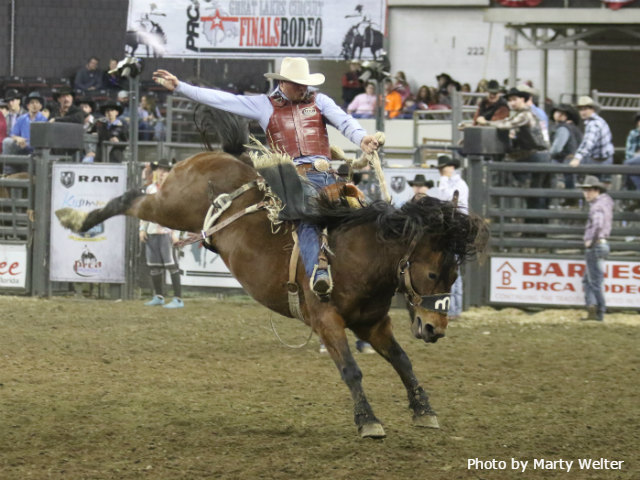 LOUISVILLE, Ky. – Logan Allen will celebrate his 30th birthday Nov. 26, but he went ahead and got himself something nice two weeks early.
The Crescent, Iowa, native took the saddle bronc riding title at the RAM Great Lakes Circuit Finals Rodeo Nov. 12 with a three-head average score of 227 points.
"This was a really nice early birthday weekend," Allen said. "I don't care if you're at a rodeo, or at a casino, when you win that much money in a weekend, it's a good weekend."
In addition to the average title, Allen won the second round and left Louisville with a total of $6,837.
Allen, who raises cattle and horses, while also coaching wrestling at a high school in Council Bluffs, Iowa, wasn't the favorite to win the RGLCFR when the Nov. 10-12 event started.
He was the 14th and final entrant into the field.
"Last month, I was starting to make other plans for November, because I didn't think I was going to make it to my circuit finals," he said. "I wasn't drawing well, and couldn't get anything done. But I was the last guy to get in, so when I got there I knew I had nothing to lose, and had to win the rodeo."
Allen says a new saddle he started using over the summer has him feeling like he's riding better than he has in many years.
While he nearly won a circuit title in bull riding a few years back, this saddle bronc riding triumph will send him to his first RAM National Circuit Finals Rodeo, April 6-9, in Kissimmee, Fla.
He'll have company when he heads to Florida.
"My wife, Shyanne, is finishing up physical therapy school, and wasn't able to come watch me in Louisville because she was finishing clinicals," Allen said. "She was upset she wasn't there to see me win, but she's excited, and already has the trip planned to come with me to Kissimmee."
Other winners at the $189,326 rodeo were all-around cowboy Kyle Whitaker ($2,630 in saddle bronc riding, tie-down roping and steer wrestling), bareback rider Tim O'Connell (242.5 points on three head), steer wrestler Bob Lawlyes (16.3 seconds on three head), team ropers Cody Graham/Jason Stroup (19.1 seconds on three head), tie-down roper T.J. Hobson (27.3 seconds on three head), barrel racer Jordan Moore (47.41 seconds on three head) and bull rider Trevor Reiste (156 points on two head).
Courtesy of PRCA