Aus Captures Snake River Stampede Win
by Tracy Renck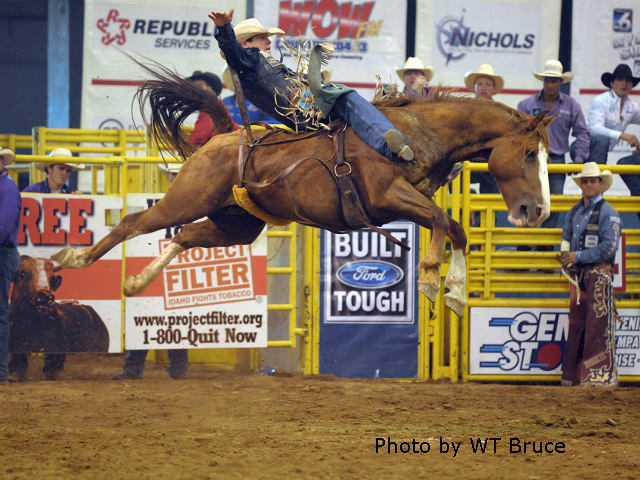 NAMPA, Idaho – Tanner Aus keeps proving that his inaugural appearance at the 2015 the Wrangler National Finals Rodeo presented by Polaris RANGER was no fluke.
The Granite Falls, Minn., cowboy has been better than ever this season – and showed he was in top form at the Snake River Stampede.
Aus had 175 points in the two-head average to take home the title at the Idaho Center.
"This is the first time I've ever been to the short round here (at the Snake River Stampede), and I think I have been here six times," Aus said. "This was definitely on my bucket list to win. This is an amazing rodeo and to come out here and draw good and capitalize feels good."
Aus clinched the crown with his 88.5-point ride on Mo Betta Rodeo's Jason's Pride.
"That was the first time I've been on him, but I knew he was good," said Aus, 26. "He's a little bit smaller in stature, but he has a big heart and tries really hard. He was just really electric and really quick. The first couple of jumps I tracked him and he had one big rear and then he got really good and just kept getting better."
Aus put his chance for a victory in motion with his 86.5-point ride in the first round, which allowed him to collect a $3,803 check. By the time Aus left Nampa, he had $10,414 in winnings.
That total will only help solidified Aus' spot in the top four in the WEATHER GUARD® PRCA World Standings. In the July 18 standings, Aus was fourth with $75,656.
"I take it one horse at a time that's how it has always been for," Aus said. "Basically I just want to stay consistent and stay healthy."
A year ago, Aus finished sixth in the world standings with $169,417 – $83,756 which he won at the Wrangler NFR, thanks to placing in three rounds, including a split of the Round 10 win.
"Making the Finals allowed me to carry a little bit of momentum into this year and it definitely helped with my confidence," Aus said. "That's was a lifelong goal of mine to qualify for the Finals and once I made that it let me make plans for the future and see what I want to accomplish from there."
Other winners at the $398,030. rodeo were all-around cowboy Russell Cardoza, ($3,151, tie-down roping and team roping), steer wrestler Riley Duvall (12.3 seconds on three head), team ropers Blaine Vick/Jim Ross Cooper, 16.5 seconds on three head), saddle bronc rider Tyrell J Smith (166.5 points on two head), tie-down roper Westyn Hughes (24.7 seconds on three head), barrel racer Carley Richardson (31.89 seconds on two runs), bull rider Tyler Smith (173.5 points on two head).
Courtesy of PRCA