Ben Jones – Bringin' a New Kind of Heat to the Horizon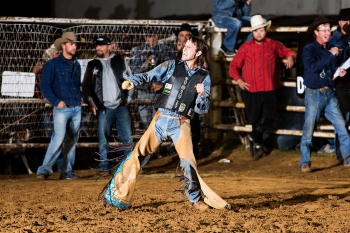 WEATHERFORD, TEXAS – November 13, 2017 – 34 year old veteran bull rider Ben Jones fought off a day sheet chocked full of young healthy bull riders and bulls to dance another day in the professional bull riding arena.
Jones claimed the 7th Annual Bringin' the Heat Horizon Series bull riding title and a check for $3,495 at the annual event produced by and at J.C. Knapp Rodeo Company in Mansfield, Texas on Saturday night.
"You are the one that never gives up on me," said Ben Jones to producer J.C. Knapp following his CBR win in Mansfield.
Bucking 41 bulls in less than two hours, the two round fall classic at the Knapp arena produced fourteen qualified rides and according to the Knapp's, it was the smoothest and best Bringin the Heat event.
Jones racked up 171 points along with the win at Mansfield which was Jones' third CBR Horizon title since the season began in August. The win moved him into fourth place with 513 points, but 522 points behind CBR Horizon leader Braden Richardson (Jasper, TX). Richardson retained his healthy lead with 1035 total points in the Horizon Standings and covered one bull in the long round in Mansfield.
"The Australia native seems to have a new lease on life, riding as good as in his early years, and is determined to continue his comeback," continued Knapp.
With a total of fourteen qualified rides, three bull riders rode two, including CBR's #3 ranked Road to Cheyenne tour rider, eighteen year old Trey Holston, the reigning National High School Finals bull riding Champion and Trey Engle, a 2017 rookie from Nebraska. The annual event known known for its spicy brisket and bulls paid out a total of $11,740 to eight cowboys.
CBR World Standings leader Boudreaux Campbell led the long round with an 89 on 13 Lucky 13 from the Cattle Boys Cattle Co. The PRCA Rookie of the Year is no doubt staying sharp for his first appearance at the Wrangler National Finals Rodeo in December. Not letting up on the veterans was Holston who was 87.5 on 22 Sling Blade (Flip Em Off). There was a log jam of 87 points with Richardson, Ross Freeman, Austin Patterson tying for 3-5. Garrett Jones rode 122 Spanky (Rawson) for 86.5 to finish sixth in the round.
Paying respect to the armed forces veterans, cannons fired after every qualified ride. While the cannons were busy in round one, the action slowed down as only three riders covered their draws in the short go that was a JC Knapp only bull performance. Strutting their stuff and allowing only three qualified rides the bulls that assisted were 122 Leave It to Beaver, Ben Jones for 85.5 points, and 27 Barstool, Trey Engle for 83 points, and SK Slick, Trey Holston, 79 points.
"I liked 03 Wild Bill the best in the short round, but it was hard to say what was the best bull out tonight, there were several outstanding performances including young bulls stepping up like HB Hell's Bells (Flip Em Off) and 510 (Blame it on the Whiskey) from JQH," said Knapp.
The open bull team competition consisted of 10 teams – each bucking four bulls – and the winner was Bud Lane, Cattle Boys Cattle Co with two qualified rides from Engel and Campbell.
This year's Bringin' the Heat Bull Riding was dedicated to the memory of two of the Knapp's biggest fans who recently lost their lives. Michael and Cody Allbright, the nephews of Amber Allbright Knapp and J.C., both lost their lives, ten months apart, in alcohol related car accidents. It is the wish of the Knapp and Allbright families that this heartbreaking loss can raise awareness and prevent any further harm and fatalities involving when drinking and driving.
J.C. Knapp is a veteran stock contractor and owner of the 2015 CBR Bucking Bull of the year, CR Corpus Red. Bringin' The Heat Bull Riding is dedicated to the memory of Michael Chase Allbright and Cody Lynn Allbright.
---
Results
1, Ben Jones, Boyd, Tex., 171 points, $3495.00, 2, Trey Engel, Clarks, NE, 169 pts, $2365, 3, Trey Holston, Ft. Scott, KS,166.5 pts, $2165.00, 4,Boudreaux Campbell, 89 pts, $1780.00, 5-6 3-way tie, Braden Richardson, 87 pts, $605.00. Ross Freeman, 87 pts, $605, Austin Patterson, 87 pts, $605.
For more information on entering and competing in Championship Bull Riding contact chelsee@cbrbull.com.
About CBR Horizon Series
The Horizon Series allows local promoters to conduct a sanctioned CBR event under published guidelines provided by Championship Bull Riding's administrative office in Weatherford, Texas. The top riders on the Horizon Series Tour, at the time entries are taken for a Road to Cheyenne Tour competition, will be allowed to enter the CBR Road to Cheyenne televised tour. At the end of the twelve month season, the Horizon Series Tour Champion is awarded to the rider with the most points. The winner earns a Hyo Silver custom engraved trophy buckle and a $20,000 bonus check at the CBR World Finals at Cheyenne Frontier Days in Cheyenne, Wyoming. For more information contact www.cbrbull.com.
Courtesy of CBR