Billy Bugenig Wins Ellensburg Rodeo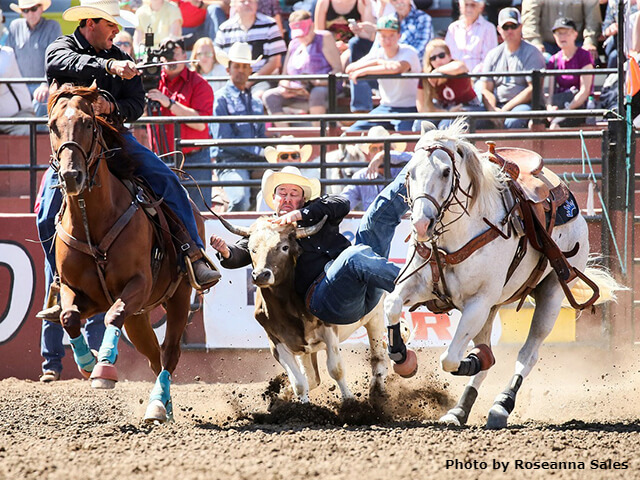 ELLENSBURG, Wash. – Steer wrestler Billy Bugenig won the Ellensburg (Wash.) Rodeo for the second time in his 17 years of PRCA competition Sept. 3.
"I just got lucky I guess," Bugenig laughed. "I drew a couple of good steers, and Blake Mindemann sent his horse over. That was really nice."
Bugenig's friend from Australia, Kodie Jang, hazed for him while riding a horse owned by Matt Reeves. Meanwhile, Bugenig rode Mindemann's American Quarter Horse, Django, the same horse he won $2,857 on collectively at Kennewick and Walla Walla, Wash.
"You always hear that the bulldoggers always help each other out, and that was a prime example of it," Bugenig, 37, said. "He's just a good horse that stands in there and works. I had asked Blake if I could ride him at Kennewick because I needed to do good in the (Wrangler) Tour to make it to Puyallup."
Bugenig didn't place in the first round, before tying for seventh place with a 4.0-second run in the second round. That placed him in a three-way tie for third going into the final round.
Bugenig drew the same steer that Tyler Waguespack had made a 4.1-second run on in the first round. Bugenig topped Waguespack's time with a 3.9-second run to win the average with 12.5 seconds on three head.
"He was really good, so the draw was a big part of it," Bugenig said.
All told, the Ferndale, Calif., cowboy won $5,548 at Ellensburg. More importantly, it's the final stop on the Wrangler ProRodeo Tour, the 22nd rodeo in the 2018 season to determine who will compete at the half-million-dollar Justin Finale in Puyallup, Wash., Sept. 6-9.
"Ellensburg's always been a good rodeo, and it's one of the better ones we go to all year," Bugenig said. "When you can come out on top, it's a plus. I'm fortunate to do good today."
Before winning Ellensburg, Bugenig was 32nd in the Wrangler Tour Standings, about 75 points shy of breaking into the top 24 and qualifying for the Tour Finale. The official Tour standings will not be available until later this week.
"It's important because of the way they have the deal set up at Puyallup," Bugenig said. "It pays a lot, but you still have to do good when you get there."
Bugenig entered Ellensburg 21st in the PRCA | RAM World Standings with $52,280, which was about $12,406 short of breaking into the Top 15. Now he's focused on making up the $6,858 he needs to earn his fifth qualification to the Wrangler National Finals Rodeo.
"Where I'm at in the standings is a ways behind," Bugenig said. "For me to get caught up, there's big money at Puyallup, so today was an important day to do good. I'm still behind but we will see how it goes over the next two weeks."
Bugenig is no stranger to being on the bubble as he finished 19th during the 2014 season.
"I've been on the bubble a lot, seems like my whole career, so I'm not nervous," Bugenig said. "I will do the best I can and see what happens."
Other winners of the $341,885 rodeo were all-around cowboy Tuf Cooper ($5,904, tie-down roping and steer roping); bareback rider Richmond Champion (174 points on two head); team ropers Riley Minor and Brady Minor (15.9 seconds on three head); saddle bronc rider Cort Scheer (170 points on two head); tie-down roper Ryan Jarrett (25.4 seconds on three head); barrel racer Tracy Nowlin (51.79 seconds on three runs); steer roper J. Tom Fisher (25.2 seconds on two head); and bull rider Aaron Williams (163 points on two head).
For more coverage of the Wrangler ProRodeo Tour's Ellensburg Rodeo, check out the Sept. 7 edition of ProRodeo Sports News.
Courtesy of PRCA