California Rodeo's Coloring Contest Returns April 1st
Contest is Open to 3rd and 4th Graders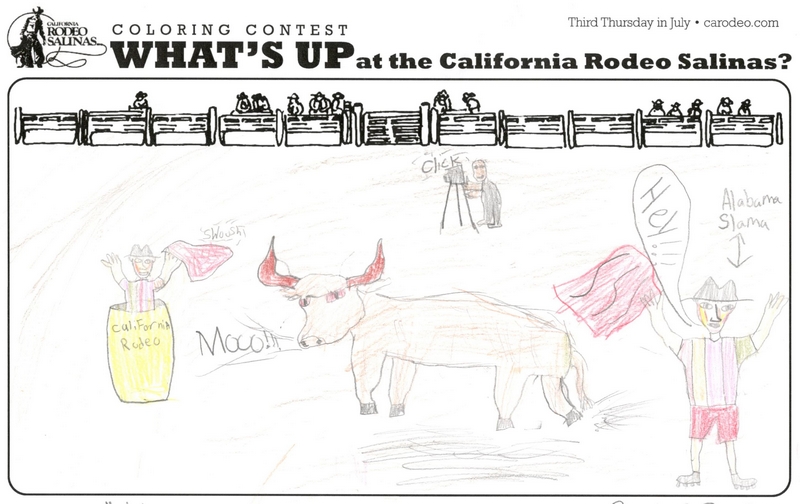 SALINAS, CA, March 29, 2018 – The California Rodeo Salinas is hosting a rodeo themed coloring contest again this year. The community can start getting into the Big Week spirit early as kids can submit their drawings from April 1st until June 1st. Presented by Home Depot, coloring sheets can be found at Home Depot at 1890 N. Davis Road in Salinas, the California Rodeo Salinas Office at 1034 N. Main Street or online at www.carodeo.com under 'Events.'
Entries are due by June 1st at 5pm and can be submitted at the California Rodeo Salinas Office; there is a mail slot near the door if you come outside of the normal business hours of Monday through Friday 9am to 5pm. Entries can also be mailed to PO BOX 1648, Salinas, CA 93902 or returned to the Home Depot at their customer service window.
The California Rodeo's Marketing Committee will select the top 10 semi-finalists and post those entries to the California Rodeo's Facebook page in early June. Fans will vote by 'liking' their favorite picture. Three finalists with the most 'likes' will then be reposted to the page and fans will vote with 'likes.' The entry with the most votes wins. The 3 finalists will each receive 4 tickets to the 2018 California Rodeo Salinas Thursday, July 19th performance. The grand prize winner will be announced by June 29th and will receive 2 additional tickets for the Thursday, July 19th performance, a meet and greet with a freestyle bullfighter and their artwork will be featured on the Jack in the Box Instant Replay Screen on Thursday, July 19th and also on carodeo.com.
Click here to download the coloring contest entry form.
Join Miss California Rodeo Salinas 2017 Lena Coulson at Home Depot on North Davis Road in Salinas on Saturday, April 7th from 9am to 12pm during their Kids Workshop and pick up a coloring contest entry. All kids get to keep their craft, receive a certificate of achievement, a workshop apron and a commemorative pin while supplies last. Children must be present at the store to participate in the workshop and receive the kit, apron and pin. Get more information here: www.homedepot.com
About California Rodeo Salinas
The 108th California Rodeo Salinas will take place July 19th-22nd, 2018. The California Rodeo Association is a not-for-profit organization that strives to preserve and promote the traditions of the California Rodeo Salinas and the West. We support the community and other non-profit organizations through the staging of the annual California Rodeo Salinas and other year round operations of the Salinas Sports Complex. Through donation of our facility, vending and fundraising opportunities during Rodeo and other events, the California Rodeo Association returns over $400,000 annually to local non-profits. For more information about the California Rodeo Salinas, log on to www.CARodeo.com or call the California Rodeo Office at 831-775.3100. 'Like' the California Rodeo on Facebook at www.facebook.com/CARodeoSalinas or follow us on twitter @CaliforniaRodeo for updates, photos and more.