CBR Bull Bash Announces Contestants, Bullfighters and Tractor Giveaway
Big Tex Agriplex Lufkin 2017 CBR Bull Bash presented by Mahindra Tractors and Gravely Zero Turn Mowers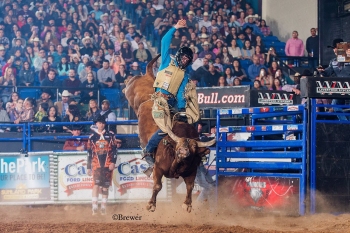 LUFKIN, Texas – (February 23 , 2017) Four time World Champion and Pro Rodeo Hall of Famer Tuff Hedeman announced the contestants and the appearance schedule for Saturday's Big Tex Agriplex Lufkin 2017 Bull Bash. Bull riders and personnel have arrive in Lufkin and are busy with a packed schedule of apperances that includes a tractor and zero turn mower giveaway. Fans will have multiple opportunities to meet the cowboys and get autographs and selfies.
You and your family will enjoy the CBR Famous Energy Bullfighters, Matt Baldwin, Brandon Loden, and Bryce Redo, with grand pyrotechnics introductions. Cody Sosebee will be in the barrel for great family friendly entertainment that assures bull riding fans a jammed pack two hour adrenaline rush show.
But before the bull riding begins this Saturday from 11:00 am 1:00 pm don't forget to come to the Big Tex Agriplex for the 4th annual Bash Before the Bash live radio remote. Register to win a FREE Mahindra E Max 22 tractor and Gravely zero turn mower this year. Everyone is eligible but you have to be present to win. Big Tex invites everyone to come and enjoy the food and drinks from Classic Fare Catering, and music from KYKS 105 who will be broadcasting the entire event live. Drawing will be during the 12:00 o'clock hour for the winners.
While you are waiting for the drawing you can meet and talk to the red hot rookie and number 3 bull rider in the world, Boudreaux Campbell from Crockett who will be signing autographs and taking selfies with fans from 11 am to 1 pm.
Tuff Hedeman will join multiple CBR and PRCA event winner and Wrangler National Finals Rodeo (WNFR) qualifier Aaron Pass and Bossier City Champion, Tyler Taylor, at 3 pm at Cavendar's, 2503 S 1st St in Lufkin. Pass and Taylor will begin signing autographs at 2 pm.
The list of contestants includes six athletes from ten states, six WNFR contestants and the Navajo Nation Bull Riding World Champion, Cody Jesus from Sawmill, Arizona. The list of champions will have their hands full as multiple WNFR qualifiers are scheduled to ride in Lufkin including the number two ranked rider, Eli Vastbinder, who continues to advance up the leaderboard one bull at a time.
Each rider will challenge as many as three bulls during the one night only performance that features a three round tournament style event that gets underway at 8 pm. Scores from the first two rounds are combined to determine the final four riders in the Shoot Out Round. The rider with the highest total score in round three's Shoot Out will earn the CBR Lufkin Bull Bash title and cash prize.
Sanctioned by CBR, the Bull Bash is the twelfth stop on the Road to Cheyenne twelve-month televised tour where the world's top bull riders test their skills against dynamic four-legged animal athletes.
Offering a total purse of $75,000 the 2017 CBR Bull Bash Bull Riding and Bull Team Challenge Champions will take home a custom Hy O Silver buckle, a western hat from American Hat Co., a custom pair of Fenoglio boots, in addition to the cash prize.
"It's a combination of a great rock and roll concert and a heavy weight prize fight refereed by Tuff Hedeman," said CBR Chief Executive Officer, Benny Cude.
The former 4 time world titled Hedeman, who in recent years has made a name for himself in the production of great bull riding events, will serve as the "chute boss" and television commentator from the dirt in front of the audience.
Doors will open at 6:30 p.m. for ticket holders to enjoy the activities on the concourse including great shopping and meet and greets.
Tickets are on sale now (Ticketing Link) online starting at $10 dollars for General Admission. Door prices begin at $15 with reserved seating at $35 and kids 2 and under are free with general admission. General Admission available at Cavender's, 2503 South First, Lufkin, TX, 75901.
Schedule – Saturday, February 25
7:25 am: Tune in to hear Bullfighter of the Year Brandon Loden in studio at KYKS 105
9 am: CBR Futurity Competition for two year old bucking bulls (free) – George Henderson Expo Center, 1200 Ellen Trout Drive, Lufkin
11 am to 1 pm: Tractor Giveaway and Autograph session – Big Tex Agriplex, 4120 Old Tyler Rd, Nacogdoches
2 pm to 4 pm: Autograph Session – Cavenders, 2503 S 1st St, Lufkin
6:30 pm: Doors Open, 2017 Big Tex Agriplex Bull Bash
8 pm: 2017 Bull Bash followed by Josh Ward in concert
10 pm: Autograph Session on the floor of the arena
Location: George Henderson Expo Center Arena, 1200 Ellen Trout Drive, Lufkin, TX 75901
(936) 637-3976
Date: Saturday, February 25, 2017
Websites: www.cbrbull.com, www.eventbrite.com, www.JoshWardmusic.com, www.bigtexagriplex.com
For more information and media credentials please contact Leigh Ann Schroeder, 940.902.1112 or leighann@theshortround.com.
Courtesy of CBR