Cody Wright Wins Spanish Fork WCC Two Days After Son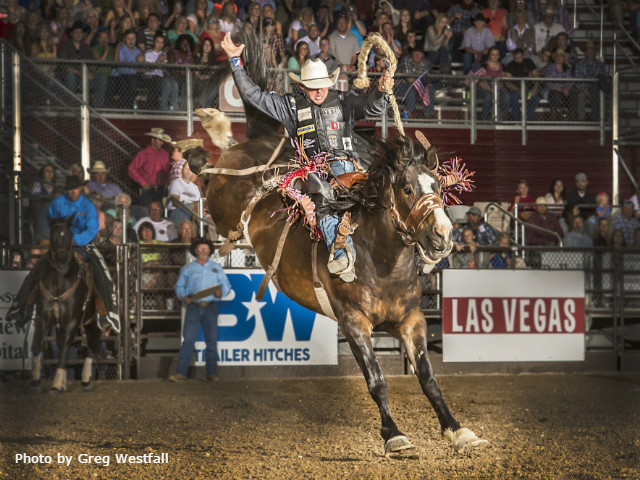 SPANISH FORK, Utah – It's all Wright now in the saddle bronc riding world as Cody Wright won the Wrangler Champions Challenge presented by Justin Boots at Spanish Fork just two days after his son, Ryder Wright, won the WCC in Santa Maria, Calif.
Cody Wright's 88-point ride on Powder River Rodeo's Look Again raked in $3,944 – more than enough to burst the bubble and get him back into the Top 15 of the WEATHER GUARD® PRCA World Standings.
"That's good news for me – it's always good to be moving up the ladder," Wright said.
Prior to Spanish Fork, the Utah cowboy was sitting at No. 16 with $23,454, a mere $334 away from joining Ryder, Jesse and Jake Wright in the Top 15. Although it's still anyone's game as far as qualifying for the 2017 Wrangler National Finals Rodeo presented by Polaris RANGER, Cody Wright has his hopes up that this year's Finals will be a family affair.
"There's a lot of rodeo season left, but if everyone keeps up with what they're doing and getting better, we should be in good shape," Wright said. "The more the merrier, if you ask me."
Competition was tight for the saddle bronc riding, but Wright represented Team Coors well as his bronc turned out of the chute and provided plenty of buck and kick to keep Wright ahead of the pack.
"It seemed like she just got better and better," Wright said while describing his ride. "It's an awesome rodeo – close to home and has good money, good horses, good cowboys and good competition. It's always nice to win with all of them factored in there."
Spanish Fork is the 35th WCC event since the series began in 2013 and it's the fifth event of this 2017 season – the others were Rapid City, S.D. (Feb. 1), Grand Island, Neb. (March 3), Redding, Calif. (May 20) and Santa Maria, Calif. (June 1).
"They had a bunch of good horses out and they all made good rides, and it was nice to sneak out of there with that win," Wright said.
Although the Spanish Fork WCC was only three hours from his home, most of his family was watching one of the youngest Wrights, Stetson, compete at the Utah State High School Finals Rodeo in Heber City, where he won the saddle bronc riding and placed second in bull riding.
"He's been doing really good and I'm proud of him," Wright said, adding that Rusty placed fourth and Spencer Wright placed fifth at the Fort Herriman PRCA Rodeo in Herriman, Utah, on Saturday night. "I'm just excited for everyone that they've been able to do so well and stay in there."
Up next, Wright is heading to Delta, Utah, for the Days of the Old West Rodeo on June 8, and then the Cedar City (Utah) PRCA Championship Rodeo immediately after that; then he's off to the Eagle (Idaho) Rodeo.
Other winners at the $92,800 WCC event were bareback rider Orin Larsen of Team Coors (86 points on Bar T Rodeo's Rubies Girl), steer wrestler Nick Guy of Team Las Vegas (4.6 seconds), team ropers Coleman Proctor/Billie Jack Saebens of Team RAM (5.2 seconds), tie-down roper J.C. Malone of Team Ream's Western Outfitters (7.5 seconds), barrel racer Stevi Hillman of Team Resistol (16.84 seconds) and bull rider Scottie Knapp of Team Ream's Western Outfitters (90 points on D&H Cattle's Brandy's Bad Boy).
For more coverage of the Wrangler Champions Challenge presented by Justin Boots at Spanish Fork, check out the June 23 issue of the ProRodeo Sports News.
Courtesy of PRCA