Eldred Lights Up Vegas with Career-Best Ride
by ProRodeo.com | Dec 09, 2016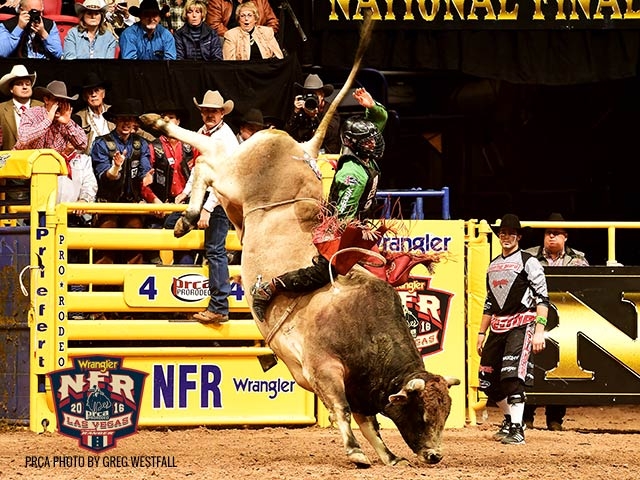 LAS VEGAS – Brennon Eldred made a statement Friday night, and it was loud and clear.
The 22-year-old from Purcell, Okla., won Round 9 of the Wrangler National Finals Rodeo presented by Polaris RANGER with an eye-popping 94.5-point trip on D&H Cattle's SweetPro's Bruiser.
"It's something I knew was possible with the bull I had tonight, because he is a champion bucking bull (the top bucking bull of the 2015 WNFR)," Eldred said. "That's the greatest bucking bull in the world. I was happier than a gopher in fresh dirt when I drew him."
The ride tied for the seventh-highest score ever at the WNFR, and the highest at the Thomas & Mack Center since J.W. Harris' 94.5 in 2010.
"It's the greatest feeling I have ever felt," Eldred said. "Two days ago, I rode in one of the fighter combat planes, and that was intense. But tonight was something I'd never felt before – there's no way to describe it."
Eldred has planted himself firmly in the mix for the gold buckle tomorrow night. He trails good friend and fellow Oklahoman Sage Kimzey by less than $20,000, and Eldred is second in the WNFR average behind Shane Proctor (Kimzey is third).
"I'm not going to worry about it, and just let chips fall where they may and do my best," Eldred said. "I'm just having fun and trying not to overthink it."
He won't change his approach for the 10th round.
"Just the same as today, aim for first – do the same thing I've been doing," Eldred said. "I wore my green shirt today because it's my money shirt. I might wear it tomorrow, too."
Ryder Wright has been a home run or a strikeout at his first WNFR. The 18-year-old saddle bronc rider won the first four rounds, but then didn't earn a check the next four nights.
He hit another homer Friday night when he rode for 88.5 points on Cervi Championship Rodeo's Alpha Dog to win Round 9.
He made WNFR history by becoming the first rookie to win five WNFR rounds.
"It's awesome to come in my rookie year and win my first four, and win Round 9," Wright said. "I try to stay positive and keep everything together – to just remember that I didn't get here off of luck, and I deserve to be here."
Ryder had watched his father, two-time World Champ Cody Wright, on the horse before, and knew what to expect.
"I knew what this horse was like, and my dad gave me pointers," Ryder said. "He said he is flat, so stay back and spur more."
Jacobs Crawley, who split fifth in Round 9, still has a stranglehold on what would be his second straight gold buckle. He has the world standings lead, and sits second in the WNFR average.
Marty Yates needed a win in Round 9 to keep his hopes at a world tie-down roping title alive. He got just that – splitting the round with Ryan Jarrett after both men stopped the clock in 7.4 seconds.
Yates has now won Rounds 4 and 9, and only trails world standings leader Marcos Costa by $1,388. However, both he and Costa are out of the average money right now.
"I'm going to go at all of them just like I started," Yates said. "We don't live a very long life, so we better just do what we want to do, and have fun at what we do. That's the way I live, and that's the way I go about it every time I nod my head. Yeah, sometimes I wish I was a little different, but I'm not going to change now. Most people don't have a chance when they come in 15th to win a gold buckle on the 10th day."
It was Jarrett's fifth career WNFR round win in tie-down roping; he also was the 2005 world all-around champion.
"I had a good calf, and I knew it," he said. "I put a good wrap and a hooey on him – I was fast, and it worked. It's good for sure to get this win. This money is awesome. We've been needing this for a long time."
Cade Swor took control of his own destiny when it comes to the tie-down roping world title. Swor placed third in Round 9, and is now second in the WNFR average, and would've been the world champion if things ended after Round 9. He holds all the cards entering Round 10.
Steer wrestler Riley Duvall isn't going to win a gold buckle at his first WNFR, but he has won two rounds.
He split the Round-6 win with Tyler Waguespack and Billy Bugenig, and took his first solo victory lap Friday night.
"To tell you the truth, I had no idea how fast I was," Duvall said. "When I looked up and saw the clock was a 3.6, I was kind of shocked. It just felt like a good, smooth run, but it didn't feel that fast. That's kind of how it is when you make a good run. It's just reaction. It didn't feel like a 3.6, but I was glad it was."
It's been a special week for Duvall, who has had his father, Sam – a two-time WNFR qualifier in 1987-88 – hazing for him this week.
"He tries so hard to do good for me, and to see it work out again tonight is a really good feeling," Riley said. "My dad has done really good for me all week. I haven't done my job very good to help him, but we got things lined out tonight, and I'm glad I won. I really wanted him to haze for me, and Matt Reeves was nice enough to let us use his hazing horse Beamer."
The world title is Tyler Waguespack's to lose, as he is first in the world and in the WNFR average heading into Round 10. His advantage in the average is 7.4 seconds over second-place Jason Thomas.
Tanner Aus loves his job, and he's really loving the WNFR he's put together.
The Granite Falls, Minn., native has won three rounds, and eclipsed the six-figure mark in earnings in Las Vegas after winning Round 9 with an 88-point ride on Pete Carr Pro Rodeo's Good Time Charlie.
"I have a lot to look forward to the last night of the Finals and next season, and I'm excited to be doing what I'm doing," Aus said. "Riding bucking horses is the best way to make a living that I can think of, and I'm thankful to do it. I'm swinging for the fences every night."
Aus won Round 1 and split the third-round title, but then missed his horse out in Round 4, taking him out of the average. However, he's remained upbeat, and cashed another big check in a ninth round that featured several big scores.
"It's fun to watch, because I'm friends with all those guys and I'm back behind the chutes hootin' and hollerin'," Aus said. "It's electric, and it makes you feel good. If I would've gone out there tonight and not placed, it still would've been a great night of watching bucking horses. To stand out among this field of competition is incredible."
Tim O'Connell failed to earn a check in Round 9, but is still very much the favorite to win his first gold buckle tomorrow. He leads the field by nearly $85,000, and is tops in the WNFR average race. O'Connell can clinch the world simply by riding for eight seconds tomorrow.
Team ropers Kolton Schmidt and Shay Carroll experienced a nightmarish WNFR through the first eight nights.
They had only clocked two times, and had no money won. But that all changed in Round 9. The duo put together a blazing-fast run of 3.6 seconds to each earn $26,231, and put a smile on both of their faces. It was the fastest run of this WNFR.
"All we have left is to try to win first in the last go-round," Schmidt said. "I'll try to score good, throw my rope as fast as I can, and handle the steer good."
"I'll keep preparing like I have all week – I'll rope the Heel-O-Matic tomorrow morning and make sure my horse is prepared," Carroll added. "It's important to stay ready, because I know my partner will give me looks and a chance to win."
The team roping world title race got even tighter, and more interesting, in Round 9, when Luke Brown and Jake Long – who led the world and average entering the night – missed their steer. The gold buckles will be decided in a pressure-packed Round 10 tomorrow night, as there are a handful of teams who could leave with the titles.
Barrel racer Amberleigh Moore is making a late charge at the gold buckle.
A night after Moore and horse Paige tied the arena record with a time of 13.37 seconds, the pair did it again in Round 9, winning with a time of 13.49.
"In the holding area, she was a bit cocky tonight," Moore said of her horse. "I told my handler, 'Here we go again.' Paige is getting pretty cocky, and more and more confident with every run. Now that she knows where her feet are, and is confident that the ground is holding, she is more than ready to put it all out there. Last night, running first and not having any tracks I felt she could get the win. Tonight, running 14th I knew I had to push her just a little bit harder in the turns."
Moore is second in the world and in the WNFR average, and appears to be the biggest threat to Mary Burger with one night remaining. If Moore can win the final round, and get a bit of help, she could be the world champion.
The 58th annual Wrangler NFR concludes Saturday with the 10th round at the Thomas & Mack Center. The action will be televised live and in HD on CBS Sports Net (DirecTV channel 221 and DISH Network channel 158) from 7-10 p.m. PT.
Courtesy of PRCA