Erickson Snares Second Red Bluff Crown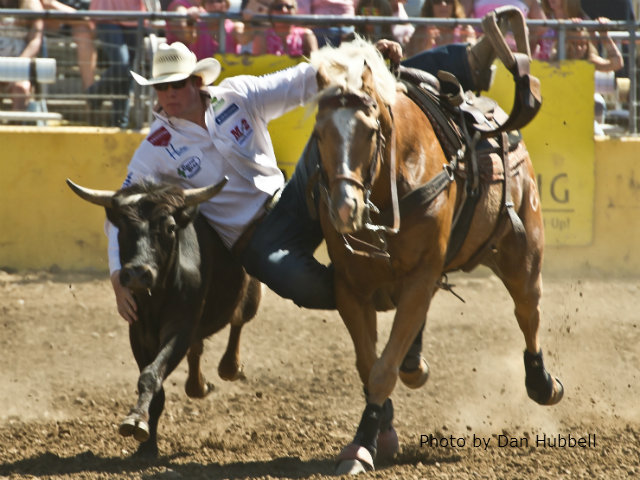 RED BLUFF, Calif. – Winning the storied Red Bluff Round-Up rodeo is something some cowboys never are able to do.
Steer wrestler Ty Erickson isn't one of those cowboys.
For the second time in three years, the Helena, Mont., cowboy won the average at the Red Bluff Round-Up, a Wrangler Million Dollar Silver Rodeo, with a 28.4-second time on four head.
"It feels great to win a rodeo of this caliber again, but honestly it feels great to win any kind of rodeo whether it's San Antonio, Red Bluff or Helena, Mont., just because there are so many great bulldoggers and it's hard to win," said Erickson, who captured the Red Bluff Round-Up crown for the first time in 2014.
Erickson, a two-time qualifier for the Wrangler National Finals Rodeo (2014-2015) was quick to credit his horsepower. Erickson was riding fellow WNFR steer wrestler Tyler Waguespack's horse, Outlaw.
"I had my horse, Shake Em ( the 2015 AQHA/PRCA Steer Wrestling Horse of the Year) here, but I knew Tyler's horse fit this setup way more so I asked him if I could ride his horse and he was nice enough to let me ride him, and his horse couldn't have worked better."
Actually, Waguespack won the Red Bluff Round-Up on Outlaw last year, and Erickson, and Jason Thomas rode Outlaw at Red Bluff this year and were first and third in the average.
"That makes me pretty proud that my horse (Outlaw) won Red Bluff two years in a row," Waguespack said. "It wasn't a bad day at all (April 17)."
Erickson departed Red Bluff with $5,781 in winnings – $3,706 for claiming the average. Erickson's victory became a reality when he won the finals with a 5.1-second run.
"Coming into the short round I was really just focused on making a good run to try and move up in the average as much as I could," Erickson said. "I knew I had a good steer. A buddy of mine, Timmy Sparing had him in the first round (and finished in a tie for third at 6.1 seconds), so I knew I had a good chance to make a good run on him. I just really wanted to get a good start and make a good run on the ground and things worked out for me. Then, I had some guys who went after me in the short round who didn't have any luck and that enabled me to win it."
A year ago, Erickson placed a career-best fourth in the world standings with $197,933. He placed in seven rounds at the 2015 Wrangler National Finals Rodeo presented by Polaris RANGER and collected $108,154.
"What has kind of helped me is knowing that the rodeo season is so long and there's going to be so many ups and downs and you just have to try to keep a level head and have a positive attitude even when you are not doing good," Erickson said. "The mental part of rodeo is the most important thing. After you have gone to three or four rodeos and you don't have any luck, you still have believe you can win at the next one. That is what has helped me the past couple of years."
Other winners at the $247,475 rodeo were all-around cowboy Russell Cardoza ($2,053, tie-down roping, steer wrestling and team roping), bareback rider Mason Clements (88 points on Growney Brothers Rodeo's Raggidy Ann), team ropers J.B. James Jr./Brock Hanson (26.5 seconds on four head), saddle bronc rider Samuel Kelts (84 points on Flying U Rodeo's Last Call), tie-down roper Clint Robinson (45.7 seconds on four head), barrel racer (Taylor Langdon 34.74 seconds on two runs), and bull rider Bayle Worden (Growney Brothers Rodeo's What A Ball 88.5 points).
For more coverage of the Red Bluff Round-Up, check out the May 6 issue of the ProRodeo Sports News.
Courtesy of PRCA