Etherton Gets Taste of Glory at Lovington
by Tracy Renck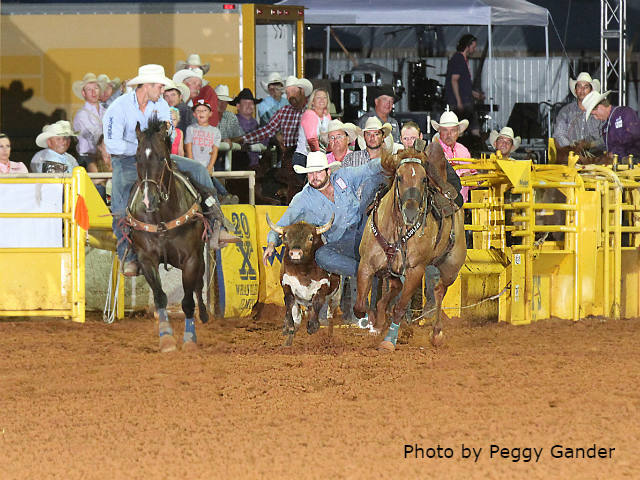 LOVINGTON, N.M. – Steer wrestler Shayde Etherton isn't going to be a player in the chase for a bid for the 2016 Wrangler National Finals Rodeo presented by Polaris RANGER.
But the Hico, Texas, cowboy did get to experience victory at the tradition-rich Lea County Fair & PRCA Rodeo (Aug. 10-13).
Etherton walked away as a co-champion with a time of 7.5 seconds in the two-head average.
Etherton tied J.D. Struxness – the same Struxness who won the Cheyenne (Wyo.) Frontier Days Rodeo (July 23-31).
"This feels really good," said Etherton, 25. "It's always good to win a big check, and this rodeo was definitely on my bucket list."
Etherton, who was out of the top 50 in the Aug. 8 WEATHER GUARD® PRCA World Standings, was thrilled to walk out of Jake McClure Arena after earning $5,277.
He set the tone for his memorable rodeo with a first-round winning run of 3.7 seconds.
"I called a buddy of mine, Dean Stermer – he and Stan Branco broke in the cattle – and Dean told me my steer was supposed to be good," Etherton said. "I got a quick start, and took a chance."
After his great first run, Etherton was nearly as quick with a 3.8-second run in the second round, which tied him for fourth place in the round with Dirk Tavenner.
"I had a steer that a guy missed in the first round," Etherton said. "I just came back and took the same start and tried to make a good run on him, and the steer took it good."
Fueling Etherton's run was the horse, Grumpy, owned by Derek Stewart.
"I've won on that horse a few times this year," Etherton said. "I won ($6,220) at the Cody Stampede (July 1-4) and I placed on him at St. Paul (Ore., July 1-4)."
Etherton acknowledged this season hasn't gone according to plan – going full-time – so now he's turning his focus to the Texas Circuit. He competed in the RAM National Circuit Finals Rodeo for the first time this past April in Kissimmee, Fla.
"That was a great rodeo," Etherton said about the RNCFR. "They were really hospitable and the pay was good and the cattle were good. It sure would be great to go back to the RNCFR. This year didn't pan out, and I didn't get enough won, but this year I want to finish out and get back there to the RNCFR."
Other winners at the $220,783 rodeo were all-around cowboy Josh Peek ($6,426 in tie-down roping and steer wrestling), bareback rider R.C. Landingham (86 points on Pete Carr's Classic Pro Rodeo's Hometown Girl), team ropers Luke Brown and Jake Long (9.1 seconds on two head), saddle bronc rider Sam Spreadborough (86 points on Pete Carr Pro Rodeo's Cool Runnings), tie-down roper Sterling Smith (17.9 seconds on two head), barrel racer Sarah Rose McDonald (17.36 seconds), steer roper J.P. Wickett (32.7 seconds on three head) and bull rider Cody Rostockyj (88.5 points on Pete Carr Pro Rodeo's Leroy Brown).
For more coverage of the Lea County Fair & PRCA Rodeo, coverage out the Aug. 26 issue of the ProRodeo Sports News.
Courtesy of PRCA