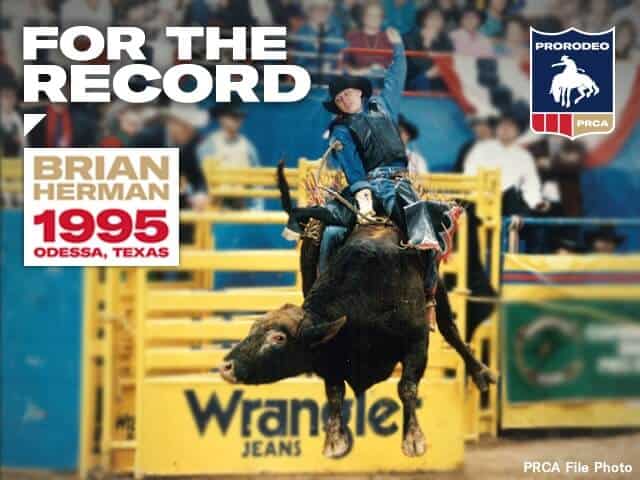 Since 1955, ProRodeo cowboys have kicked off the new calendar year at the Sandhills Stock Show & Rodeo in Odessa, Texas. Since, this Lone Star State rodeo has played host to some high-scoring rides and speedy times, but only the top scores and times make the rodeo's record book.
Brian Herman's 1995 bull riding record of 91 points is the longest-standing record at Odessa, going unmatched until 2010 when Colin McTaggart equaled it.
Herman won more than $380,000 during his ProRodeo career that spanned from 1990 through 2003. During that time, he competed at the Wrangler National Finals Rodeo three times (1994, 1995 and 1998) and was the Texas Circuit bull riding champion in 1994.
The Victoria, Texas, cowboy ranked as high as fifth in the world standings in 1998 with $101,901 thanks in part to placing fourth in the average at the Wrangler NFR that year.
Cowboys have from Jan. 4-12 to top Herman's 24-year-old record, and others, while winning their share of the Odessa prize money.

Rodeo records
Total payoff: $343,913, 2007
All-around: $12,394, Rich Skelton, 2007
Bareback riding: 87 points, Bo Casper, 2007; Russ Hallaby, 2007; Ty Breuer, 2009; Austin Foss, 2017 (170 points on two head, Joe Gunderson, 2005)
Steer wrestling: 3.2 seconds, Ronnie Fields, 2010 (7.5/2, Jake Shaw, 2012)
Team roping: 3.6 seconds, Travis Tryan/Michael Jones, 2010 (8.5/2, Tanner Green/Scotty Raines in 2017; Jake Cooper/Logan Medlin in 2018; 16.2/3, Travis Tryan/Allen Bach, 2006)
Saddle bronc riding: 87 points, Sam Spreadborough, 2003; Cody Wright, 2011 (Jeff Willert, 169/2, 2007)
Tie-down roping: 7.3 seconds, Randall Carlisle, 2010 (16.1/2, Clint Cooper, 2010; Blair Burk, 2013; 27.6/3, Trent Creager, 2007)
Barrel racing: 13.79 seconds, Layna Kight, 2008 (28.06/2, Kassie Mowry, 2010; Sabrina Ketchum, 42.62/3, 2006)
Steer roping: 8.8 seconds, Brent Lewis, 2018 (41.6/4, Trevor Brazile, 2002)
Bull riding: 91 points, Brian Herman, 1995; Colin McTaggart, 2010 (Jim Crosby, 165/2, 2007)
Courtesy of PRCA