For the Record: Wrangler National Finals Rodeo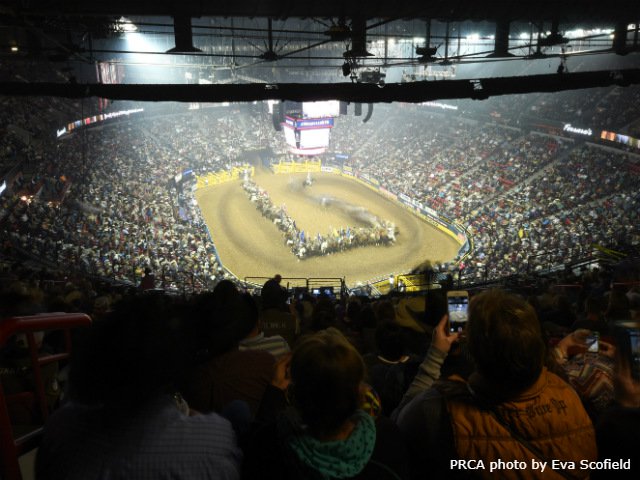 Every cowboy dreams of competing at the biggest rodeo in the world, the Wrangler National Finals Rodeo presented by Polaris RANGER. While only the Top 15 in the WEATHER GUARD® PRCA World Standings for each event get a chance to compete at the Thomas & Mack Center in Las Vegas, it's the best of the best that make WNFR history by nailing the highest points and fastest times. The 2017 WNFR is Dec. 7-16.
Bareback riders Justin McDaniel and Will Lowe each set the WNFR arena record with their 91.5-point rides in 2007. The following year, Bobby Mote matched their records twice.
Steer wrestler Steve Duhon has the longest-standing WNFR record with his 3.0-second time that was set in 1985. Duhon's record remained unmatched until 2001 when Bryan Fields also stopped the clock in 3 seconds flat.
Team ropers Chad Masters and Jade Corkill set a world record and a WNFR arena record at the same time with their 3.3-second run in 2009. The only other team roping duo to match that score was Brock Hanson and Ryan Motes when they were competing in Nacogdoches, Texas, in 2012.
Saddle bronc rider Billy Etbauer set the WNFR record in 2003 with his 93-point ride, which he matched in 2004.
Tie-down roper Cody Ohl's 6.5-second record in 2003 remained unmatched until Trevor Brazile made the same time in 2015.
Barrel racer Taylor Jacob set the WNFR record in 2013 with her 13.37-second run.
Bull rider Cody Hancock's 96-point ride in 2001 remains the top WNFR ride and is among the highest bull riding scores recorded in ProRodeo.
The following is a round-by-round breakdown of the highest scores and fastest times recorded for each of the 10 rounds at the WNFR:
First Round
Bareback riding: 89 points, Kaycee Feild, 2011; Wes Stevenson, 2006
Steer wrestling: 3.1 seconds, Trevor Knowles, 2013
Team roping: 4.0 second, Turtle Powell/Dakota Kirchenschlager, 2014
Saddle bronc riding: 89 points, Bryce Miller, 2008
Tie-down roping: 6.8 seconds, Trevor Brazile, 2015
Barrel racing: 13.75 seconds, Mary Walker, 2012
Bull riding: 94 points, Don Gay, 1974; Blue Stone, 2001
Second round
Bareback riding: 89.5 points, Cimmaron Gerke, 2004
Steer wrestling: 3.1 seconds, Luke Branquinho, 2004
Team roping: 3.8 seconds, Turtle Powell/Dakota Kirchenschlager, 2014
Saddle bronc riding: 90 points, Dan Mortensen, 2003
Tie-down roping: 6.8 seconds, Randall Carlisle, 2013
Barrel racing: 13.66, Sherry Cervi, 2013
Bull riding: 95 points, Mike West, 1999; Terry Don West, 2003
Third round
Bareback riding: 91.5 points, Justin McDaniel, 2007 (equals arena record)
Steer wrestling: 3.1 seconds, Ricky Huddleston, 1985
Team roping: 3.8 seconds, Wade Wheatley/Kyle Lockett, 2002; Daniel Green/Kory Koontz, 2003; Travis Tryan/Michael Jones, 2009
Saddle bronc riding: 90 points, Billy Etbauer, 1999 and 2005
Tie-down roping: 6.6 seconds, Cody Ohl, 2014
Barrel racing: 13.65 seconds, Sherry Cervi, 2010
Bull riding: 94 points, Colby Yates, 2002
Fourth round
Bareback riding: 90.5 points, Will Lowe, 2004
Steer wrestling: 3.1 seconds, Dean Gorsuch, 2013
Team roping: 3.5 seconds, Brady Tryan/Jake Long, 2010
Saddle bronc riding: 90 points, Jesse Kruse, 2009; Jesse Wright, 2012
Tie-down roping: 6.6 seconds, Cody Ohl, 2009
Barrel racing: 13.49 seconds, Taylor Jacob, 2013
Bull riding: 92 points, Jesse Bail, 2001; Paolo Crimber, 2004
Fifth round
Bareback riding: 91.5 points, Bobby Mote, 2008 (equals arena record)
Steer wrestling: 3.0 seconds, Steve Duhon, 1986 (equals arena record)
Team roping: 3.6 seconds, Garrett Tonozzi/Kinney Harrell, 2008; JoJo LeMond/Cory Petska, 2010
Saddle bronc riding: 93 points, Billy Etbauer, 2003 (arena record)
Tie-down roping: 6.9 seconds, Cody Ohl, 2010; Trevor Brazile, 2010
Barrel racing: 13.46 seconds, Carlee Pierce, 2011
Bull riding: 91.5 points, Ryan Brown, 2003
Sixth round
Bareback riding: 90.5 points, Kaycee Feild, 2008; Cimmaron Gerke, 2004
Steer wrestling: 3.0 seconds, Bryan Fields, 2001 (equals arena record)
Team roping: 3.5 seconds, Trevor Brazile/Patrick Smith, 2011; Colby Lovell/Russell Cardoza, 2012
Saddle bronc riding: 89 points, Cody Wright, 2006
Tie-down roping: 6.6 seconds, Trevor Brazile, 2015
Barrel racing: 13.37 seconds, Taylor Jacob, 2013 (also arena record)
Bull riding: 94 points, Jerome Davis, 1996
Seventh round
Bareback riding: 91.5 points, Bobby Mote, 2008 (equals arena record)
Steer wrestling: 3.1 seconds, Matt Reeves, 2013
Team roping: 3.6 seconds, Derrick Begay/Cesar de la Cruz, 2009; Clay Tryan/Travis Graves, 2012; Trevor Brazile/Patrick Smith, 2015
Saddle bronc riding: 90 points, Billy Etbauer, 2009
Tie-down roping: 6.7 seconds, Trevor Brazile, 2007; Cody Ohl, 2013; Matt Shiozawa, 2015
Barrel racing: 13.47 seconds, Taylor Jacob, 2013
Bull riding: 94.5 points, J.W. Harris, 2010
Eighth round
Bareback riding: 89.5 points, Steven Peebles, 2015
Steer wrestling: 3.1 seconds, Shawn Greenfield, 2004
Team roping: 3.5 seconds, Travis Tryan/Cory Petska, 2008
Saddle bronc riding: 89.5 points, Billy Etbauer, 2004
Tie-down roping: 6.5 seconds, Trevor Brazile, 2015 (equals arena record)
Barrel racing: 13.49 seconds, Sherry Cervi, 2010
Bull riding: 95 points, Colby Yates, 2002
Ninth round
Bareback riding: 90 points, Rowdy Buechner, 2005
Steer wrestling: 3.2 seconds, Cash Myers, 2001; Derek Daye, 1993; Luke Branquinho, 2007
Team roping: 3.3 seconds, Chad Masters/Jade Cokill, 2009 (arena and world record)
Saddle bronc riding: 92 points, Dan Mortensen, 2002
Tie-down roping: 6.6 seconds, Hunter Herrin, 2015
Barrel racing: 13.53 seconds, Lindsay Sears, 2008
Bull riding: 95.5 points, Zack Brown, 2003
Tenth round
Bareback riding: 91.5 points, Will Lowe, 2007 (equals arena record)
Steer wrestling: 3.3 seconds, Sid Steiner, 2002; Gabe Ledoux, 2012
Team roping: 3.6 seconds, Chad Masters/Jade Corkill, 2011; Spencer Mitchell/Broc Cresta, 2011
Saddle bronc riding: 93 points, Billy Etbauer, 2004 (equals arena record)
Tie-down roping: 6.5 seconds, Cody Ohl, 2003 (equals arena record)
Barrel racing: 13.55 seconds, Sherry Cervi, 2015
Bull riding: 96 points, Cody Hancock, 2001 (arena record)
Courtesy of PRCA