Joe Frost Wins $21,000 at Ponoka Stampede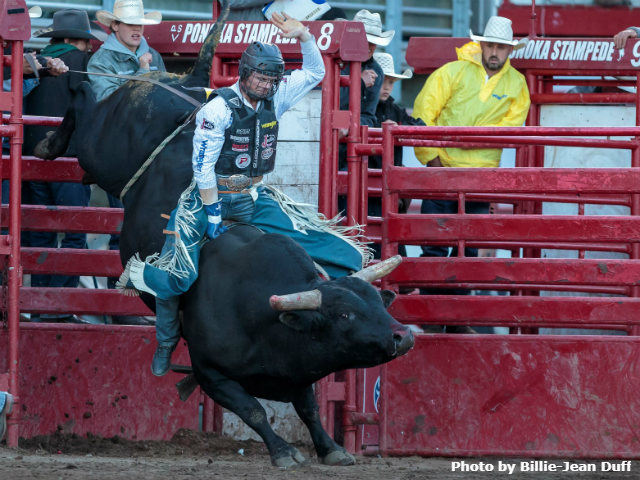 PONOKA, Alberta – Joe Frost's winter wasn't good. The spring wasn't much better for the bull rider from Randlett, Utah.
All that can be forgotten though after his result at the Ponoka (Alberta) Stampede.
Frost rode Calgary Stampede's Night Moves for 78.50 points in the four-man showdown on Monday to win the Ponoka Stampede and take home a whopping $21,228.
Frost was the only bull rider to cover his bull in the final round, earning him $15,000 and his first Ponoka title.
"I've always won a good check out of here, but I really wanted to win it," Frost said. "Maybe next year I can come win it and be a pile of points and ride a little better and be more proud of the way I got it done. It means a lot."
Entering the final day of the rodeo, Frost was sitting in 21st in the PRCA | RAM World Standings. After the win, he could jump into the Top 10.
"It's been probably the worst winter I've ever had and a slow spring and a slow start to the summer," Frost said. "I messed some up this winter, but I haven't been riding that bad all spring and here in June. I hadn't drawn well enough to win. I've won lots of sixth-, seventh- and eighth-place checks, which add up in the long run. But, shoot, it means a lot to come and win $22,000 and get back into the hunt for things, where I'm used to being."
Frost has made four consecutive qualifications for the Wrangler National Finals Rodeo. He could cross the $1 million threshold this season in career earnings. He's been through the grinder to make the Finals before. So he hasn't been worried about where he's been in the standings.
"I've been outside the Top 15 for most of the year," he said. "That's upsetting, but at this point of my career I know never to panic. If I was outside of the Top 15 the last week (of the season) I might be panicking. At this point, it's just important to focus on riding your bulls and knowing that things will turn around. But this is exactly what I needed. A deal like this will make it to where in September I'm not just trying to make the Finals, hopefully I'm back in the race for the world title."
Frost was a little disappointed with his winning ride. He wants another shot at Night Moves.
"It's a little bit of a rough way to get the job done, but the bank won't care, neither will the points in the standings," he laughed. "I hung off the side for six seconds on the last one and got stomped on this afternoon. … Hopefully I get another shot at him (Night Moves), and we do it a little prettier."
Other winners in the showdown were bareback rider Richmond Champion (91.25 points on C5 Rodeo's Virgil); steer wrestler Scott Guenthner (5.4 seconds); team ropers Tristin Woolsey and Denver Johnson (5.3 seconds); saddle bronc rider Sterling Crawley (88.75 points on Calgary Stampede's Wild Cherry); tie-down roper Trevor Brazile (7.3 seconds); and barrel racer Stevi Hillman (17.385 seconds).
Courtesy of PRCA