Jones Picks Up Crucial Win in Kennewick
by Justin Shaw | Aug 24, 2016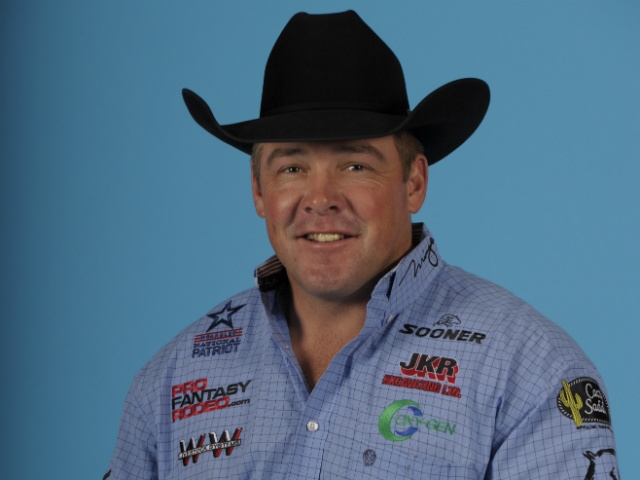 KENNEWICK, Wash. – Steer wrestler K.C. Jones is a bit down, but he sure isn't out, and the 45-year-old showed that Tuesday night.
Jones, representing Team RAM, split the win at the Horse Heaven Roundup Wrangler Champions Challenge presented by Justin Boots with Blake Knowles, of Team ProRodeo Hall of Fame. Both men stopped the clock in 4.4 seconds, earning each $3,480.
"I always like the bulldogging up in the Northwest, and this was a great event with a good crowd," Jones said. "It's a bit disappointing because I haven't done very well at these Champions Challenge events this season, but this is a big win, and I'm grateful to be going down the rodeo road."
Jones has been to the WNFR nine times, including each of the past four seasons. That streak is in serious jeopardy, however.
He entered the week 29th in the WEATHER GUARD® PRCA World Standings, about $15,000 behind traveling partner Cody Cabral, who currently occupies the 15th spot.
"Usually you make most of your money in July and August, but I went a month and a half winning three small checks," Jones said. "Anything can happen, but if I don't make it to the NFR, then that's OK and I'll be back next year. I'm not good at anything else, so I want to keep rodeoing for as long as I can."
Last season, Jones had a career-best campaign, finishing third in the world standings. But horse trouble and a dry spell when it came to drawing the better steers has left him in an unfamiliar position with five weeks left in the regular season.
"It's seemed like it's been one thing after the other this season," Jones said. "Even when I have drawn the good ones, I haven't been able to take advantage of it. But coming into tonight, I took the pressure off myself, and came out and had fun. I'll be happy with whatever I win the rest of the year."
Jones made it clear that he's not throwing in the towel on a potential WNFR run. The schedule he and his traveling partners – Cabral, Juan Alcazar Jr. and Ross Mosher – will employ over the next week shows just that.
Over the next eight days, the four-man crew – which is chronicling its season on the Rodeo Sports Promotions YouTube channel – will hit the rodeo in Kennewick, then travel to Bremerton, Wash., San Juan Capistrano, Calif., Walla Walla, Wash., Pueblo, Colo., and Ellensburg, Wash.
"I have a lot of chances left, and there's a lot of money to be won," Jones said. "But even if we don't make it to the NFR, it's been a fun season."
The question always asked of Jones is how much longer he thinks he'll rodeo full time.
"How old I feel depends on what time of the day you ask me," he said with a laugh. "Some of the medical experts have been telling me for five years that I wouldn't last long, and I'm still here."
Other winners at the $92,800 rodeo were bareback rider Evan Jayne of Team Horse Heaven Roundup (85.5 points on Powder River Rodeo's Big Prize), team ropers Luke Brown and Jake Long of Team B&W Trailer Hitches (4.1 seconds), saddle bronc rider Jake Wright of Team Coors (83 points on Powder River Rodeo's Look Again), tie-down ropers Marcos Costa of Team Justin Boots and Hunter Herrin of Team B&W Trailer Hitches (8.2 seconds each), barrel racer Pamela Capper of Team Horse Heaven Roundup (17.26 seconds) and bull riders Sage Kimzey of Team B&W Trailer Hitches (85.5 points on New West Rodeo Productions' Whiskey Bent) and Roscoe Jarboe of Team RAM (85.5 points on Powder River Rodeo's Golly Gee).
For more coverage of the Kennewick WCC, check out the Sept. 9 issue of the ProRodeo Sports News.
Courtesy of PRCA