Jordan Spears Scores X Bulls Win at Lovington, N.M.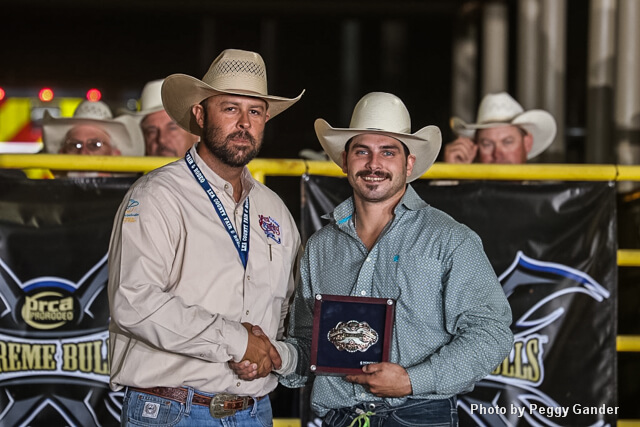 LOVINGTON, N.M. – Jordan Spears' main focus is keeping his focus positive.
That helped guide him to yet another Xtreme Bulls Division I win, this time landing him the victory at the Lea County Fair & PRCA Rodeo Xtreme Bulls, Tuesday night.
Spears finished with 169 points on two head to take home nearly $10,000.
"For any guy, a Division 1 Xtreme Bulls win – with the great bulls and great guys like Sage (Kimzey), J.W. Harris, Shane Proctor – to get a win here is big," said Spears, 26. "Any win is big for a guy at any time of the year. But right now, it's crunch time, when you need to ride good and draw good and hope things work out and go your way. If you do that, you can win quite a bit of money."
Spears stayed positive after scoring 79 points on Stace Smith Pro Rodeos' Jo Jo. That earned him seventh place, $454 and a spot in the finals. From there, Spears climbed aboard a bull he was well familiar with: Pete Carr's Classic Pro Rodeo's Smash Mouth.
Spears did his job and Smash Mouth did his, as the duo combined for 90 points and the top score in the final round, worth $3,102. Add in the average win and Spears left Lovington with $9,231.
"I'm two for three on him," Spears said. "I bucked off the first time I got on him at the NFR last year. I got a feel for him. I rode him in the short round at San Angelo (Texas) this year for 88, and luckily I had him in the short round tonight."
The money was much-needed, as Spears entered the event in 21st in the PRCA | RAM World Standings with $55,253.
The Redding, Calif., cowboy should move to just outside the Top 15 in hopes of qualifying for his fourth trip to the Wrangler National Finals Rodeo. He also qualified in 2014, 2016 and 2017.
With nearly two months remaining in the 2018 regular season, Spears is concentrating on making the Finals. For him the best way to do that is to focus on his goals.
"I owe a lot of success to my dad for having a positive mind no matter if it was good or bad," Spears said.
In the 2017 season, Spears won nearly $40,000 at the Xtreme Bulls Tour Finale in Ellensburg, Wash. Two days before winning in Lovington, Spears won a Division 2 Xtreme Bulls event in Castle Rock, Colo. He entered Tuesday night in seventh place in the Xtreme Bulls Standings.
"This is one of the busiest times of the year," Spears said. "You probably get on more bulls in the next two months on the weekdays than you do over the Fourth. … There are so many rodeos to go to, so many all week long. I seem to do a little better later in the year when I'm sorer. I'm not sure exactly why. I'd love to say there's momentum, but good or bad you've got to forget about it, move on and have a clear mind on the next bull whether you won the last one or were bucked off."
For more coverage of the Lea County Fair & PRCA Rodeo Xtreme Bulls, check out the Aug. 10 edition of ProRodeo Sports News.
Courtesy of PRCA