K.C. Jones Welcomes the Summer with Win at Springdale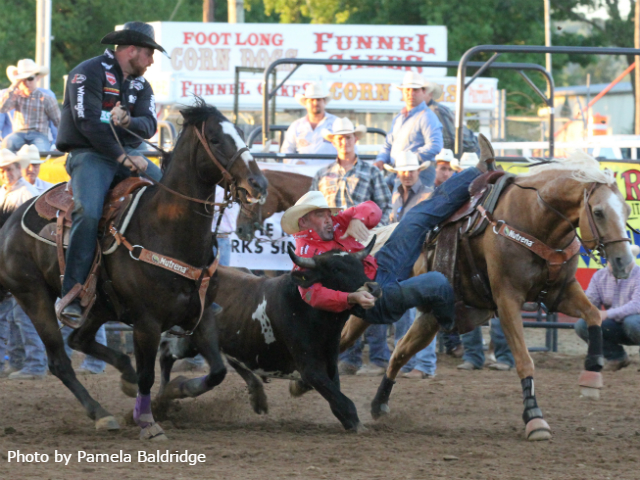 SPRINGDALE, Ark. – With summer comes sunshine, and steer wrestler K.C. Jones is back to singing the same old song.
Clocking a 9.4-second two-head average, Jones claimed the steer wrestling title at the Rodeo of the Ozarks, notching his first win of the season.
"That was pretty exciting," Jones said. "I've always heard what a great rodeo they have in Springdale. I've entered there a couple of times but I've never been able to go down there and it was everything everyone has ever talked about. It lived up to the hype. Great rodeo, great committee, great hospitality, and great bulldoggin'."
The nine-time WNFR qualifier used a 5.1-second first-head time to set the pace, while a 4.3-second final run secured Jones the win and a $4,658 payday.
After sending his rig to the Reno Rodeo (Nev.), Jones was in demand of a horse. Thankfully, the 2016 world champion steer wrestler and his horse Outlaw were close by.
"Tyler Waguespack let me ride his yellow horse, and that horse worked really good," Jones explained. "I just had two great starts and that horse felt really good the first time I got to ride him. Hats off to Tyler for letting me ride him. "
The 46-year old Jones' name has been in remission for most of the 2017 circuit thus far, the result of a combination of factors. Citing unique wisdom and natural rodeo bruises, Jones never planned for the early portion of the 2017 schedule to fit his rodeo plans.
"I've been taking a break," Jones said. "My neck has been a little off, but I've been taking a little break and getting ready for the big summer run. It seems lately that as I get more experience I know the rodeos I do good at.
"In the spring, it's hard to get into a rhythm and so I've been looking forward to the summer and getting a run each day and getting the blood flowing and get sharp."
Despite missing the early chunk of the season, Jones isn't deterred. Rodeo is certainly on his mind.
"We're entered up pretty hot and heavy," he said. "We've got a good group of guys in the rig and a good group of horses so we're pretty excited. We're going to be hot after 'em."
Having qualified for the Wrangler National Finals Rodeo presented by Polaris Ranger four times in the past five seasons, Jones is no stranger to the rodeo spotlight. With so much success in his rearview mirror, you could say the rest of Jones' year will see a Colorado cowboy on cruise control, for the better.
"My main goal this year is to have fun and see how much we can win and whatever happens, happens," Jones said. "I feel good, I've got a new horse I've been riding so I'm pretty excited to get to show him the sights.
"He's got me pretty excited to go rodeoing again."
Other winners at the $130,007 rodeo were all-around cowboy Hadley DeShazo ($1,316, tie-down roping and team roping), bareback rider Tim O'Connell (89.5 points on Andrews Rodeo's Phantom), saddle bronc rider Curtis Garton (88.5 points on Stace Smith Pro Rodeos' Pony Manteam), team ropers Andrew Ward/Reagan Ward (14.0 seconds on two head), tie-down roper Marty Yates (8.1 seconds), barrel racer Stevi Hillman, (17.32 seconds), and bull rider Joseph McConnel (83 points on Rafter G Rodeo's The Wookiee)
Courtesy of PRCA