Kimzey Takes Another Victory Lap in San Antonio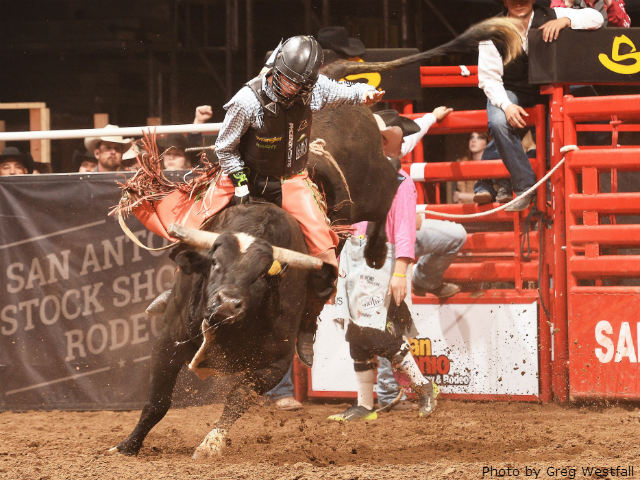 SAN ANTONIO, Texas – Sage Kimzey's winning percentage in the AT&T Center isn't quite as good as the San Antonio Spurs, but it's still impressive.
The two-time defending bull riding world champion picked up his second win at the San Antonio Stock Show & Rodeo in three years Saturday night after riding for 89 points on Andrews Rodeo's Speckled Buck in the final round. He left town with total earnings of $26,736 – the most of any competitor at the Feb. 11-27 rodeo.
"I love big rodeos because of the atmosphere at them," Kimzey said. "They always bring the best bulls here to San Antonio, and that's when I thrive and my ability really shows through. I feel right at home at rodeos like this."
He sure looked at home during his time in San Antonio. The Spurs may be 28-0 at the AT&T Center this season, but Kimzey went 7-for-7 as far as completing success rides.
He covered all six bulls in the rodeo and made the whistle on his bull at the Xtreme Bulls event earlier Saturday.
"I've come to expect that from myself, and I'm not setting out to be second-rate or average," Kimzey said. "I want to be the best, and to do that I have to perform my best every time."
The 21-year-old from Strong City, Okla., won both the San Antonio Stock Show & Rodeo and Xtreme Bulls titles in 2014. He nearly had a three-peat of rodeo titles, as he finished second by a small margin in 2015. In the last three years, Kimzey has won more than $100,000 in this building.
Winning at the 11-time PRCA Large Indoor Rodeo of the Year never gets old for Kimzey, who has also captured the last two bull riding gold buckles.
"The victory lap here is great, because you're looking up at 15,000-plus fans on their feet who are clapping for you and telling you that you did a good job, and that's special," he said.
"Rodeo is the most humbling sport in the world, and it's tough going down the road 250 days out of the year. It's a grind, and you have to get some of these big wins to keep rolling and not let the travel wear on you. I want to keep the ball rolling and do great things."
Kimzey had never ridden Speckled Buck, or even seen the bull before Saturday night. He got some good advice.
"I asked Sammy Andrews about him, and he just said that the bull has been really good around to the left," Kimzey said. "But Sammy also said not to trust what he said, because every time he says a bull will do one thing, it does another. That bull was a handful, but was a really good one to ride."
Other winners at the $1,480,500 rodeo were all-around cowboy was Cole Elshere ($6,914 in saddle bronc riding and bull riding), bareback rider Orin Larsen ($22,745), steer wrestler Jason Thomas ($24,713), team ropers Dustin Bird and Russell Cardoza ($21,747 each), saddle bronc rider Jake Watson ($25,168), tie-down roper Hunter Herrin ($21,604) and barrel racer Michele McLeod ($23,529).
For complete coverage of the San Antonio Stock Show & Rodeo, check out the March 11 issue of the ProRodeo Sports News.
Courtesy of PRCA