Lowe Wins Cheyenne for Third Time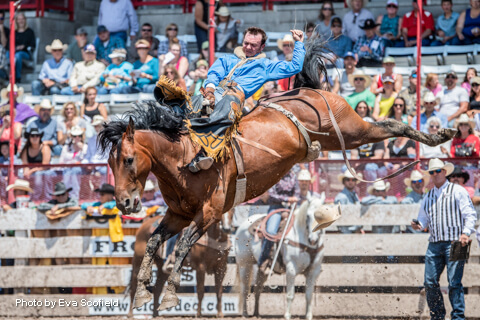 CHEYENNE, Wyo. – The third time was the charm for bareback rider Will Lowe. The three-time world champion won Cheyenne Frontier Days for the third time in his career on July 29.
"I really needed this if I wanted to go back to the NFR, and hopefully I can go off the momentum and keep going," Lowe said. "Each win is different, and you can't put it into words. It's awesome to still be here riding with these guys and to be competitive."
The 35-year-old Texas cowboy joined the PRCA 17 years ago in 2001 and went on to win Cheyenne in 2009 and 2012. He also qualified for every Wrangler National Finals Rodeo from 2002-15 and won the world title in 2003 and 2005-06.
Lowe credited his win at the 2018 Cheyenne Frontier Days Rodeo to "a lot of luck and riding the horse as good as you can."
"Then just leave it out there since there's nothing you can do after your ride," Lowe said.
Lowe won the first round with 86.5 points on Hi Lo ProRodeo's Pretty Woman and then tied for first in the final round with Shane O'Connell by scoring 88 points on Sankey Pro Rodeo & Robinson Bulls' Black Tie. Altogether, his Cheyenne efforts were worth $15,808.
"I knew he (Black Tie) was really good and it was a great pen of horses today, so my focus was on the basics," Lowe said. "I'd seen him a couple times and they said he would really buck and rare out, and that starts the ride good and gives him some flash."
Prior to winning Cheyenne, Lowe was 26th in the PRCA | RAM World Standings with $28,632, which was about $25,000 short of breaking into the Top 15. Now he's focused on making up the $10,000 he needs to earn his 15th Wrangler NFR qualification.
"I've been very blessed and had a solid horse," Lowe said. "You always enjoy drawing from Sankey's pen, and there is a lot of luck and I'm just blessed to be safe and healthy."
Lowe said he plans to compete at just as many rodeos over the next two months as he has competed at during the 2018 season so far.
Other winners at the $834,602 rodeo were Trevor Brazile ($6,486 in steer roping and team roping), steer wrestler Levi Rudd (24.0 seconds on three head), team ropers Chad Masters/Joseph Harrison (26.4 seconds on three head), saddle bronc rider Brody Cress (252.5 points on three head), tie-down roper Shane Hanchey (34.9 seconds on three head), barrel racer Nellie Miller (53.21 seconds on three runs), steer roper Brodie Poppino (46.4 seconds on three head), and bull rider Ruger Piva (252 points on three head).
For more coverage of the Cheyenne Frontier Days Rodeo, check out the Aug. 10 digital issue of ProRodeo Sports News.
Courtesy of PRCA