Marchi Gains Strength from Mother's Cancer Battle
By: Justin Felisko
September 29, 2016
PUEBLO, Colo. – Underneath the stands of Broadmoor World Arena, Guilherme Marchi's voice could be heard echoing off the walls.
"Here we go Cowboy! Wooooooo!"
Marchi yelled, hollered and skipped his way toward the Built Ford Tough Series locker room moments after selecting TLW's Big Cat on Sunday afternoon.
The 34-year-old veteran was in energetic spirits and bringing a liveliness to the locker room that is not always there when Marchi is missing.
Marchi has been rejuvenated ever since he returned from visiting his family during the BFTS summer break in Brazil.
His lively personality is a trait he inherited from his mother, Marcia.
"Of course," Marchi said. "My mama is so happy. She has lots of energy and everybody likes to be around her. She laughs so hard. She talks to everybody. Everybody likes her."
The 2008 World Champion continued to speak about his mother, crediting her with helping him focus on trying to win a second gold buckle before his career is over and how she has guided him through some tumultuous times at home in recent years.
As he speaks, there is a tad bit of fear in his voice as he talks about the strength of his mother.
Marcia is currently amidst a second bout with breast cancer after doctors found a tumor in June during a routine check-up. Doctors removed the tumor in mid-July and she is now going through chemotherapy treatment.
Guilherme then pauses and runs his hand across his recently shaven head.
"She had surgery to take (the tumor) off and she did chemo and her hair started falling off," Marchi said. "I said I would do this for my mama so she wouldn't be by herself. I wanted to show her support. I did it for her and to make her happy."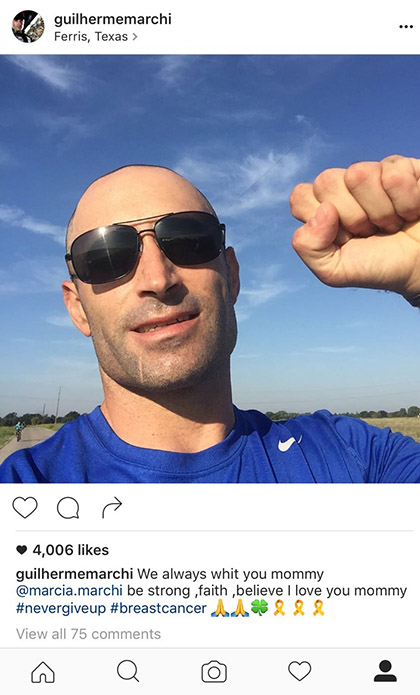 Guilherme added his mother is doing well and that she is a strong fighter.
"She is doing great," Marchi said. "She is doing very good. She is happy. She is smiling. She just cares about her hair. She is so sensitive. She likes to do her makeup. She likes to be pretty. It is tough for her. She just wants to be good.
"Three or four years ago she beat it. She can do it again."
Marchi is planning on taking his mother on vacation following the 2016 Built Ford Tough World Finals on Nov. 2-6.
The 13-year BFTS veteran laughed when asked about his mother's reaction when he sent her a picture of his new haircut.
"She said, 'You are crazy!' Marchi said, grinning. "She say, 'What did you do that for?' and she started to cry. My brother shaved too. Everybody has done a little bit for her."
Still, it is hard not being home in Brazil by her side, Marchi admits.
According to the Susan G. Komen organization, "breast cancer is the most frequently diagnosed cancer in the world and the leading cause of cancer death in women, with an estimated 1.7 million new cases recorded in 2012."
"It is hard," Marchi said. "It hurts a family pretty bad. But, like I said before, you need to be strong every day and not accept everything. You need to fight and never give up. You need to be ready for everything. The world can change."
It is a lesson his mother continues to stress to him on a weekly basis, even in the middle of her own battle.
Without the support of his mother and father, Marchi admits he may have never found success in his PBR career, especially in the last few years when torn ligaments in his knee and bicep have made it only harder to find 8 seconds of glory in a sport that he once easily dominated in the mid-to-late 2000s.
"Well, my mama. She and my daddy always pushed me," Marchi said. "She said what happen with you. You need to fix your head. You are one of the best right there. She told me after the break, 'Don't give up. Get strong. Fight. Dedicate yourself because you have a chance to be a World Champion again.'
Marchi will continue his late-season push when he takes on Whiskey Gap (3-3, BFTS) on Saturday night in Round 1 and Devil in a Bottle (5-1, BFTS) in Round 2 on Sunday.
He is 15th in the world standings and is 2,645.33 points behind world leader Kaique Pacheco.
Marchi is also competing in the 15/15 Bucking Battle on Saturday night versus Swashbuckler. Swashbuckler (10-3, BFTS) has bucked off Marchi twice in 2016.
Fans can watch the 15/15 Bucking Battle on CBS national television on Sunday at either 3 or 5 p.m. ET (check your local listings).
"I feel 50 percent better than when I started the year," Marchi concluded. "I started to eat healthy. Stop drinking (as much) alcohol, but I drink some wine sometimes. We are getting older and losing our strength. We lose our power. We are slower. No reaction.
"I just want to prove to myself that I can still do it."
Follow Justin Felisko on Twitter @jfelisko
© 2016 PBR Inc. All rights reserved.