Michael Riggs Rides Away with Win at RSCFR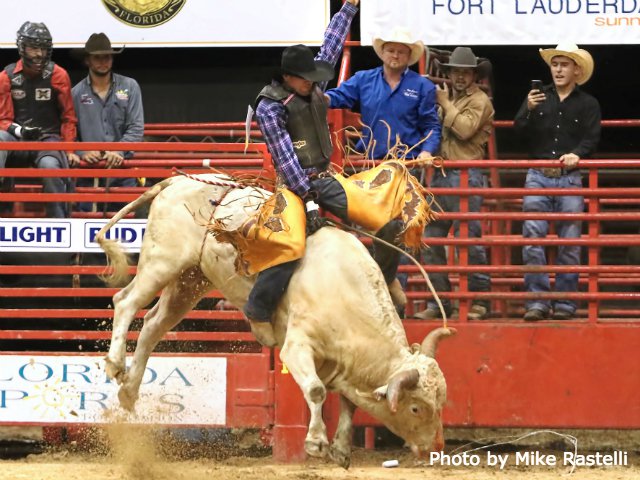 DAVIE, Fla.- Rodeo isn't for the faint of heart, and even more so, is hardly tailored to veteran cowboys. Yet, at 41-years-old, Michael Riggs Jr. showed this weekend that seasoned bull riders such as himself should never be discounted.
Riggs, a native of Claxton, Ga., came into the Southeastern Circuit Finals ranked 8th among bull riders inside his respective circuit. As the only cowboy to cover not two, but all three bulls in Davie, Riggs stormed away from his fellow bull riders with a three head score of 252 points. In total, Riggs' ability to ride to the horn resulted in a payday of just over $13,000.
"It feels good," Riggs said. "It's one of those things where you don't expect to not too good, but you don't really expect to do that good. It's exciting and pretty cool all at the same time."
During the Nov. 9 opening round of the Southeastern Circuit Finals, Riggs tied for the win with Jeffrey Ramagos, as both cowboys saw their eight-second efforts go for 83 points. The following night, Riggs' 82.5-point ride led him to become the only cowboy with a two-head score. Knowing all he needed was one more successful bull ride in the Nov. 11 final round, Riggs did exactly what he told himself he would: to not do too much.
"I just tried to keep it simple like I did the first two times," Riggs explained. "Just have fun and give myself the best shot I can, and just let it happen. No pressure, just try to do what you came there to do, and I think that's the biggest thing this weekend. I didn't really have a whole lot of expectations on performance, and I feel like with that, the better I've done."
In poetic fashion, Riggs clinched both the Southeastern Circuit Finals average win, as well as the year-end crown with an 86.5 points atop of Pete Carr's Classic Pro Rodeo's Speckled Chicken, a bull with a buck-off rate of just under 82 percent during the 2017 season. With an invitation to Kissimmee, Fla. for the RAM National Circuit Finals Rodeo in his hip pocket, Riggs has every intention to keep rodeoing for now — despite mulling retirement.
"It definitely changes my outlook," Riggs said. "I'm definitely going to keep getting on and at least go through Kissimmee. I think the rest, I'm just going to see how I do between here and there and go from there.
"It's not that I don't think I can, it's just with responsibilities and workload stuff I have at home, I'm going to take a few months here between now and January to think about things."
Other winners at the $210,724 rodeo were bareback rider Blade Elliott (236.5 points on three head), steer wrestler Jacob Talley (10.8 seconds on three head), team ropers Keven Daniel/Brad Culpepper (17.0 seconds on three head), saddle bronc rider Joey Sonnier (242.5 points on three head), tie-down roper Reno Gonzales (24.1 seconds on three head), and barrel racer Kaley Bass (44.78 seconds on three head).
For further coverage of the Southeastern Circuit Finals Rodeo, check out the Nov. 24 issue of ProRodeo Sports News.
Courtesy of PRCA