Mize Captures his Inaugural Xtreme Bulls Division 1 Win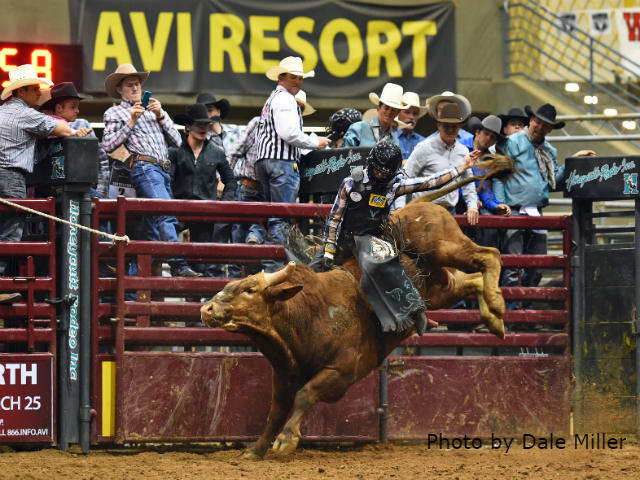 FORT MOHAVE, Ariz. – Fear obviously wasn't a factor for rookie Tristan Mize Saturday night.
Competing against a talented field, Mize came out a champion with a score of 173 points in the two-head average at the Xtreme Bulls Division 1 event.
It was Mize's first career Xtreme Bulls win, in only his second attempt.
"This feels really good," said Mize, 20. "There were a lot of very good riders here tonight, and this is my biggest win so far in my PRCA career. I get nervous now and then, and if you don't get nervous, I don't think you're human, but I was able to relax and do what I needed to do."
Mize was especially happy about the $10,381 he earned for his performance.
"That money will help me out a lot," Mize said. "This is a big win for me and gives me a good confidence boost."
Mize, of Bryan, Texas, set the stage for his victory with an 85-point ride on Bar T Rodeo's Starfish.
"That was a nice bull, and it felt great to get one rode in the long round," Mize said.
Mize's ride left him in a tie for second place with Kurtis Turner, and just one point behind Jeffrey Ramagos, who registered his 86-point score on Championship Pro Rodeo's Glory.
In the finals, things clicked again for Mize as he had an 88-point trip on Honeycutt Rodeo and Western Rodeos' Bragging Rights.
Mize just edged reigning PRCA/Resistol Rookie of the Year Roscoe Jarboe by 1.5 points to win the average.
Jarboe qualified for the 2016 Wrangler National Finals Rodeo presented by Polaris RANGER, finishing ninth in the WEATHER GUARD® PRCA World Standings.
He won the short round in Fort Mohave with a 90.5-point ride on Bar T Rodeo's Broken Arrow. That tied him for the third-highest scored bull ride this season with Brennon Eldred's 90.5-point ride on Beutler & Son Rodeo's Muley Madness in Tucson, Ariz.
"I just wanted to stay calm and have fun and get my job done," Mize said. "I had never seen that bull (Bragging Rights) before, and I didn't know much about him, but he ended up being really good. He went around to the left and kicked real hard and bucked good. When I made the whistle, I was pretty excited because I knew I was going to get a decent score."
Although Mize is only a rookie, he's not lacking any confidence.
"I don't think there's any reason of doing anything unless you're the best at it," he said. "I ride bulls because I love doing this, and I want to be the best. I love the thrill and the rush of riding bulls, and being able to ride something that weighs that much more than you do, and that moves so fast."
For more coverage of the Fort Mohave Xtreme Bulls Division 1 event, check out the March 31 issue of the ProRodeo Sports News.
Courtesy of PRCA