O'Connell Captures Fort Worth Title
by Tracy Renck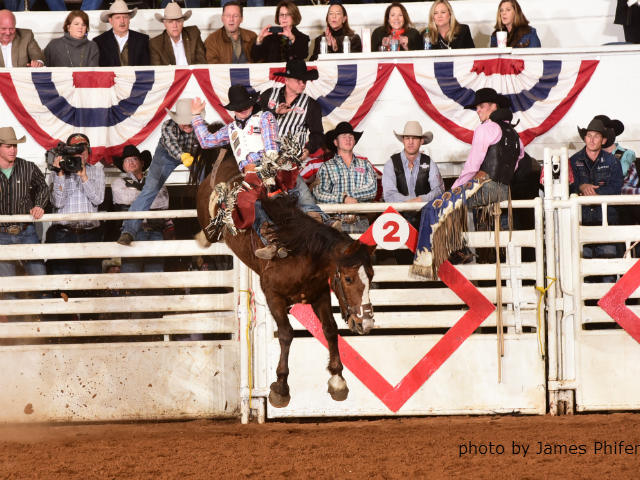 FORT WORTH, Texas – Before this weekend, bareback rider Tim O'Connell never had any luck at the Southwestern Exposition and Livestock Show.
On Feb. 6, the Marshall, Mo., cowboy hit the jackpot.
O'Connell finished with 333 points on four head to win the average at Will Rogers Coliseum.
"I had never even made the short round at Fort Worth before, so this feels great," said O'Connell, 24.
The Southwestern Exposition and Livestock Show ran Jan. 22 through Feb. 6, and it was a very worthwhile stop for O'Connell. He left town with $12,070.
"I'm having fun riding bucking horses, and it's great to win a big rodeo like this," O'Connell said. "This really kick-starts my year. I feel like I'm riding well and I drew four great horses."
O'Connell was riding a tidal wave of momentum Feb. 6 when he tied for first place in the third round with Bill Tutor as each cowboy had an 84.5-point ride. O'Connell's third-round score came aboard Four Star Rodeo's Big Star, and it left him with 253.5 points on three head, which gave him a seven-point lead over Orin Larsen heading into the short round.
After Caleb Bennett had an 87-point ride on Rafter G Rodeo's Assault in the finals – O'Connell, the last rider of the night, needed a 79-point ride or better to capture the average title over Bennett.
"I was actually pretty calm," O'Connell said. "I don't like to pay attention to what other people are doing because I know that's out of my control. I wasn't nervous, but I'm not saying that I was confident I was going to win. I knew whatever was going to happen in that eight seconds, God knew what was going to happen, and that's all I needed to know."
O'Connell did just enough, as he recorded a 79.5-point ride on J Bar J's Chilly Lounge.
"I had never even heard of that horse before," O'Connell said. "That horse really bucked right out of there. She was a nice horse and she gave me every opportunity to do the very best I could do. It wasn't the flashiest ride that I could put together, but it was good enough to win."
O'Connell has qualified for the Wrangler National Finals Rodeo the last two years, finishing eighth (2014) and seventh (2015), and he has ambitious goals for 2016.
"I'm looking at the gold buckle for the finish already," O'Connell said. "I work hard for that every day. When I'm at home, I'm in the gym doing things that will help me out in the long run."
Other winners at the $645,256 rodeo were steer wrestler Matt Reeves (13.0 seconds on three head), team ropers Clay Smith and Paul Eaves (14.9 seconds on three head), saddle bronc rider Jake Wright (251 points on three head), tie-down roper Ryle Smith (25.6 seconds on three head), barrel racer Ivy Conrado (50.04 seconds on three runs) and bull rider Riker Carter (243.5 points on three head).
Read more about the Southwestern Exposition and Livestock Show in the Feb. 26 ProRodeo Sports News.
Courtesy of PRCA