Patterson Leads Halfway through NCFSR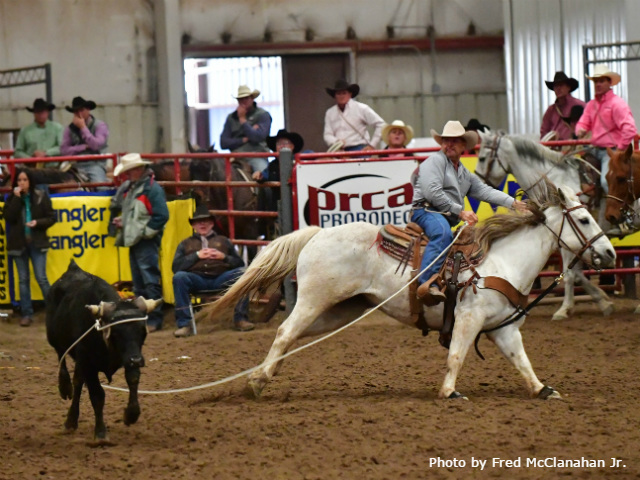 TORRINGTON, Wyo. – Rocky Patterson is leading the pack halfway through the RAM National Circuit Finals Steer Roping.
"I'm feeling pretty good now – I didn't rope very good last week at Liberty Hill and Corpus Christi (Texas)," Patterson said.
Success at the NCFSR is nothing new for this Kansas cowboy, as he won it in 2012 and has also captured four steer roping gold buckles (2009-10, 2012 and 2016).
Patterson, 51, kicked off the NCFSR strong on Saturday, winning the first two rounds with runs of 11.3 and a 10.7 seconds, giving him a 2.3-second lead in the average halfway through the first day at 22.0 on two head.
"They're walking fresh and my horse is good at that, and maybe I brought a better horse than some, or was luckier than some," Patterson said.
Round 3 didn't fare so well for Patterson, as he came in fourth in a tight race with a 12.0, not too far behind Jason Evans' 11.1, Chet Herren's 10.8 and Travis Mills' 10.5. But, Patterson was still leading in the average at the end of Round 3 with 34.0 on three head – more than three seconds ahead of Chance Kelton.
That strong start kept Patterson leading the average after a rough go in Round 4 – clocking in at 13.8.
Patterson plans on changing his ride for the second day of the NCFSR, and will compete on the same horse he rode at last year's NCFSR, named Buster. Patterson made it to the final round on Buster last year and placed third.
"I like my little bay, but he's a little green," Patterson said.
As the first half of the NCFSR came to a close after the fourth round, Patterson leads the average with 47.8 on four head, followed by Vin Fisher Jr. with 50.3, then Chance Kelton with 51.6, Reo Lohse at 53.4 and Chet Herren with 53.6.
"I'll try to tie two more down and keep my horse honest, so if I get to the finals I'm not afoot – I'll have something good to ride," Patterson said.
Rounds 5-8 kick off Sunday at 1 p.m. (MT) where the overall winner of the NCFSR will be determined. Check back with prorodeo.com for full results and coverage.
Courtesy of PRCA