PBR Canada 2017 Monster Energy Tour to begin in Quebec City
By: Andrew Giangola
March 20, 2017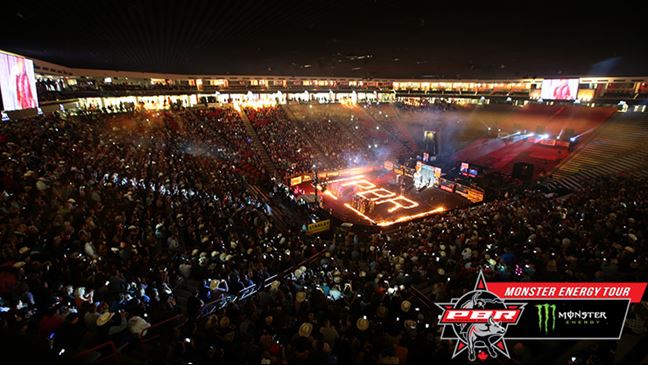 QUEBEC CITY — PBR has announced the PBR Monster Energy Tour – a new, national bull riding series visiting six Canadian provinces, will open the 2017 season in Quebec City at the Videotron Center on June 2nd and 3rd, 2017. It will be the first year of a three-year deal to host a Monster Energy Tour event at the Videotron Center. Following these two hours of confrontation between the cowboys and the bulls, a country rock show will be presented for fans who want to continue their evening. More details to come about this festive event.
While PBR has hosted events in Canada since 1996, this new tour will hit the road for its second season as a unified competitive series traveling across the country.  After beginning in Quebec City, the national series will move on to stops in Ottawa on June 9; Toronto, June 24; Calgary, September 23; Winnipeg, October 6; Abbotsford, October 14; and Saskatoon, October 20 and 21, where a PBR Canadian Champion will be crowned.
The PBR Monster Energy Tour will award a total purse of $100,000 in prize money for the Quebec City event, which is five times more than a regular-season Monster Energy Tour event. As a PBR Canada Major, the event will offer increased prize money and world standings points. Points earned at all PBR Monster Energy Tour events count toward qualifying for the prestigious PBR Built Ford Tough Series and PBR Built Ford Tough World Finals in Las Vegas.
Quebec City will feature the top Canadian bull riders and 10 international invites from the elite Built Ford Tough Series.
The PBR Monster Energy Tour will be showcased on TSN/RDS, including a post-season highlights show.  Fans should check local listings for broadcast event dates and times.
"Quebec is a top destination for international sports and a hotbed for action sports," said Sean Gleason, CEO of the PBR. "As PBR continues to grow on a global scale, we will continue to invest in expanding the PBR Monster Energy Tour in Canada. We're thrilled to start the season in Quebec in a beautiful venue hosting a two-day event that will include the top bull riders in the world."
"We are proud to partner with the best and have the opportunity to add the Gestev touch," said Patrice Drouin, President of Gestev. "Our long-term wish is to create a new atmosphere in Quebec City that will bring out the culture that surrounds this lifestyle that is a real extreme sport! "
"As PBR commits to bringing world-class events to Canadian fans, we are grateful for the support of Monster Energy, Gestev and Videotron Centre in launching this Event Major to open our 2017 national tour," said Chris Bell, General Manager of PBR Canada. "The leading-edge marketing and promotion of our valued partners will generate strong awareness for the tour's season and provide fans with a great experience."
© 2017 PBR Inc. All rights reserved.