Pratt Wins Redding and Leads Killeen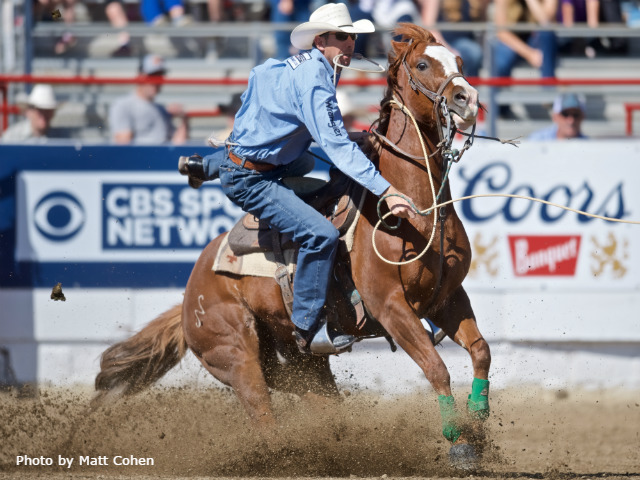 Tie-down roper Jake Pratt was two-for-two on Friday, winning the Redding (Calif.) Rodeo and splitting for the lead at Rodeo Killeen (Texas).
Pratt was the first up for slack at Redding and nailed 16.5 on two – and before the dust settled in California and his win was solidified, he had already tied for the lead at Killeen with Reese Riemer at 8.9 seconds.
"That 6 a.m. flight wasn't any fun," Pratt said with a laugh. "People always ask what's in my rope can."
On Wednesday, the 29-year-old cowboy burst into the Redding arena on a borrowed horse named Irish, owned by Oregon cowboy Roger Nonella, and placed second in the first round with an 8.0. He went on to split the win in Round 2 with Shane Hanchey, clocking in at 8.5 seconds, which placed him 1.5 seconds ahead in the average.
"That horse was pretty dang awesome and a lot of that success is due to that horse," Pratt said. "Those calves at Redding went to Red Bluff and Clovis (Calif.) and everyone knew them. I knew the one I had in the first round was good at the other rodeos – I just flew in there and rode."
Prior to this win at Redding, Pratt wasn't even in the WEATHER GUARD® PRCA World Standings' Top 50. Now the $5,659 he won at Redding should give him a healthy boost in the world standings for a shot at qualifying for what would be his first Wrangler National Finals Rodeo presented by Polaris RANGER.
"It's been a slow year so far, but man, if I stay where I'm at it, it would be a big boost for the summertime – just got to continue and keep winning and hopefully I'll be in Vegas in December," Pratt said. "I went to the winter rodeos and had a slow start, but this last month has been pretty good, so we'll keep doing that the rest of the year."
Pratt placed at some previous rodeos in California and credits his turning point this season to his new 10-year-old sorrel gelding American Quarter Horse that he got from Colorado cowboy Scotty Shelton.
"I got him in February and things started coming together," Pratt said. "For me, he scores really good and he can run – so that helps a lot, those are his two best qualities."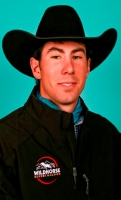 Pratt has been competing in ProRodeo since late 2008 and his best year was in 2014 when he ranked No. 17 in the world standings. Now, he's on track to possibly top his personal best.
"I'll continue what I've been doing and take advantage when they draw good calves," Pratt said.
He already has his eyes set on Sisters, Ore., and Reno, Nev., in June.
Other winners in Redding were all-around cowboy Chant DeForest ($6,447 in tie-down roping and team roping), bareback rider Ty Breuer (84.5 points on Big Stone Rodeo's Gone Fishing), steer wrestler Sterling Lambert (9.1 seconds on two head), team ropers Chant DeForest/Bronc Boehnlein (9.7 seconds on two head), saddle bronc rider Zeke Thurston (85.5 points), barrel racer Lake Mehalic (17.21 seconds), and bull riders Derek Kolbaba (87.5 points on Corey & Lange Rodeo's O Zone), Sage Kimzey (87.5 points on Bridwell Pro Rodeos' Clean-n-sober), and Brady Portenier (87.5 points on Bridwell Pro Rodeos' Cold Chill).
For more coverage of the Redding Rodeo, check out the June 9 issue of the ProRodeo Sports News.
Courtesy of PRCA