PRCA Announces 2016 Live Streaming License Agreement with FloSports
by ProRodeo.com | Nov 03, 2016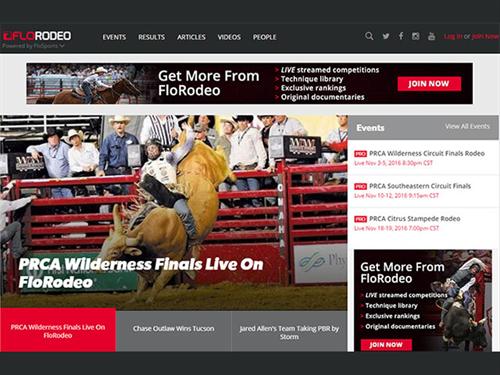 COLORADO SPRINGS—The Professional Rodeo Cowboys Association announced a license agreement with FloSports Nov. 3 to live stream three PRCA events in the coming days and weeks on FloRodeo.com. The RAM Wilderness Circuit Finals Rodeo in Heber City, Utah, will be broadcast live Nov. 3-5 at 7 p.m. MT nightly; the PRCA RAM Southeastern Circuit Finals Rodeo in Davie Fla., will be live streamed Nov. 10-12 at 7:30 p.m. ET nightly; and the PRCA Citrus Stampede Rodeo in Inverness, Fla., will be featured live and on-demand worldwide Nov. 18-19 at 8 p.m. ET each night.
"There is no more exciting sport than professional rodeo, and we couldn't be happier to partner with the PRCA to bring these competitions to a worldwide audience," said FloSports CEO and co-founder Martin Floreani. "With subscribers from more than 100 countries, we know our audience will love these events, and we look forward to serving millions of die-hard ProRodeo fans."
"The PRCA welcomed the opportunity to license FloSports to provide ProRodeo fans live access to three 2016 PRCA events they can't reach by any other means," said PRCA Commissioner Karl Stressman. "We hope people will enjoy it, both here at home and internationally, as we continue to work to provide more content to satisfy the demands of the greatest sports fans in the world."
To access the live coverage and replays of all events, users must sign up to become FloPRO subscribers on FloRodeo.com. Monthly and annual FloPRO subscriptions are $20 and $150, respectively. Yearly subscribers also gain access to premium content across the FloSports network of sites, including the newest FloSports.com platform, FloRodeo.com. FloSports content is available on all screens now with the recent launch of the FloSports' Roku and Apple TV apps.
Courtesy of PRCA