Proctor Captures WCC Redding Victory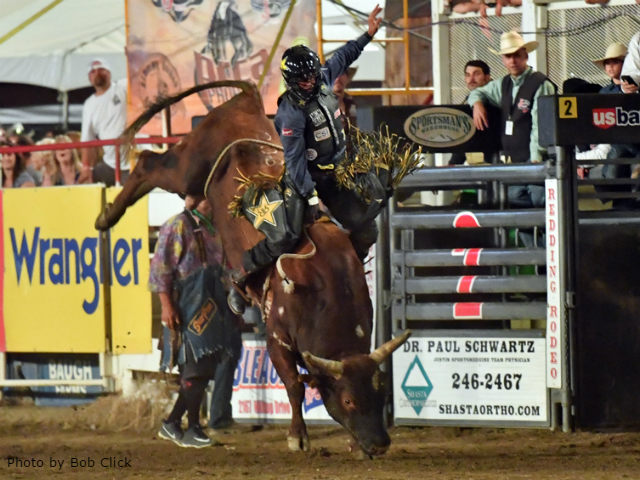 REDDING Calif. – Experience paid dividends for bull rider Shane Proctor Saturday night.
The 2011 world champion had all his talents on display – mainly his ability to recover – en route to an 87-point ride on Corey & Lange Rodeo's O Zone to win the Wrangler Champions Challenge presented by Justin Boots at the Redding Rodeo Grounds.
"That was a great little bull of Mike Corey's and on that third jump he got me to the outside really bad, but on the next jump he really hung in the air and it gave me a chance to get back to the center and after that he was just awesome," said Proctor, a five-time qualifier for the Wrangler National Finals Rodeo (2011-13, 2015-16).
Proctor drew a bull that has been taking riders to the pay window this season. Derek Kolbaba split the win at the Redding Rodeo, which ended Friday night, with his 87.5-point ride on Corey & Lange Rodeo's O Zone.
Proctor had never been on O Zone and he acknowledged he thought he let this great opportunity slip through his hands about three seconds into his ride.
"I was thinking damn, I messed this bull up," Proctor said. "I was mad at myself. But luckily I took the fight to him and fought back to the center and it was good from there."
Proctor earned $4,756 for his performance before the cheers of the 6,200 fans in the stands. He hopes this will kick-start his season. The Grand Coulee, Wash., native wasn't in the top 50 in the May 15 WEATHER GUARD® PRCA World Standings.
"This is a big-time boost of confidence," said Proctor, 32. "I was real excited to have this bull (Saturday night). It was kind of getting frustrating this season and this is a good confidence boost for me as I start to go into the summer run. Every good streak starts with one (ride) and this is it."
Proctor knows what's like to make up ground in the world standings. A year ago, he made a late-season charge to qualify for the Wrangler National Finals Rodeo presented by Polaris RANGER in the No. 15 spot. Once in Vegas, Proctor got on a heater and won the WNFR average title after earning $192,064. He finished third in the world.
"The plan is to get back to Vegas," Proctor said. "When the summer starts, I just try to make up all the ground I can. I know I've done it before and I know I can do it again. Sometimes I just need to remember bull riding is fun and I just need to go out at it like that. That's what's fun about going to rodeos and these Champions Challenges. it is just a fun atmosphere. I'm a cowboy and I love what I do."
Other winners at the $92.800 rodeo were bareback rider R.C. Landingham (87 points on Bridwell Pro Rodeos' Adalida), steer wrestler Matt Reeves (4.1 seconds), team ropers Kaleb Driggers/Junior Nogueira (3.4 seconds), saddle bronc rider Jake Watson (87 points on Big Stone Rodeo's Rubels), tie-down ropers Marcos Costa and Cade Swor (8.2 seconds each), and barrel racer Tiany Schuster (17.15 seconds).
Driggers and Nogueira's time is a new record for the WCC and the fastest team roping time so far in 2017.
For more coverage of the Wrangler Champions Challenge presented by Justin Boots at Redding, check out the June 9 issue of the ProRodeo Sports News.
Courtesy of PRCA