Real Captures Landmark Win in St. Paul
by Justin Shaw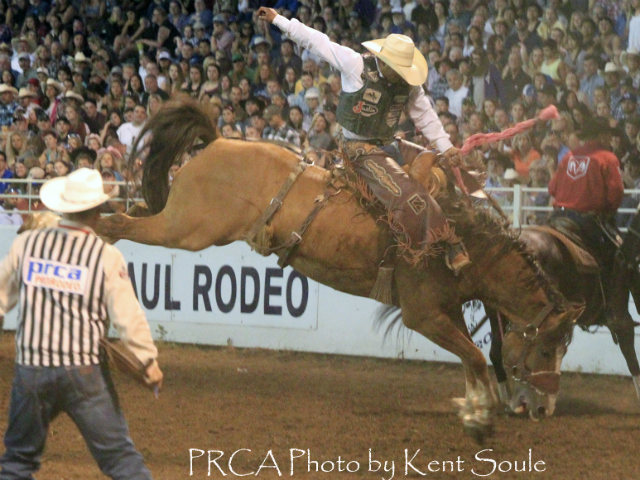 ST. PAUL, Ore. – Joaquin Real didn't have much time to think about his ride when he arrived at the St. Paul Rodeo for the first performance July 1, but he certainly knew how much money was up for grabs.
The 33-year-old saddle bronc rider spurred Big Stone Rodeo's Help Yourself for 85.5 points to pick up the biggest win of his career at one of the richest one-head roughstock rodeos of the season.
"We got there right when they were starting to load the broncs, and I didn't have time to think about, but I knew the horse I had drawn was badass," Real said. "I saw Allen Boore win Lakeside (Calif.) on him with an 88.5, and that had me very excited."
The excitement was well-deserved, as the score Real and Help Yourself combined for held up over the four days of the rodeo, earning the Santa Paula, Calif., cowboy $9,207. That was more than he had earned all season up until Cowboy Christmas.
It was also Real's first outright win of the 2016 season.
"I couldn't have picked a better time for my first win of the year," he said. "I was a bit behind and hadn't drawn well this season, so this was big. I paid $1,200 in entry fees for Cowboy Christmas, but you have to spend money to make money. In rodeo, you're going to win some and lose some, so you have to take advantage of it when you draw a good one at a big rodeo."
Real and his traveling partners, Curtis Garton and Joey Sonnier, had a bit of bad luck during the Cowboy Christmas run when they arrived too late to ride their broncs at the Oakley Independence Day Rodeo in Utah.
"We tried to make it from West Jordan (Utah) to Oakley City, and as soon as we got there, they were turning out our broncs," Real said. "I drew a really good horse there, so it was disappointing – but winning St. Paul makes it all better."
Real says the win gives him not only a bankroll to stay on the rodeo road, but a tremendous boost of confidence. He should move from outside the top 50 in the WEATHER GUARD® PRCA World Standings to somewhere in the top 30. His best career finish came in 2013, when he was 23rd.
Oh, and there was also a more immediate matter to attend to following his big win.
"I'd imagine the guys are going to make me buy dinner, but I don't have a problem with that at all," he said.
Other winners at the $327,751 rodeo were all-around cowboy Russell Cardoza ($4,693 in tie-down roping and team roping), bareback rider Tim O'Connell (87 points on Korkow Rodeos' Onion Ring), steer wrestler Seth Brockman (8.5 seconds on two head), team ropers Kaleb Driggers and Junior Nogueira (9.9 seconds on two head), tie-down roper Blair Burk (18.0 seconds on two head), barrel racer Carley Richardson (17.11 seconds) and bull riders Garrett Smith (86.5 points on Corey & Lange Rodeo's Short Bus) and Garrett Tribble (86.5 points on Growney Brothers Rodeo's Holy Ghost).
For more coverage of the St. Paul Rodeo, check out the July 15 issue of the ProRodeo Sports News.
Courtesy of PRCA