Rodeo Group Visits Children's Hospital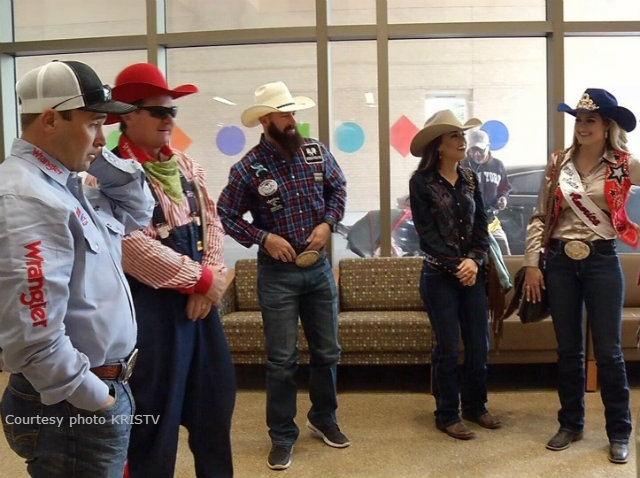 CORPUS CHRISTI, Texas – Children at the Driscoll Children's Hospital got a rodeo experience of their own during Rodeo Corpus Christi (Texas) last week as Miss Rodeo America Lisa Lageschaar, barrelman/rodeo clown Gizmo McCracken, bullfighters Blue Jeanes and Weston Rutkowski, and Buccaneer commissioner Bill Lathrop Jr. took time out of their busy schedules to help put smiles on the kids' faces.
The rodeo group paid a visit to the hospital on the morning of April 28 to sign autographs, cheer up the children and inspire them.
"When you visit a hospital like that, you quickly realize that your problems aren't problems at all, you don't have anything to frown about when you see children like that," Lageschaar said. "It was a really nice visit. The children were very welcoming and some were going home, so that was wonderful to see. It reminds me why I do what I do. We get lost in the mix of things, traveling from one place to the next, but a visit like this will help you slow down and take a breath and think for a minute for sure."
McCracken concurred with Lageschaar.
"This was a well-organized visit and we were able to go to every floor of the hospital," McCracken said. "We were able to see around eight children on each floor and their families; and we were able to visit with the kids and their families. We tried to brighten up their day. It was a lot of fun. Sometimes I wonder if it doesn't encourage us more than it does the kids."
McCracken joined the PRCA in 1992 and each time he's been to Corpus Christi, he makes sure to stop by Driscoll Children's Hospital.
"We get to tour their facilities and the administration there is tickled to see us," McCracken said. "My line to the children is 'we came and saw you, now you get out of here and come see us next year.' When I leave there, I keep these kids and their families in my prayers that things will go well for them."
Courtesy of PRCA