Rookie Steals the Showdown in Salina
Championship Bull Riding Showdown in Salina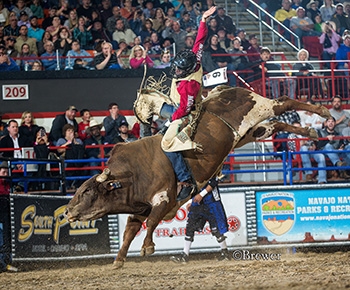 SALINA, Kansas (March 25, 2017) – It took fourteen bull rides from ten riders before CBR Rookie Boudreaux Campbell stacked the deck and selected a rematch for his final ride to win the CBR's Showdown in Salina at the Tony's Pizza Event Center in Salina in grand shoot out style.
With a total of fifteen qualified rides the fourteenth stop on the CBR's Road to Cheyenne nationwide tour ended with the rookie rider from Crockett, Texas stealing the show from veteran Eli Vastbinder after riding 911 Hy Test for 90.5 points in the final round of the three round tournament style event.
"You made a great ride and did a great job under pressure and you handled it," high praise coming from Four-time World Champion Bull Rider and Pro Rodeo Hall of Famer, Tuff Hedeman who delivered an old- fashioned showdown in Salina as promised.
Opportunity was all over the Kansas day sheet roster with World Champion Sage Kimzey and four top ten riders absent due to an overlapping March rodeo schedule and one, Cody Rostockyj, unavailable due to injury.
Vastbinder and Campbell wasted no opportunity and both rode three to enhance their positions on their Road to Cheyenne World Finals quest.
Round One
Five of the eight qualified rides in round one came from Section I including Jeffrey Ramagos who took the first lead as the second rider out with 84.5 points on Sanders/Hurst and Baker's 43X Sheriff. Corey Bailey answered next with 79 points and was offered a reride option that he refused. Vastbinder turned in 82.5 followed by Roger's 80.5. Campbell took the lead as the last rider in the group as he took J10 Crime Spree (Championship Pro Rodeo) out of the left hand delivery chute for an 88 point spin.
"My rope was kind of loose on him when I left the chute, but it was a good bull and he felt good," said Campbell who went on to say he needs that first ride score for motivation and momentum.
Section two finished with the bulls in control bucking off eight consecutive riders. Denton Fugate turned in an 87.5 ride on 75 Boogie Nights, a bull owned by Norris Dalton and the sire of his bucking bull team mate.
Dustin Boquet rode everybody's favorite bull EG2575 Flab Slab for 87.5 with his owners, Skippy and Linda Johnston, in the stands to see their bull perform after traveling from their home in Alaska.
Josh Frost would best the first two in section three and take the round lead away from Campbell with 88.5 on another EG bull, six year old 1925 Painkiller, a son of Little Yellow Jacket.
Semifinal Round
Four bull riders advanced on time ridden and eight with qualified rides. Navajo Nation's eighteen year old Cody Jesus rode 9639 Crystal City from Championship Pro Rodeo for 91.5 to take control and win the second round. He was followed by Guthrie Murray who was making his CBR debut and went a smooth 86.5 points on Kojack, making a strong visual case that he belonged on the Road to Cheyenne.
Bailey and Alonzo bucked off followed by Wyatt Rogers who was aiming to be the first rider with two scores, but he took a quick exit off of 906 Jet Airliner (Moad).
The man sticking to his plan, Eli Vastbinder was the first to ride two as he took the event lead with a smooth 88 points on 277 Dirty Little Secret. Vastbinder in the lead with 170.5 watched the next three, Ramagos, Bouquet and Fugate buck off.
Campbell launched out of the Wrangler bucking chute on a rematch with 977 Bad Grandma, but this time Campbell adjusted to everything 977 had to offer and finished the 8 seconds with 86.5 points. He was now in the average lead of the event with 174.5 on two.
"My second bull bucked me off in Window Rock and I said to myself as I got on, you are not bucking me off tonight bull. He tried and he sucked me in and moved inside and outside and I just managed to get by him this time," said Campbell who is a senior from Lovelady High School.
Josh Frost, the second younger brother on the roster in Salina, succeeded to change the leaderboard one more time as he rode 3414 Hou Did he Buck for 88.5 points and with 177 on two Frost was now in the driver's seat going into the final four man round.
Shoot Out Round
Frost earned the right to select first from the list of bulls put together by Tuff Hedeman and he went with 343 Rio owned by Lyndal Hurst. Campbell who was debating between Rio and Hy Test trusted his instincts and went with 911, the bull he won his first CBR event title on in Hobbs. Vastbinder selected Billy Jaynes Tuve' which left Cody Jesus paired with 1086 Big Lew owned by Rhon Brown.
Jesus was out first and Big Lew ended his night, as he often does, at 3.21 seconds. Vastbinder was next and he took Tuve for an 88 point spin, stepping off as he heard the whistle. Campbell, piloting his old friend 911 Hy Test thru a bit of a drifting storm, was rewarded for his and the bull's efforts with 90.5 points.
Frost was overwhelmed by the unridden Rio and his effort towards winning his first event were cut short at 4.91 seconds.
"I knew him well, and he treated me well and got me the win in Hobbs so I thought I would go with him again, I was thinking about Rio and knew he was a really good bull too, but then Josh picked him and Hy Test was the obvious choice," said the articulate and mature eighteen year old champion.
World Standings Race
Campbell may have been the winner in Salina, but it was Eli Vastbinder who capitalized on the opportunity and climbed three bulls closer to World number one, Sage Kimzey.
"Every bull counts at this time and I am looking for a World Title in the CBR," said a determined Vastbinder.
Vastbinder turned in a stellar three for three performance to add 258.5 points to his name in the World Standings race where he is hoping to unseat Kimzey who is perched at the top with 2,124 points.
Vastbinder is now 277 points, or three bulls, behind Sage Kimzey. There are eleven bulls left on the schedule before the $100,000 bonus check is awarded to the 2017 World Champion at the CBR World Finals at Cheyenne Frontier Days and Vastbinder intends to keep riding, round by round.
"It's bull riding, it's pretty simple, it's eight seconds at a time," said Vastbinder who made the eleven hour drive from Rodeo Houston to compete in Salina.
In addition to the lucrative prize money at each event, the bull riders are accumulating points which qualify them for the World Finals, part of the legendary Cheyenne Frontier Days celebration held in Wyoming next July.
Bull Team Challenge
The Salina event featured the CBR's Million Dollar Bull Team Challenge competition worth $45,000 to the bull owners whose bulls compete for points based on their individual performance in the arena combined with the time the bull riders stays on for a total score.
Norris Dalton from Nocona, Texas was the winner. Dalton's rank bull team was anchored by 138 Stanly Hart, a bull sired by Shinetime, who led the night with a 93 point bull score as he ended Jeffrey Ramagos night at 3.13 seconds in the semifinals.
"I bring rank bulls to compete, that's what I raise and know," said Dalton after accepting the CBR Bull Team win package that included a Hyo Silver buckle, Fenoglio Boots, a western hat from American Hat Co., and a check for $20,000.
1.73 points behind Dalton was Jeff Harris and his partners from Long Creek Outfitters, also with one ride score and a 90 point bull score from 231 Big Baby who left Braden Richardson as he turned the corner. 277 Dirty Little Secret anchored the team with Eli Vastbinder's 88 point ride. 27 El Toro was the third bull carrying Cody Jesus 6.44 before he bucked off. Jaynes Gang was .19 behind Harris with three qualified ride scores.
Bull Team Results
1, Norris Dalton, 282.55 points, $20,000. 2, Long Creek Outfitters/Harris, 281.19, $12,000. 3, Jaynes Gang/Johnston & Murphy, 281, $8,000. 4, Sellers Bucking Bulls/York JCI, 279.02, $5,000.
Shoot Out Round Results
1, Boudreaux Campbell, Crockett, Texas, 90.5 on 911 Hy Test (Harris) $14,112.50. 2, Eli Vastbinder, Statesville, NC, 88 on 131 Tuve (Jaynes), $8,637.50. 3, Josh Frost, Randlett, Utah, no score on 343 Rio (Hurst) $1,000. 4, Cody Jesus, Sawmill, Ariz., no score on 1086 Big Lew (Brown), $1,000.
Average Salina Showdown Results
1, Boudreaux Campbell, 265 points on 3. 2, Eli Vastbinder, 258.50 on 3. 3, Josh Frost, 177.00 on 3. Cody Jesus, 91.50 on 3.
Round by Round Scoring Available Here
For more information contact Leigh Ann Schroeder at leighann@theshortround.com or 940.902.1112.
Courtesy of CBR