Simpson and Buhler Make History at WNFR
Courtesy of Wrangler Network contributor Ted Stovin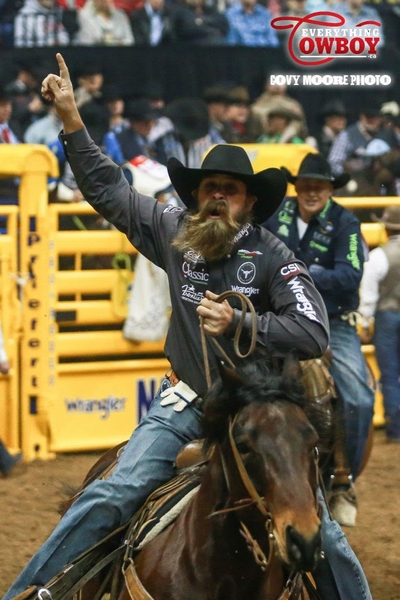 LAS VEGAS, Nevada – Canada's first all-Canadian team of team ropers won the round in their first appearance at the Thomas & Mack Centre on Thursday night.
Levi Simpson (Ponoka, AB) and Jeremy Buhler (Abbotsford, BC) stopped the clock in a time of 4.4 seconds for $26,231 a man. After tonight, the pair rank eighth and fifth on their ends respectively with $99,364 and $108,542 on the year. That puts them just over a round out of first in the world.
"This feels amazing," Simpson said after the win. "To come here and represent our country and have the support we do back home and here, there are so many of our fans and family who came here to support us. To be in the record books as the first Canadian team is awesome, and to throw in a win on the round is every little boy's dream who ever grows up team roping."
"It's pretty awesome," Buhler added. "We have people texting and sending messages and stuff and it feels good to have all them behind us and to do good."
Simpson and Buhler were the fourth team out and had to wait for eleven more teams to see if it would hold up.
"I got a good start and I was able to get it on that steer quick. Jeremy cleaned things up and the rest was kind of a blue to me," Simpson said. "We ended up with a good time and I cant believe with this field of ropers that ait actually stood up tonight. There were a few other guys who had some tough luck, and to have this round win is outstanding."
"We watched that steer go when we conditioned the cattle and it was probably one of the stronger ones," Buhler said. "He really wanted to step right, so I wanted to get a good start on him and try to keep him straight for Levi. I felt like he stayed fairly straight and I thought Levi did a really good job on what that steer was setting him up for me."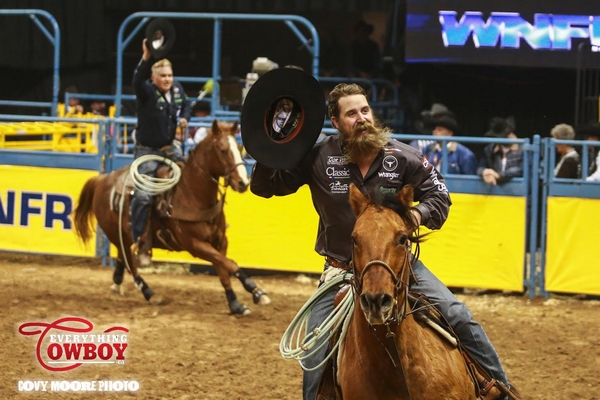 In their first shot at the WNFR, Simpson and Buhler are thankful to get a win so soon.
"With a field of ropers like this, I didn't think this would happen," Buhler finished.
Kolton Schmidt (Barrhead, AB) unfortunately missed his steer for heeling partner Shay Carroll (Prineville, OR) to take a no time. Schmidt is now fifth of all headers while Carroll is eighth on the heeling side.
Three-time Canadian Champion bareback rider Jake Vold (Airdrie, AB) caught a check worth $3,667 for a split of fifth with 81 points on Soz (Sankey/Robinson). He ranks 10th in the world so far. Orin Larsen (Inglis, MB) got behind his horse and only ended up with a score of 66.5 points. Injuring himself in the process, separating two ribs. His status is: "competing."
Canada was blanked in the bronc riding with Zeke Thurston (Big Valley, AB) coming closest to the pay window a point and a half out with 80.5 points. Jake Watson (Hudson's Hope, BC) wasn't far behind at 77.5 points.
C5 Rodeo's Black Hills helped Allen Boore (Axtell, UT) to a fourth place $11,000 check and Chip Shot from the Outlaw Buckers Rodeo Corp took Brennon Eldred (Sulphur, OK) to a score of 83 points and $13,327.
#TeamCanada earnings to date: $56,129 (plus $80,000 in appearance fees.)
Canadian bucking stock earnings to date: $24,327
Coverage of the 2016 Wrangler NFR on Everything Cowboy is brought to you by 3D Bull Riding Inc. Click or tap the logo below for new styles of hats, on sale today!