Throwback Thursday: Team Roping Revolutionary Asbury Schell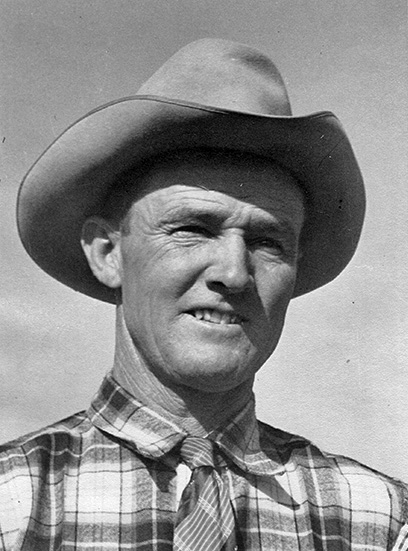 Asbury Schell, who earned three world titles in team roping (1937, '39 and '52), is credited with influencing the move to heel from the right side rather than from the left, which was the standard at the time.
The 5-foot-7, 145-pound, cowboy came out of Camp Verde, Ariz., in the early 1930s to hold his own against ropers much larger.
Known to his friends as "Raz," Schell began his career riding bulls and earned a paycheck on the first bull he rode. But something happened during that ride. After he safely dismounted, Schell vowed never to ride a bull again. And he didn't, turning his focus and talents to timed events.
Schell went on to successfully compete in tie-down roping, team roping and steer roping.
Schell had three things working for him, according to former Rodeo Cowboys Association president Dale Smith: "He stayed horseback. He had the best partners of his day. He never claimed to be a good loser."
Schell also made a point of being well mounted. His first great horse was Driftwood, who sired many sound roping horses that worked down through the years. During World War II, when it looked as if the sport of rodeo might fade, Schell sold Driftwood to be used at stud.
For 10 years, Schell rode Cowboy, a son of Driftwood, as a steer roping mount, and Cherokee Jake, a half-brother to Cowboy, as a team and tie-down roping horse. Jake was a small horse but noted as one of the stoutest ever seen for his size.
As far as style goes, Schell developed his own to take advantage of his speed. He would handily beat bigger, stronger rivals who resorted to brute strength.
Schell, on the other hand, didn't force things.
"He had an easy knee in the flank," Smith said. "He tied 'em standing up."
In the late 1940s and early 1950s, all heelers came in from the "hoop and scoop" left side. In those days, it was called the "California side." The Arizonans, led by Schell, began entering rodeos in California and started roping from the right side.
"They just beat 'em and moved 'em over," Smith said. "Nobody ropes from that (left) side now."
Schell always credited Joe Bassett, Buckshot Sorrells and Clay Carr with helping him further his ProRodeo career. He often traveled with Toots Mansfield and Jake McClure.
In addition to his world titles, Schell was proudest of his huge win at California Rodeo Salinas in 1952. Roping calves and working with John Rose in team roping, he pocketed $3,400, an unheard-of total from a single rodeo in those days.
In the final seven years of his life, Schell lived in Cottonwood, Ariz., battling a broken right ankle that never healed properly and eventually required amputation in the mid-1970s.
Schell suffered a heart attack and died Sept. 24, 1980. He was 77.
Courtesy of PRCA