The Daddy of 'Em All CBR Celebrates Father's Day
The Daddy of 'Em All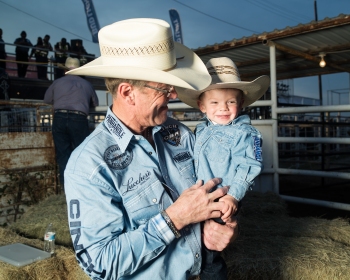 Dads are pillars of strength, inspiration, integrity and hard work. They lead; they teach; they support. For generations rodeo events have given fathers and children a perfect way to bond, whether it is spending quality time in the practice pen or sharing the love of the sport attending events and following their favorite super stars on television.
"My father didn't tell me how to live, he lived and let me watch him do it," one sentiment heard over and over in talking to cowboys about their Dads.
As we prepare for the "Daddy of Em of All", the CBR World Finals at Cheyenne Frontier Days, we thought we would share a few special stories and photos celebrating Father's Day.
CBR World qualifier Demond Haynes is the newest member of the "Daddy club" with his daughter, Emory Haynes, born June 6 in Houston, Texas. Haynes shares the love of bull riding with his father John Ash.
Demond is a second generation bull rider following in the steps of his father, John Ash who won the George Paul Memorial Bull Riding in Del Rio in 1998. The first trip to Cheyenne for Demond was as a child and he traveled to CFD to see his father compete in the bull riding many years ago.
Rookie sensation and number three CBR bull rider Boudreaux Campbell of Crockett, Texas and his Dad have a special story.
Boudreaux's path to bull riding began when he was 4 years old and his father, Jay, who hosted youth rodeos for about 15 years, took him to a rodeo in Liberty, Texas.
"I watched the sheep riding there, and after that, I told him that's what I wanted to do," Boudreaux said. "I fell in love with it. And ever since then I wanted to be a world champion bull rider. I started out on calves and then moved up to steers and all of that. Now I'm at the professional level, living my dream."
Jay said Boudreaux has been eating, sleeping and drinking the sport his whole life.
"When he was younger — not a whole lot of people know this — he had all these little Barbie doll 'bulls' in the back seat of the truck, and everywhere we went, he would play buckin' bulls," Jay said. "Everywhere we went. Girls play dolls, and he played buckin' bulls.
Colten Jesse grew up watching his Dad, Todd, compete first as a bull rider and now as a team roper.
"My Dad's always been my number one supporter along with my mom, but at the same time he's been my best friend, motivator, mentor, and teacher. I wouldn't be the bull rider I am today and definitely not the man I am if it wasn't for my Dad," CBR World Finals qualifier Colten Jesse.
Cody Rostockyj shares that the best part of fatherhood is seeing his kids (2) get older and developing their personalities and see what they like or are going to be interested in.
"Both of my kids are sassy like there Momma and stubborn like me. They love to be outside and do anything, but both are getting into rodeo and love to ride horses," said CBR and NFR qualifier Cody Rostocykyi.
And it wouldn't be Father's Day without mentioning the most famous Father of 'em all, Tuff Hedeman who is joined in Cheyenne each year with his older sons who are the CBR safety men roping bulls in and out of the arena and his youngest who might want to borrow Boudreaux's bucking bull dolls!
So help us celebrate Father's Day by sharing your favorite sports moments with your dad at a bull riding or rodeo.
For more information on the Daddy of 'Em All and the CBR World Finals at Cheyenne Frontier Days see cfdrodeo.com and cbrbull.com.
Courtesy of CBR