The Morning Line: Anaheim, 15/15 Bucking Battle
By: Slade Long
January 30, 2016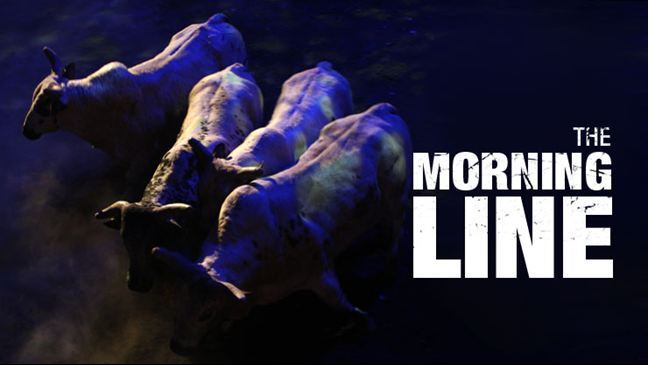 15/15 Matchups
Cody Heffernan on 601 Shepherd Hills Trapper:
Trapper essentially took a vacation last year. He's a veteran bull with 65 outs on tour, but he only went to one event in 2015. He has since changed owners, returned to action, and it's good to see him back. The bull riders may not be very happy to see him, because he has always been one of the most difficult bulls to ride. He's got a unique style and he has some moves that other bulls can't match. He almost always tries to throw the rider over the front end by ducking into a spin. He can be close to normal looking at times, and at other times he can can be ridiculously unorthodox. This bull is responsible for what I think has to be one of the most difficult trips in PBR history when he faced Marco Eguchi at the 2012 Iron Cowboy in Arlington, Texas. Heffernan has a shot here, and really every rider does have a shot on this bull, but at some point during the 8 seconds it's likely to get hairy and scary.
J.W. Harris on 1073/9 Roy:
Roy is the top-ranked bull in the PBR in one respect: he has a higher average marking than any other active PBR bull at all levels. A couple of bulls have outscored him at the Built Ford Tough Series level. Roy is a flashy bull that really shows a lot of action, and he's never really the strongest bull in his class. He does have a lot of speed, and he can drift across the arena while spinning like few other bulls can. He's had trips where he started spinning as soon as the gate opened, and 6 seconds later he's at the opposite end of the arena. Harris is probably tickled to have him, because he's a sports car in a pen mostly full of monster trucks here. This is a big time matchup, and we could see Roy get ridden for the first time since the 2014 World Finals.
Kasey Hayes on 02 Beaver Creek Beau:
Beau is 22-1 in his career against left-handed riders, and it's because he goes to the right and he's always been extremely strong. He's also a little slower than the average bulls these guys usually face, and a lot of guys override him. He isn't a good fit for Hayes on paper, but off paper Hayes does have a knack for riding bulls no one is supposed to ride.
Aaron Roy on 1106 Apollo Stripes:
Jared Allen's Air Time didn't make the trip out west, but you might get to see a few of his moves from this bull. Apollo Stripes has been around for a good while, and he's really mellowed a little with age, but on his best day he can be pretty similar to Air Time, he's just not that explosive very often. In general he's not a bad draw for a taller rider. He can spend a lot of time in the air and can be pretty steep coming down, and most tall riders handle that well. When a bull moves forward or doesn't kick, it's bad for every rider, but it's worse for tall guy. When a bull has a lot of kick and a lot of drop a tall rider may have a slight edge over a really short rider with short legs.
Gage Gay on 58X SweetPro's Long John:
This isn't a great fit for Gay. Long John can have a couple of different trips. The one he had with Mauney last week is his more rideable trip, and he's still a big scary handful. With Fabiano Vieira at the World Finals he was near impossible to ride. Gay does really well on speed and finesse type bulls, but on the heavy hitters he's come up light.
Derek Kolbaba on 95X DaNutso:
This is an important out for Kolbaba. With the bonus points available in this round, he could really help himself. He's ninth in the standings right now, and he's been talked up recently as one of the hottest riders on tour. But, at the Built Ford Tough Series level, he's turned in just one score for each event he's been to, and he's 3-for-7 so far. This bull is a little unpredictable and wild, but he's one of the more rideable bulls in the round, and Kolbaba needs rides — especially here.
Mike Lee on Y16 Brutus:
Brutus was the highest-marked bull in Oklahoma City last week, and he can be one of the hardest bulls in the PBR to ride. Sometimes he's just a very good conventional pattern spinner, but at any point in the ride he can kind of stall the spin and go into a rocking back and forth motion where he really pulls on the rider's arm. That's the part to watch for here and the part Lee might have trouble with. Brutus can also have a lot of pull right when he leaves the chute, making it hard to ever get in time with him.
Valdiron de Oliveira on 32Y SweetPro's Bruiser:
Bruiser is the other sport model here. He's hauled with Brutus his entire career, but where Brutus is really a brute, Bruiser is all about the flash. We saw Mason Lowe ride him perfectly last week for 91 points, but he doesn't just hand out scores to anyone. He won't be the best fit for Oliveira's style, either. They met in Springfield, Missouri, last fall, and Bruiser won.
Mason Lowe on 81X American Hustle:
If Lowe can get a score here he will be the first guy to do it on this bull at the Built Ford Tough Series level. American Hustle 16-0 in his third season on tour. He's only been ridden a couple of times in his 38-out career, and it's because he's a little out of line. He can have a similar style to DaNutso — the bull Kolbaba has in this round, and he can be wilder and more unpredictable.
J.B. Mauney on 122 Semper Fi:
These two have seen each other a lot, but they have never met. Semper Fi is primarily a bull that spins to the left, but he throws off a lot of guys doing it. He has a lot of backup, and has great big scary horns, and that often adds up to a lot of guys getting batted around. But for a bull that can be hard to ride and a little scary, he's actually a great fit for Mauney's style. Mauney rides with his knees better than anyone and that is exactly what will get the job done on this bull.
Wallace Vieira de Oliveira on 3028-0 Stunting like my Daddy:
Oliveira has one thing going for him here, and that is that he is right-handed. This bull is 39-8 in his career, and all of the eight were righties. Stunting Like My Daddy isn't really a lot like his daddy at all. His daddy is Avalanche, who earned one of the five best buckoff percentages in BFTS history with brute strength. This bull is more of a fast spinner, and he can be really, really fast. He does go to the right, and that's why only right-handers have been able to do anything on him so far.
Robson Palermo on 12 Crossfire:
Palermo knocked off Brown Sugar last night, a bull that hadn't been ridden in more than a year on tour. He's got a somewhat tougher task here. Crossfire has not been ridden at all in 40 career outs, and he's gone up against many very capable riders.
Fabiano Vieira on 90 Boot Jack:
Sometimes Boot Jack can be one of the rankest bulls around, and sometimes he can be more normal, but he is never a great fit for a left-handed rider. He goes to the right, he can step forward a little, and he can try to get a rider to the inside of the spin at times. The best case scenario for a guy facing a bull that goes away from his hand is for the bull to have good timing, good kick, and not be tricky. This one does have a few tricks, and while he's not impossible, he is pretty difficult.
Joao Ricardo Vieira on T71 Air Marshall:
This is a lesser-known bull at this level because he has spent most of his career at pro rodeos. He's better than his Built Ford Tough numbers suggest. He threw Shane Proctor off at the National Finals Rodeo in December, and he was one of the highest-marked bulls there, right along with Bruiser and Crossfire. He's only given up one ride in his career — and that was in one of earliest outs.
Paulo Ferreira Lima on 868 Jack Daniels After Party:
This is a long-time veteran and hauling partner to Shepherd Hills Trapper. Like Trapper, he was on vacation for most of last year. He has been ridden 22 times in 66 BFTS outs, and 17 of those were for 89 points or more. He's often been one of the highest draft picks in short rounds, and he's one of the better bulls to have in this round, He is a little better fit for right-handed guys because he goes to the right. He will almost always duck back under himself right out of the chute and he gets a lot of riders down on his head within the first couple of jumps. After Party has been a great bull for a long time. He's just six outs short of 100 in his career, and few bulls make it that far. Lima has a chance to get some points here, but if this bull is on his game he won't be that easy.
Follow Slade Long on Twitter @Probullstats
© 2016 PBR Inc. All rights reserved.