The Morning Line: Chicago, Day 1
By: Slade Long
January 13, 2017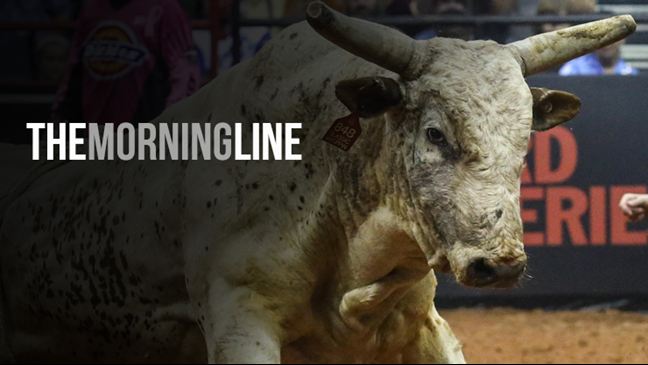 CHICAGO – There are a lot of matchups in the opening round that look good for the rider, and we should see a good many rides to start the event off.
Brady Sims on 55Y Shake it Up:
We haven't seen Sims at the Built Ford Tough Series level very often over the past year, but he has a good draw here. Shake it Up threw off two riders in New York, but he goes to the left, and is 2-2 against lefties in his career. Sims has a chance to get a good 85-87 point score here.
Dener Barbosa on 1100 Milky Jones:
This is a solid bull that will spin to the left with good speed. He's not ridden very often, but he's likely to get ridden tonight. Barbosa is a tough guy to get on the ground. He's a young guy and he's got the potential to be another Fabiano Vieira type talent if he can keep his mental game strong.
Matt Triplett on 281 Shakey:
This bull has been ridden a couple of times, both by a right-handed rider. Triplett had two good rides in New York, but he also had a couple of misfires. Twice he had the best possible bull in the round for him and came down.
J.W. Harris on 00 Captain:
Captain threw Cooper Davis off in New York in round one, but he came back in round three and gave up an 85.75 point score to Ryan Dirteater. Harris was 2 for 4 in New York, but probably would have preferred to have ridden the other two.
Kaique Pacheco on 700 Fire Bender:
Anytime you see a bull with "Bender" in his name there's a good chance he is in some way related to a Andrews Rodeo Co. bull named Fender Bender from about a decade ago. There's also a good chance that like Fender Bender was, he's a pretty good draw. There's such a correlation that when I see a bull named anything "Bender" I assume he's the bull to have in that round. It holds true for Fire Bender. Chase Outlaw had him in New York, and got a re-ride because he didn't nod for the gate, wasting a great opportunity. Pacheco will almost certainly get a good score here.
Nevada Newman on 730 Air Bender:
Another Bender bull here, and the same thing applies to him. This one isn't quite as good as Fire Bender, but he's been great for left-handed riders. He's 6-9 against them in his career. This is a big opportunity for Newman.
Mason Lowe on 136 Uncle Tink:
Uncle Tink has a buckoff percentage of 75% at the BFTS level, but that number should be much lower. He is everything that bull riders like, but he manages to get too many of them on the ground. Guys at this level should ride this bull more often than not, and Lowe has a chance to reverse the trend.
Fabiano Vieira on 103 Micro Man:
This bull hasn't faced many top-tier riders, but he's still 2-3 against lefties in his career. With a record like that he has little chance of getting Vieira on the ground. Vieira has been on a hot streak since the new season began. He's ridden almost all his bulls at the lower levels, and was 3-for-4 in New York.
Marco Eguchi on 118 Dirty Deeds:
Dirty Deeds is 0-4 against right-handed riders, and Eguchi is riding as good as he ever has right now. Huge advantage to the rider in this matchup.
Cooper Davis on 209 Bad Beagle:
Davis rode this bull about a year ago in Oklahoma City for 84.5 points. That's the only time Bad Beagle has been ridden, but it's also the only time he's faced a high end rider. Davis should not have a problem here.
15/15 Bucking Battle
Derek Kolbaba on 1212 Gambini:
This is the bull that got the best of J.W. Harris in Round 1 last week. He's thrown off a number of good riders, but the good news for Kolbaba is that he's 0-1 against lefties. Neil Holmes was 88 on him at the Real Time Pain Relief Velocity Finals in Las Vegas.
Mason Lowe on 001 Smooth Operator:
Smooth Operator has been ridden twice in his life, both times by Guilherme Marchi. When a bull's bucking style generates a lot of centrifugal force on the rider's upper body, riders will say that he has a lot of "whip". Smooth Operator is the king of this. On his best trip he will feint left before coming back to the right with an immense amount of force. It's worth mentioning that both times Marchi rode him he didn't do this, so it's a move that no one to date has gotten by.
If you look back at his history, he faced J.W. Harris twice in Seattle in 2015, and those two trips are an excellent example of his best form. Lowe is a tall guy, and this kind of bull is where tall guys are at the biggest disadvantage. When your bull is going straight up and diving straight back down, being tall isn't so bad, but when your bull is trying to frisbee you across the arena horizontally it really is.
Stetson Lawrence on 125 Catfish John:
Catfish John is one of the best draws in this round if you are right-handed, which Lawrence is not. They met at the World Finals and the bull won handily. Right-handed cooper Davis ended up winning a later round on this bull with 91 points. He goes to the right, and he can keep relentless pressure on a left-handed rider. Anything short of a perfect effort, and Lawrence will get goose egged for the second time by this bull.
Paulo Lima on 1327 Who Dey:
Who Dey and 2016 World Champion Bull SweetPro's Bruiser have different styles, but they are very much alike in one way. Anyone who can keep from making a mistake can ride either one of them. Spin direction isn't as big a factor as it is with other bulls, because both bulls have good timing, and little to no forward movement. The difficulty with Who Dey is speed. He leaves the chute at full velocity and stays there, and the only way to get by him is to stick him perfectly for the first 2 seconds. Any mistake at the beginning ends up getting compounded into an unwinnable situation in a hurry.
Shane Proctor on H22 Flight Plan:
This is the first of three straight bulls in this round who were standout ABBI Classic competitors last season. This one is a black bull who was ridden a couple of times in the second half of last year for big scores. He does have good timing, and Proctor has a chance here, but he will have to do it going away from his hand.
Mike Lee on B60 Handsome Jeff:
Ryan Dirteater put a 90.5-point ride on this former ABBI star just last week. Dirteater did it going away from his hand. Handsome Jeff and Flight Plan have a similar style. They are both rideable, but they are good enough to allow zero margin of error.
Fabiano Vieira on 2125 Wicked Stick:
These two met in February of last year, but Vieira never got out of the chute. He was disqualified by the chute clock. Wicked Stick was the 2016 ABBI Classic Champion, and he's only been ridden twice in 21 career outs. Both rides came in his three-year-old season, and he didn't let anyone get to the whistle last year. This will be a tough match for Vieira, but frankly, Vieira is also a tough match for every bull.
Jess Lockwood on 02 Beaver Creek Beau:
Beaver Creek Beau has been around long enough to amass a 31-1 record against left-handed riders. He always goes to the left, he's big, slow and powerful. We saw Lockwood grit it out and hang on in a bad position on a couple of bulls last week. Beau won't allow that – he's strong enough to quickly plant anyone who gets out of shape on him. This isn't the best bull Lockwood could have drawn here.
Eduardo Aparecido on E5 Big Cat:
Last time this bull was in a 15/15 Bucking Battle, Cooper Davis won the round in him in San Jose, California, back in October. Ty Pozzobon won a round on him at the World Finals as well. This is probably the best all-around draw of this group of bulls. He has great timing, and he feels good to riders. Big Cat went to rodeos for a long time and was unridden, but since coming to the BFTS level last year he's been ridden four times in seven outs. He does go to the left, and that will be away from Aparecido's hand. He's not that difficult to ride either way for a bull at this level, but at times Aparecido inexplicably throws in the towel when he gets off center into his hand.
Guilherme Marchi on 1602 Pneu-Dart's Southern Style:
Southern Style threw off Cooper Davis in Round 3 in New York last week. He went to the left with Davis, which Marchi won't like, but there's some hope. This is a rangy bull with a lot of action, and he's reminiscent of the old school type of bulls common in Brazil. He should fit Marchi's riding style a little better than he fit Davis.
Joao Ricardo Vieira on 122 Cooper Tires Semper Fi:
Vieira has been on this bull three times, and rode him twice. That's not a guarantee that he will get it done this time. Semper Fi can be herky-jerky at times, and break his timing making him rough to ride. Bull riders prefer bulls to have a smooth style like Big Cat. This is a bull with big horns, and he tries to work every rider out over the front and bat them around. If Joao can manage to stay off Semper Fi's head he should be able to handle whatever the bull throws at him.
Ryan Dirteater on 1217 Red Moon:
Dirteater has been on a roll lately, and part of that is because he's been drawing really well since the beginning of the World Finals. Drawing bulls that fit you is a big deal, even when all the bulls are similar in quality. He's got another good draw here. Red Moon will go into Dirteater's hand, and he has steady timing. His style is a lot like Flight Plan and Handsome Jeff out earlier in the round.
Gage Gay on 781 Asteroid:
This is a good example of drawing a bull that doesn't fit you. Asteroid doesn't fit anyone. He is the swiss army knife of getting riders off his back. He has a wide variety of ways to do it. For most of his career he just overpowered guys, but when he doesn't have that sky high leap and drop he still gets a lot of kick, pivots direction quickly, and is extremely difficult to ride.
Kaique Pacheco on RK101 Slinger Jr.:
This bull is a mystery. He looks ordinary enough for a high level bull, and it's not immediately apparent that he has a high difficulty level, but he does. He's been ridden just once in 50 career outs. He's a little similar to Stanley FatMax in that respect. He doesn't have a ton of flash, but he's one of the hardest to ride bulls here.
Cooper Davis on 045 Bad Touch:
Bad Touch is unridden in 27 career outs, and watching him will tell you why. He likes to move forward. A bull that moves forward makes it hard on the rider, and leaves less room for rider error. When you get a bull that bucks hard enough to be in a short round or a 15/15 Bucking Battle, and he also has a lot of forward movement, he can be pretty tough to ride. Unlike Ryan Dirteater, Davis hasn't drawn particularly well so far this season, and he's got a tough task here.
© 2017 PBR Inc. All rights reserved.