The Morning Line: Kansas City, Day 2
By: Slade Long
February 12, 2017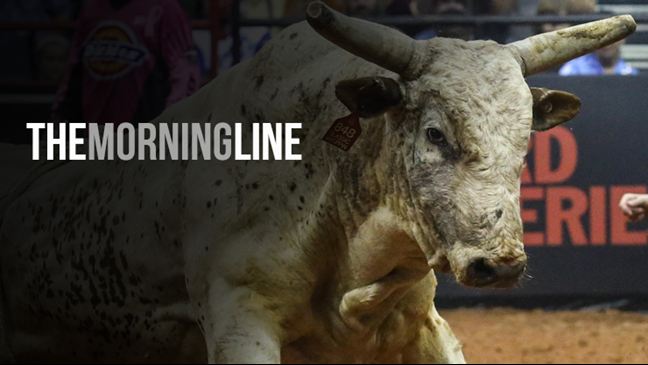 KANSAS CITY, Mo. – Sunday will close out the Kansas City Invitational, presented by Express Employment Professionals.
J.B. Mauney on 13-2 Glory Days:
They've ridden this bull eight times in twelve Built Ford Tough Series outs. Mauney should be a huge favorite here. Glory Days can spin either way or sometimes both ways, but he tends to hang in the air a little and every rider should get along with that. Mauney will make this bull look his best, and should end up with a decent score.
Mason Lowe on 82X HD:
Lowe has had some success so far this season, but he's missed a few opportunities too. This is a chance to go 2-for-2 here and put himself in position to win the event. Statistically, this bull is a lot like the bull Mauney has. He's a quality performer, but his even timing and honest style results in him being ridden at this level more often than he bucks his rider off.
Shane Proctor on 206 Finding Jesus:
Don't look now, but Proctor is in good shape to continue his winning ways. He won the event last week, was third in the round last night, and he's ridden this bull before. They met in Thackerville, Oklahoma, last year, and Proctor scored 85.25 points there.
Silvano Alves on 103 Strong Heart:
In just a few years, Alves has gone from being the easiest rider to prognosticate about to one of the hardest. In 2011 through 2013 he was automatic, and rode every bull he was supposed to ride, and he won every matchup where there was a question mark. The only time he came down was against truly difficult bulls. It seems at some point he adopted a "play it safe" mentality, and with that he is no longer as efficient and reliable a rider. It's possible that after winning three world titles he isn't as motivated as he once was.
Strong Heart is a bull he should easily ride, but he's one of those question mark type matchups because he goes away from Silvano's hand, and he can be a little wild and western. He's the kind of bull a rider will have to keep moving and hustling on, and Alves will have to expose himself a little to get the job done here.
Cody Rodeo Tyler on 040 Missouri Boat Ride:
Tyler rode his bull in the first round, and lucked out here by drawing what may be the easiest bull to ride at the BFTS level today. This is not a bull that anyone with a pair of cowboy boots could stay on, but at this level of competition he's 2-9, and that is as easy as it gets for bulls that you can be 86-plus points on.
Eduardo Aparecido on 06 Swashbuckler:
This could be a round win in the making. Swashbuckler has the potential to produce 87-90 point scores. Robson Palermo scored 89 points on him at the World Finals. He will spin away from Aparecido's hand, but he is rideable, and Aparecido could take control of the event if he stays on.
Kaique Pacheco on 902 Lil' Z:
Lil' Z is a speed over strength kind of bull, and he will get it on to the right as soon as they open the gate. Right-handed guys have done well on him, he has good timing, and Pacheco should ride him like a practice bull. This is a guy who just never really lets bulls outplay him. He's always in the right spot, and if he gets out of position it usually isn't by much. Pacheco should be a big favorite in this matchup.
Ryan Dirteater on 100 VJV Nailed:
Dirteater is one of the best at riding bulls that go away from his hand and this bull is going to do that. He's 10-1 against lefties in his career. He has good timing, but his style doesn't leave the rider much room for any kind of correction should they make a mistake. He stays close to the ground and keeps bringing the pressure, especially when he is going away from a guy's hand. Dirteater should be able to handle him, but he will have to be near perfect to to do it.
Cody Ford on 025 The Kraken:
This is probably the bull to have in this round. He's one of the more rider-friendly bulls at this level. He will spin to the left, and that's away from Ford's hand, but Ford just won the Reno Velocity Tour event last week on a bull just like this one.
J.W. Harris on 00 Gravedigger:
Harris is almost a lock to make the whistle and get a good score here. Gravedigger has been ridden in his last six BFTS outs, and the last time he threw a BFTS rider off was in April of 2016. He's never thrown off a rider of Harris's caliber.
© 2017 PBR Inc. All rights reserved.