The Morning Line: Little Rock, Day 1
By: Slade Long
April 09, 2016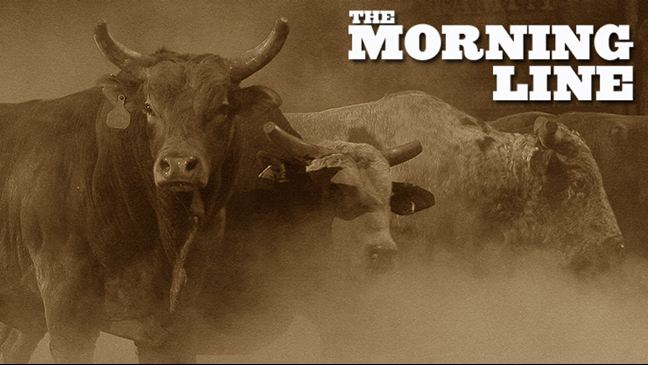 Morning Line – Little Rock Round 1:
The opening round in Little Rock is an ABBI Classic round featuring 3- and 4-year-old bulls vying for the ABBI Classic world title at the end of this year. We last saw this group of bulls in Kansas City where they went 34-5.
Gage Gay on 13-2 Glory Days:
Glory Days finished fourth out of 66 bulls competing in the ABBI Spring Fling Classic in Stephenville, Texas, a couple of weeks ago. He went to the right there, and was a little wild, but when we've seen him at this level he's been ridden more often than not by right-handed riders meaning Gay has a chance to do well here. There's almost never a sure thing with Gay, who has world class talent until the bull throws a wrinkle at him. He will ride almost every bull that has a predictable, steady rhythm, but a break in the bull's timing seems to affect him more than it does the Top 5 caliber riders.
J.B. Mauney on 36Z Rebel Yell II:
Mauney is really the only guy who is putting up legitimate World Championship season numbers at this point. Joao Ricardo Vieira and Fabiano Vieira are keeping up with him, except on the top end bulls. They are both around 30% against the best bulls in the PBR while Mauney is over 70% on them this year. Mauney has 21 qualified rides on the year, two of which he was offered a re-ride and declined. On the other 19, he's placed in the Top 5 in the round 17 times. He'll probably do it again here. This bull has been impressive at times this year, but Paulo Lima rode him in Duluth, Georgia, for 87.75 points and he wasn't enough bull to throw Mauney off there. Look for Mauney to pick up 86-87 points or more here and end up with another Top 5 in the round finish. If this bull has his best day or the other riders have a bad day, this could easily be the round win.
Kasey Hayes on 804 Hustle Man:
This is a rematch from Springfield, Missouri, last fall where Hayes earned 87 points and placed in the round. Emilio Resende rode Hustle Man in Oklahoma City early this season, but other than that there is not much history on the bull. He's one of the least experienced bulls out in this round. Hayes doesn't have a meaningful qualified ride since Anaheim, California and he's 5-for-31 on the season, but only four of those rides actually went in the books. This is a bull that could help him start to turn things around.
Shane Proctor on Z3 Swamp Wreck:
Like most of the bulls in this round, Swamp Wreck doesn't have a long history. The stats say he's been ridden twice in 10 outs, and both times by a left-handed rider. He actually goes to the right, it just so happens that two of the best riders he's faced have been left-handed and rode him well away from their hand. He should fit Proctor, he's got the moves to throw even good riders off but he follows a predictable pattern, has a steady rhythm and he telegraphs his next move most of the time. That's a recipe for a bull that should get ridden more often than not at this level.
Wallace de Oliveira on Z7 Sketchy Bob:
Sketchy Bob is 2-4 against right-handed riders, but he's 1-0 against Oliveira after they met in an ABBI event in Las Vegas during the World Finals last year. This is a bull that puts out a lot of effort, and he goes to the right the whole way. He's rideable for a right-handed guy, but he's not easy. He threw off Guilherme Marchi earlier this season, but he carried Cooper Davis to 88 points and a round win in Duluth just a month ago.
Tyler Harr on 202Z Little Tim's All Nighter:
This has been one of the better ABBI Classic bulls this year. He's currently second in the ABBI standings with over $12,000 won in just five events. He won the Oklahoma City Classic, and he actually tied with Jared Allen's Air Time for the fifth highest marked bull of the event there. He's got the kind to talent that could carry Harr to a round win here if he can get the job done.
Reese Cates on 225 Wicked Stick:
Wicked Stick is one of the bulls to watch in this round. He made the World Finals as a Classic bull last year, and carried J.B. Mauney to a 91 point score and an opening round win there. He hasn't been ridden since then, and he's faced a number of top tier riders. Cates is really an underdog in this matchup. Wicked Stick should go away from his hand, and right-handed riders are 0-4 against him.
Tanner Byrne on 215 Roll of the Dice:
Byrne sat out with an injury last week, but he should return to action with a good score in this round. Roll of the Dice has just four outs on record, but he's been ridden three times, most recently by Justin Paton in Kansas City. He goes to the right with near perfect timing, and Byrne should have an easy time with him.
Cooper Davis on 5A After Midnight:
This bull doesn't have much history. He's been to just one event, but it was an important one. He won the ABBI's Spring Fling Classic in Stephenville, Texas, in impressive fashion. He went to the left there and had a lot of up and down movement, and good speed. If he has the same trip here Davis could win the round on him, but he won't be easy to get by.
Robson Palermo on 2079 Cowtown Cartel:
Cowtown Cartel is making his PBR debut. He's come up through the futurity class, where he's had some success, and he's been to several events with riders outside the PBR. He likes to go the right, but he is rideable, and Palermo will be the most accomplished rider he's faced yet.
© 2016 PBR Inc. All rights reserved.