The Morning Line: NYC, Day 1
By: Slade Long
January 06, 2017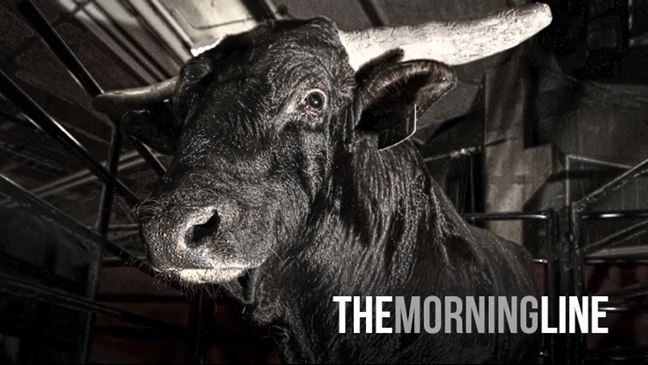 NEW YORK – At the beginning of the 2017 season, the riders on most people's minds are sure to be Cooper Davis, Kaique Pacheco and J.B. Mauney. All three of them drew lesser known bulls for this opening round of the new year. Most of the riders on tour succeed or fail based on how they perform when they have a good draw, but these three have transcended that and are expected to ride essentially every bull. They are under a microscope, and while that can be unfair, there is an upside to it. The game becomes much simpler for them. Just stay on. They are in a place that is difficult for most riders to reach. Conquering the mental game in bull riding you have to truly and consistently expect to succeed again and again, and when a lot of people expect you to, it's much easier to believe in yourself.
Jess Lockwood on 000 Dennis the Menace:
Marco Eguchi earned 86.5 points on this bull at the Real Time Pain Relief Velocity Tour event in Biloxi, Mississippi, last month. He was a solid bull there, and one that Lockwood can definitely handle, but he went to the right with Eguchi and didn't look like he would be very smooth going away from a guy's hand. Had Eguchi been left-handed he probably wouldn't have gotten a score. Lockwood will have to work on this one.
Nathan Schaper on -935 Texicali:
These two met a couple of years ago in Oklahoma City, and Schaper came up with 86.75 points in the match. Texicali is a good draw at this level, and having a good bull you've ridden before is a great way to start off a new season.
Joao Ricardo Vieira on 27 Gentleman Jim:
This is a bull that Vieira should easily handle, except that when they met in Nampa, Idaho, last year, he did not. Gentleman Jim goes to the left, and has often been ridden by left-handed riders, but he's not a slam dunk for most guys. He stays low to the ground and bucks with some speed and some occasional forward movement. That can beat even the best riders if they make a mistake.
Rubens Barbosa on 56Y Striker:
There's a good chance of a qualified ride here. Striker should go into Barbosa's hand and the odds are with the rider on this one. Barbosa went on a noticeable cold streak last year, but he also went on a hot streak while he was in Brazil over the summer. His riding style isn't the most fundamentally sound, but he has a lot of balance and is able to best even the most difficult bulls at times. This one should be a good fit for him.
Ryan Dirteater on 804 Hustle Man:
This is a bull that Dirteater should ride on paper, but probably not for enough points to win the round. However, the arena is filled with dirt, not paper, and things rarely work out the way they appear they should. Dirteater won the World Finals by riding the bulls he was supposed to be able to ride, and a couple that were an even match. A rider who can get a score on every bull he has any kind of statistical edge against will be in the hunt for a world title. There are a lot of opportunities at this level, and few capitalize on enough of them.
Matt Triplett on 978 Little Red Jacket:
This is the marquee matchup of the first round for several reasons. Triplett is the world standings leader coming into the first event, and Little Red Jacket should fit him very well. This also is enough bull to win a round on. Being the world standings leader right now doesn't mean much. Whoever wins fourth here in New York will pass him up if he doesn't score at the Built Ford Tough Series level. Having a great draw at and converting into points does mean everything. That's how money and championships are won.
Mason Lowe on 976 Slick Rick:
Lowe had this bull in Sioux Falls, South Dakota, last year and bucked off. Slick Rick has been ridden the last four times he's been anywhere. He's also 6-8 against right-handed riders in his career, and that is more than enough to make Lowe the favorite here.
Tyler Harr on 027 Kookaburra:
This is a bull we've seen in short rounds before, and he isn't ridden that often. Derek Kolbaba scored 89 point on him in Des Moines, Iowa, last year, and with Kolbaba he spun both ways, but he went to the right first. That's the ideal scenario for a left-handed rider. If your bull is going to spin both ways you want him to finish up into your hand because it makes the transition much easier.
Luis Blanco on 107 Come On Baby:
This bull is a great long round draw at this level, but he loves to go to the right, and Blanco is left-handed. This is a much easier bull going for a right-handed rider and his record shows that. He's not tricky but he doesn't spend a lot of time in the air and he can do a lot in 8 seconds. He doesn't overpower riders, he just does his thing and waits for them to make a mistake. This will be a lot of work for Blanco, but he should get a good score if he can hang on.
Derek Kolbaba on 00 Gravedigger:
Gravedigger doesn't have a lot of experience, but he goes to the left and should be a great fit for Kolbaba. Unlike the bull Blanco has, this one can hang in the air for a jump or two and give a rider a chance to adjust. Kolbaba struggled at times last season, but he has a chance to get this year started off right.
© 2017 PBR Inc. All rights reserved.