The Morning Line: Oklahoma City, Day 2
By: Slade Long
January 23, 2016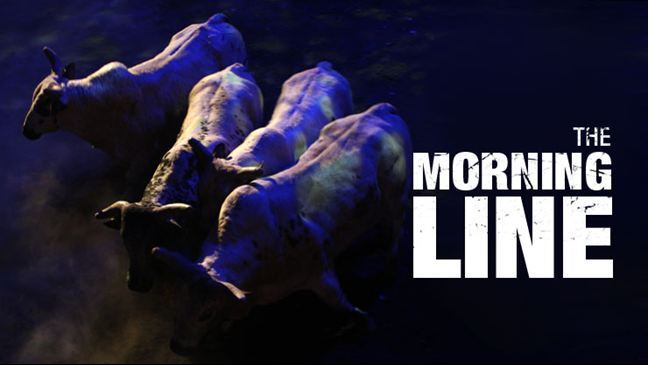 Look for this round to be a little tougher than Friday's pen. These bulls are more seasoned, more polished and more predictable than the young bulls we saw in the opening round. They are also stronger as a group.
Markus Mariluch on 1173 Gangster's Wild Side:
Mariluch made a great ride last night, put up 85.5 points and placed in the round, earning his first points of the season. He needed it. As is the case with many good rides, he caught a little bit of a break from the bull in that his bull had very steady timing. He was a strong enough bull that Mariluch was on the verge of getting bucked off at times, but the bull kept things very even and that helps the rider stay in the sweet spot because he kind of knows what's coming next. This bull will not be like that at all. Wild Side is unridden in 10 career outs largely because of his broken timing. He will stutter step, hesitate, take an extra step here and there, and the net result is that he doesn't follow one jump with another just like it. He's a son of I'm a Gangster, who was notorious for having broken timing. This will be a harder bull to ride, and it will be a one jump at a time kind of battle. There's no sweet spot, and Mariluch will have to fight to get another score here.
Robson Palermo on 136 Uncle Tink:
Palermo got his score on the board last night, and he has ridden six of the seven bulls faced so far this year. He will almost certainly get another ride here. Uncle Tink goes to the left, and he's been vulnerable against left-handed riders. Palermo will make this look good, and could place high in the round.
Fabiano Vieira on 111 Shiloh:
This is the bull that Ben Jones rode last night as a re-ride, and unlike Mariluch's bull, he has near-perfect timing. If Vieira can get into the spin in good shape, he could ride this bull to Brazil and back. This is a really nice draw to get a score on, but he may not be enough to earn any round points if they ride a lot of bulls tonight. Jones didn't place on him last night.
Cooper Davis on 1136 Gangster Bucks:
Davis had a lot of success last year, and finished the year with a huge payday. But instead of spending the offseason contemplating how awesome he is, he spent it contemplating how to get better by getting in better shape. He put a score on the board last night, and he might have a little tougher task tonight, but it is one he can handle. This bull is another I'm a Gangster son, and he's a half brother to Gangster's Wild Side. He has some of the same traits, and he doesn't have perfect timing. Davis will be tested here, but this bull is a little easier than his half brother based on what we've seen of them.
J.B. Mauney on 842 Hou's Back:
Mauney has had this bull at each of the last two World Finals. In 2014 he was 90.25 points to win a round. In 2015 he was fouled and earned a re-ride. This is a quality bull, and he is rideable, but the last time anyone rode him was here in Oklahoma City a year ago. He can be a little weird right out of the chute. He has a little bit of a hair trigger, and his first few jumps can be wild and unpredictable. If Mauney gets into the spin with him he'll be alright.
Stetson Lawrence on Y4 Wild Child:
This was an ABBI Classic bull last year, and he's good enough to stand out to the judges in a pen of quality bulls. He has only been ridden a couple of times in 18 career outs, and never by a left-handed rider. Lawrence placed in the first round, and he'll place just as high here if he can stay on.
Ryan Dirteater on 1149 Pearl Harbor:
This is a standout draw in this round, because logistics is the only reason Pearl Harbor isn't in the short round here. Tonight was the only night he could be here because of his owner's schedule. Pearl Harbor has been a high-end performer at every level since he was an ABBI futurity calf in 2013. He won money at the Classic level as well. He shows well, has a lot of up and down, good kick, and he's an easy bull for judges to evaluate because he doesn't have a subtle style. He puts it all out there. He's a son of Black Pearl, the 2009 ABBI Classic champion, and there's a little family resemblance in his bucking style. Dirteater could pick up a round win if he can get a score, but Pearl Harbor has only given up two scores in his career so far.
Shane Proctor on 786 Hot Iron:
Everyone who draws Hot Iron has a chance to place in the round. This bull is a consistent performer, and he's usually worth 86 to 87 points. He can be a little tricky because he tends to cover a lot of ground in the first few jumps before he turns back, and then once he goes into a spin he pretty much drills a hole in the ground right in the same spot, and he's fast. The transition is the hard part, and he gets most guys right at the corner. If Proctor can get by that he will do well.
Silvano Alves on 8 Young Troubadour:
This is the bull Claudio Crisostomo had for a re-ride last night and didn't get a score on. He circled to the right with Crisostomo, and he didn't look to have very even timing. He's not too much for Alves to handle, but there's a very good chance he won't be strong enough to earn Alves any round points. That is becoming a concern for Alves. Nearly every bull he gets on legitimately  underperforms with him.  He has ridden six of the eight bulls he's been on this season, but he's 16th in the standings because he can't place on anything. It's not poor judging either. The judges are getting it right.
Reese Cates on -24X Butcher's Nightmare:
This is a top draw for any right-handed rider. Butcher's Nightmare goes to the right pretty hard, and he has carried riders to good scores, including Cates. They met here in Oklahoma City last year, and Cates was 87.25 points to win second in Round 3.
Stormy Wing on 26Y Savage Moves:
Wing is almost the perfect match for this bull. Savage Moves has a name that fits him. He goes to the left as hard and fast as he can go. Wing is an extremely aggressive rider, and that kind of style will mesh well with this bull's frenetic pace. This isn't going to be the highest-marked bull in the round, but because of his all-out style and Wing's all-or-nothing approach, this could end up being the highest-marked ride in the round.
Paulo Lima on B36 JJ's Pride:
To the left with clockwork timing is the book on JJ's Pride. He will be a great fit for the left-handed Lima. This bull was ridden twice in Denver this month for 89.5 and 90 points. He may or may not produce that high a score in this round, but the odds are that Lima will make the whistle here.
CLICK HERE FOR SATURDAY'S COMPLETE DAYSHEET
Follow Slade Long on Twitter @Probullstats
© 2016 PBR Inc. All rights reserved.